PRO TALENT WATCH | Wil Sabin
Turning Experience into the Next Gen's Passion and Success
Interview and article by Heather Clements

There is no denying Wil Sabin is one of the hardest working guys in the industry. He is a non-stop force of creativity, energy and inspiration on his journey to make everyone see the best in themselves and reach their goals.
At 17, Wil was the youngest person to ever win the New Zealand Performer of the Year which became the launching pad for his career as a professional dancer, choreographer and mentor both in Australia and internationally. He has survived the good times and the bad in the industry and has seen it change dramatically since he first embarked on a professional career 17 years ago. Now, Wil wants to pass on his experience in assisting young, eager artists forge their own career path by heading up a new professional program based in Queensland. He is also excited about debuting his daring new stage show Sexy Deadly Seven which features some of the best female performers in the country in a titillating revue.
Please enjoy my recent conversation with Wil Sabin.
***
Q: When did you decide to base yourself in Australia? And what awards/titles did you win in NZ that helped raise your profile in the dance world?
I moved to Australia when I was 17, the New Zealand Association of Modern Dance gave me a full scholarship to the Brent Street full time. I started working immediately after and settled right in to Aussie life!
I had won numerous titles and championships growing up in New Zealand and I also did a lot of TV, film and print work growing up back home.
Q: You have worked on many varied projects over the years since you were a wide-eyed kid in NZ – how do you describe yourself professionally and your work these days?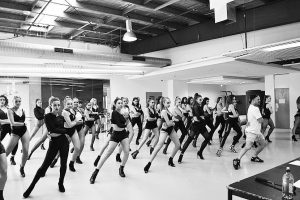 I have evolved a lot over the years and try to provide a consistent high-end product. I like to think I am fun to work for, my rehearsals are never super-strict but I do like to work fast. I have a lot of repeat clients which I love as it means I must be doing the right thing!
I do a lot more creative direction now which covers everything from coming up with a concept, lighting design, styling, choreography, audio engineering, set design, screen content and camera direction.
Q: What are your favourite genres of dance, and types of projects to work on?
Definitely jazz and musical theatre. I love teaching heels classes too! I think I was a burlesque dancer in another life (LOL!). My favourite projects are anything which challenges me and pushes me to grow. I love the whole creative process of creating stage shows, but I also I love the hustle of a music video or live television performance where you work so hard sometimes for a month in the lead up to just one day or 3 minutes of live TV and everything's on a time crunch. It can be stressful but really exciting and rewarding.
Q: Describe your creative style in 5 words?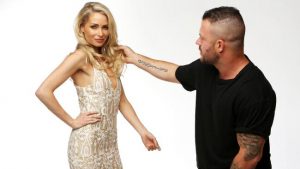 Innovative. Chic. Exciting. Sexy. Fun.
Q: How has your creative style and approach to teaching/choreography evolved over the years?
When I was younger I used to teach to supplement my income as a professional dancer, and although I was a working dancer, teaching was not my primary focus. Now, I have had a successful career for 16 years and feel I have a lot to give back to the next generation of dancers… I love passing on knowledge, teaching things I have learnt along the way, advice, and help mentor young students now through to the industry and beyond.
I treat all my students like young professional dancers. I have high standards which I think works well for them.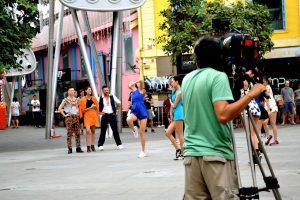 Q: How do you think the industry has changed over the past decade or so … and can you specify anything that has changed for the better/worse?
The standard of dance now is a lot higher. I have 9 year olds doing what 16 year olds used to do, so you have to really raise the bar when teaching to constantly challenge them.
Unfortunately, there aren't as many work opportunities in Australia for dancers as there used to be. Back when I was at the peak of my career as a dancer we were booked on commercial jobs every other day and when November/December came we would have a list of 40 corporate jobs booked. It just isn't like that any more.
I think dancers and creatives need to constantly be creating more work opportunities for themselves – to think outside the box!!
I think social media has been a big change in the dance industry – years ago you had to put yourself  'out there' and be seen to get work and it was a lot harder I think. Now dancers can post videos and get followings and get a name for themselves with the help of social media. However, I do find a lot of dancers post more class videos and that has become more important than actually working as a dancer… so I do think booking jobs should be just as important as getting 'likes'.
On the positive side of social media – dance is now accessible across the globe and dancers, creatives and choreographers can expose their work globally, instantly.
Q: Which of your achievements have you been most proud of/or gained most experience from?
I always take something away from every job big or small. I worked a lot in the nightlife industry for years and learnt so much about putting things together from scratch and how to make a budget stretch (which is very important!).
Winning nationals at the time was a big deal as I had worked towards it since I was 2 years old. Then I set new goals and hit those – I continue to always push myself. I did creative for Grammy nominated artist Deborah Cox at Fox Studios and I remember a moment on stage where the crowd was so loud we couldn't hear the music; I did the creative for Sony Artist Nat Conway this year for her Australia Day Opera House performance which was just incredible; I launched the Andy Warhol exhibit at the National Gallery Victoria which I am proud of because I am a big Warhol fan.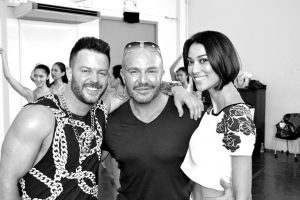 Then I've worked on the NZ and Asian series of 'Next Top Model' … I hadn't done any hosting or TV for the longest time and remember being so nervous as I was a guest judge but really had to push myself to kick the nerves. Creating a stage show that ran in Las Vegas was pretty big too; and winning coach of the year at the World Championship of Performing Arts in LA 2017 was a highlight.
Q:  Who has been your greatest inspiration/mentor?
I have always looked up to Gene Kelly and I loved growing up watching Michael Jackson… as a male dancer it was so awesome having strong male role models like them.
My friends Shannon Holtzapffel, Antony and Ashley (from Squared Division) and Marko Panzic all starting out around the same time as myself and we used to work so much together and then we all branched off and started doing our own things… I am always so proud of everything they do and they inspire me to continue to grow and evolve.
Q:  Who is on your bucket list to work with?
I would have to say Britney Spears!!
Q:  Australia produces some of the best-trained performers in the world, and you work a lot with both young dancers and professionals, but what do you see as the biggest thing missing from dancers wanting to make it a career? In other words, what do dancers need to do to transfer from training to career?
I think dancers do full time courses and expect everything to just happen for them straight after. Even if they get representation, they stop training; stop evolving and kind of wait for the phone to ring. I have so many full time students that ask me at the end of the year 'what do I do now?'
That's why I am so excited to be mentoring a new Professional Program next year on the Gold Coast, Queensland, through Evolution Agency. It's for professional working dancers who want to maintain their skill-set and for aspiring professional dancers who need an amazing dance reel, comp card, polish their audition technique as well as continue to train. We have the best in the country working on this program – it's something new and fresh for the Gold Coast so I'm really excited for that, and really feel it's the missing link between training and the industry.
Q:  What's the one thing young dancers need to STOP doing? And the one thing they need to START doing?
STOP trying to become 'Instafamous' and START doing more actual ballet or technique class.
Q:  Tell me about your 2 big projects planned for 2018?
It's going to be a big year! I am the new creative director for Evolution Agency which, as mentioned before, is a new dance agency in Queensland where the Professional Program will be run from. Plus I will continue my roles at Village Central Coast and Dynamite Studios.

I also have a stage show I have been developing called Sexy Deadly Seven which I am doing a season in Sydney next year. It's a female revue with some of the countries most stunning and talented woman. It's provocative, daring, new age theatre and I am so thrilled for audiences to see it! It stars Talia Fowler, Nat Conway, Jessica Stokes and the top dancers and cirque acts in the country.
Q:  What does Wil Sabin like to do when he is NOT working?
I never really stop working as when I do get a day off I am doing admin, backlogging work to my website, sourcing new work, and prepping my classes. BUT on the rare occasion I am not doing any of that I like swimming or watching bad reality television.
Q:  What would your perfect summer day look like?
Anything over 30 degrees with my friends and family at the beach, BBQ and white wine! I also love snorkelling.
Q:  Do you have a hidden talent/interest that people would be surprised about?
I'm not sure it's a talent… but I can milk cows!! When I was a kid I used to help my brother on our family farm milk the cows for extra pocket money… when I wasn't at dancing of course! Haha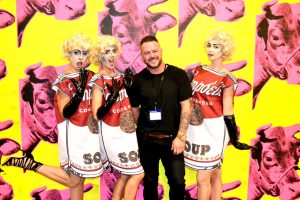 Q: Finally, what is the best advice you can give a young kid wanting to make it in the dance industry?
Work hard, don't compare yourself to ANYONE but yourself and know that everyone is on a different journey. Don't get caught up in drama and be nice to EVERYONE – you never know who or where anyone is going to end up. If you want something badly enough you can make it happen.
READ MORE ABOUT WIL SABIN IN HIS BIO HERE



 . @wilsabin.entertainment


  @wilsabinentertainment