Pro Talent Watch | Nathan Wright
Master of Dance from World Events to Intimate Stage, but Rocky Holds a Piece of his Heart
Interview and article by Heather Clements
Nathan M. Wright's professional resume is more than a little impressive. In just over ten years he has notched up choreographic and director credits for 14 large scale event ceremonies, three films, eight TV shows, 26 stage shows and won 12 awards! Some of his title achievements include Happy Feet, summer and winter Olympic Games ceremonies, So You Think You Can Dance, High Society and film The Great Gatsby...  Phew!
Now he is back in Australia as head of staging and choreography for the 2018 Commonwealth Games opening ceremony, while also thick in rehearsals for the latest production of the cult classic ROCKY HORROR SHOW which opens in Adelaide on New Year's Eve.
Nathan started out in small scale musical theatre, and even though he has grown to become the 'go-to' person for large scale world events, his heart still lies sentimentally where he began with wanting to develop stage musicals.
This latest version of ROCKY HORROR SHOW is sure to meet the fandom's high expectations as it is directed by the acclaimed Christopher Luscombe, features an exquisitely talented cast, guests the show's creator Richard O'Brien as narrator, stars the charismatic Craig McLachlan and … no less … is choreographed by Nathan Wright!
Join us in our conversation with Nathan about the upcoming revival of the ROCKY HORROR SHOW.
***
Q:  You've become a bit of a 'large events' expert haven't you?
Apparently so! It seems especially at the moment… I'm celebrating! I'm currently working on the Commonwealth Games in Australia and it's 6 months since my opening ceremony for the Islamic Solidarity Games in Azerbaijan this year… plus all of the other ceremonies I've done over the years. I used to think it would be great to coordinate large events in between musicals… but it's kind of gone the other way around which is a wonderful predicament to be in.
Q:  You are choreographing the new Rocky Horror Show, which you have done several times before, tell me your history with this classic show.
My first association with the Rocky Horror Show was as an Associate Choreographer in a 2008 Dainty production in Australia. I went to London to work on the 2012 Olympic Games ceremonies, and while I was there I was asked to take the auditions for Chris Luscombe, a very famous director in the UK. Chris has directed the Rocky Horror Show for many years in the UK and that's how I became affiliated with him and the show.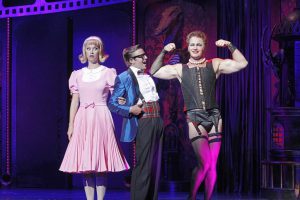 When the Olympics finished he reached out to me and asked me to choreograph the 40th anniversary of the Rocky Horror Show in the UK… that was in 2012. Since then Chris and I have worked on 2 tours of the production in the UK, a West End run and this new production in Australia will be the third.
This will be my third time collaborating with Chris Luscombe and Craig McLachlan on the Rocky Horror Show.
Q:  How do you keep a 40 year-old story and songs fresh as a choreographer?
I think that all comes down to the brilliance of the writing the show and the music. Even after 44 years music like the Time Warp or Science Fiction or Sweet Transvestite just work! It is music that makes you feel something and that to me is just the genius of the writing and putting the show together. I think it's a true testament to Richard O'Brien (who wrote the stage musical) that he was able to create something that is still so famous and popular now… I think it's extraordinary!
Q:  In terms of the choreography do you ever mix it up? Do you ever introduce new styles, genres?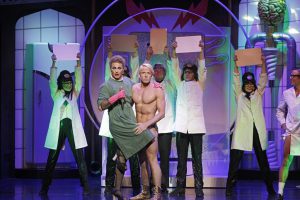 Of course. The Australian production is very different to the UK version. There is an incredibly extreme fan base in the UK which expect certain things … such as 1000 people standing up and expecting to do the Time Warp dance just so. So to a certain degree I try to bring to life in Australia other songs that aren't as famous as the Time Warp and things like that. Australian audiences are huge fans too, but just not as committed as the UK fans.
So in Australia I do make changes to the show every time I do it because I'm inspired by the people I work with every time and that really brings a lot of inspiration to the change. Because I will set the show on a certain cast and they will all bring something unique to the show so I will really adapt the show choreographically to suit them and then, with the next cast, it will change again.
Q:  Give me an example of what you've done differently because of one of the cast members in a particular production.
In the last production in Australia we had an ensemble that were such incredible fans of the show, and that for me was the background of everything choreographically in the show. They were just so phenomenal and I wanted to make it more exciting for them and take them on a journey that they absolutely loved. So I really injected a lot more into certain songs, to really push them, because for me in the show you should feel completely electrified from start to end.
I have to watch the speedometer though, as choreographically, I don't want to wear everyone out in the first few minutes. I try to adjust the speedometer depending on who is in the room. Again, I am a huge fan of this new cast I'm about to work and it will change again because they will all get the basic package that I always start with which is the foundation of the show. Then I work with their brilliance and I intertwine that and I will push the envelope again choreographically with this new cast.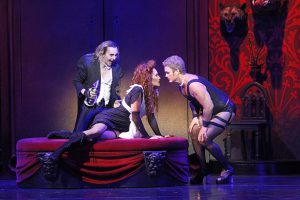 Q:  How much fun is it to work with Craig McLachlan?
I love him! He knows I love him. There is no secret there at all. He's just one of the most incredibly giving performers and people, he is such a professional.
What I love is that he'll come to rehearsals in his footy shorts but then he'll have his high heels on. He just loves it. He's just an absolute dream I adore him!
Q:  Your CV is ridiculous! How do you go from staging these large ceremonies and events to then doing a little show like Xanadu at the Hayes Theatre?
Because that's what I love about my work. I really like to be eclectic in my choices. Sometimes people think I make really odd choices and I'm completely fine with that because I just don't want to do the same thing all the time. For me, I will put as much of my heart and soul into Xanadu at the Hays as I would the opening ceremony at the Commonwealth Games. It's just reaching a different audience to a different scale; it's all about scale to me at the end of the day.
However, I'm not going to lie… I do try to bring the bigger theatrics to the smaller shows sometimes to give it a bit of a twist. Then, at a very large ceremony I try to give it some intimate moments that people can really connect with on a large scale.
Q:  So what is the next small-scale job you have planned?
I am actually taking a bit of a risk in producing my first show at the end of next year. I'm co-producing Andrew Lloyd Webber's Aspects of Love with Andrew Bevis for opening at the Hayes Theatre at the end of next year.
Q:  For all the people who think they know the Rocky Horror Show and seen it all before, why they should come along and see it next year? What is going to be their take home memory from it?
I think the great thing about Rocky Horror is that it is open to any interpretation. It's a statement to the show that people who have seen it 20 times keep coming back. It's like an addiction and I think a really sexy, seductive, clever, creative onion in a way that just peels away every time people come. People always take away something different and, yet again, we will try to create that so when people come they will take away something new that they hadn't found before. That's what I love about the show.

Q:  Do you think it's as controversial or as cheeky as it once was or has the script been changed for modern contemporary times?
I think the script is still so relevant now; and what was so clever about Richard O'Brien when he wrote it 44 years ago was that he was thinking ahead of his time. I think it's very timely, as the Rocky Horror Show is ultimately about acceptance… Be who you want to be, there is no judgement. That's what I love about it.
Read our previous article about the ROCKY HORROR SHOW and cast here
ROCKY HORROR SHOW
ADELAIDE | Festival Theatre


From 28 December 2017
Bookings: bass.net.au or 131 246 / Groups 8+ (08) 8205 2220
BRISBANE | QPAC


From 18 January 2018
Bookings:  qpac.com.au or phone 136 246 / Groups 8+ (07) 3840 7466
PERTH | Crown Theatre


From 17 February 2018
Bookings: tickmaster.com.au or 136 100 / Groups 8+ 1300 889 278
MELBOURNE | Her Majesty's Theatre


From 13 July 2018
Bookings: ticketek.com.au or 1300 795 012 / Groups 8+ 1300 364 001