Pro Talent Watch | Heath Keating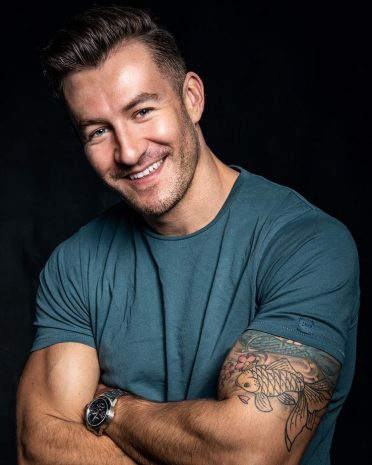 An Artist Getting Better with Age
Interview & article by Heather Clements
Heath Keating is currently in one of his favourite cities, Melbourne, for his multi-faceted role in the satirical-adult-panto-spoof of The Bodyguard Musical – The Bodybag – by the flamboyantly talented Trevor Ashley. Ironically, Heath was actually in the dance-heavy ensemble of The Bodyguard Musical last year, and fits seamlessly into this political satire parody version that delivers a good amount of in-your-face crassness
He started dancing as a kid in northern NSW, and suffered terrible bullying like so many other young male dancers have, before he moved to the Gold Coast and attended Palm Beach-Currumbin High School, which, fortunately, had a very strong dance excellence program. Then straight out of high school Heath moved to Sydney to take up a full time scholarship at ED5.
Since then, Heath's career has been a story of steady successes across many facets of the industry from children's entertainer and commercial back up dancer to big theatre professional.
Through it all, Heath has maintained a positive outlook and is ever grateful for the opportunities that have come his way, especially in all their varieties.
Please enjoy my interview with Heath Keating.
***
Q: Tell me about your current gig.
Well its a different kind of role for me but one I have relished. It's political satire and pub humour and I start off as myself being Trevor's only backup dancer and transform into 6 different characters ending up as the stalker… its pretty demanding as we never really leave the stage and have to have quick changes side stage. Funnily enough, I was also in the Australian premiere production of The Bodyguard Musical last year.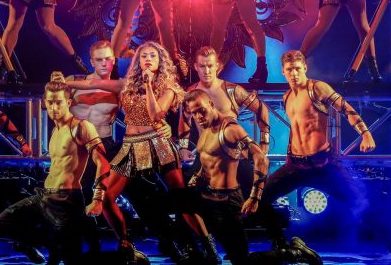 I personally enjoyed it … I love Whitney Houston music … and it was more about the music than the story… the show was very distinct between the acting scenes and the dance scenes … for us it was a different experience because we weren't mic-ed up to sing and we were basically employed as commercial dancers within a musical theatre show which is unusual.
Q: What are you doing after The Bodybag?
I go straight into The Sleeping Beauty pantomime by Bonnie Lythgoe Productions, also playing at the Comedy Theatre in Melbourne. I'm dance captain on this show so I will learn the show first with choreographer Jet Verne before we go into rehearsals.
Q: How long have you been working in this industry?
About 16 years! When I look back I think I've had a good run (laughs). If you look at the stereotypical dancer career, I am technically getting too old, but personally I am getting steady work at this stage of my life … it's getting busier and busier … so I guess everyone peaks at different times of their lives but I feel that my time is now which is great because I've just been rolling with it and it's been fun. I'm doing so many different random gigs that I haven't stopped but every job has been interesting so hasn't felt like work.
Q: What was your first professional job?
Through William Forsythe I got my first job dancing in a Nikki Webster video. She came to film her Dancing in the Streets video on the Gold Coast and I auditioned and got the job! I was about 14 years old. What's interesting looking back, in that group of successful dancers was also Jack Chambers, Joel Rasmussen, Stacey Keneally, and a few others that have continued their dance careers. So thank you William Forsythe!
Q: What were some of your early jobs?
I did a 14 month contract doing Wicked at Universal Studios in Japan which was my first major overseas contract, and prior to that I did a lot of Barney and Friends shows throughout the world which was great fun and my first taste of travelling.
Q: How do you describe yourself professionally?
It's tricky at my age as I am now doing various things, but I would say that I am mostly hired still as a dancer. But doing a show like The Bodybag has been great for me because it has allowed others to see a different side of me as a performer … acting and singing on stage alone … it's been great having that exposure outside of a big show. So I am a dancer that has branched into the comedic/acting areas. It makes sense for me to move more into the acting side of things as I get older as a performer, especially as I have ticked a lot of boxes in my career as a dancer.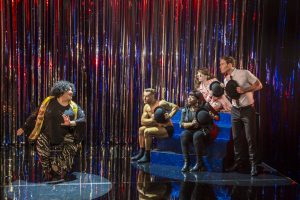 Q: As a dancer what is your style?
I've trained in most styles but I guess the broad answer is jazz, commercial and musical theatre … that's my lane. I started out as a tapper when I was kid and didn't even try other styles until I was 12. Funnily, I rarely perform as a tapper now.
Q: What do you like to do when you're not working?
I like the gym, it's part of my daily routine whether I'm working or not … it gets my day started and gives me a buzz. I don't think I'm lazy but I LOVE down time and chilling doing absolutely nothing! Because what I do is so physically and mentally draining I need to balance it out. And when I get a chance I love visiting my parents on the Sunshine Coast… its so peaceful and relaxing up there.
Q: What are you binge watching right now?
Lost In Space, RuPaul's Drag Race (of course!), The Voice, American Idol (I love reality singing shows) and I started watching Love Island and I am hooked after the first episode! (laughs)
Q: What's on you music playlist?
With Spotify I find my choices are random, but I love American R&B/Pop sound that is popular right now… I'll always love pop music… so I select the Hot Hits and Release Radar playlists… which is all new releases and re-mixes which is great for the gym.
Q: What do you consider your career highlights?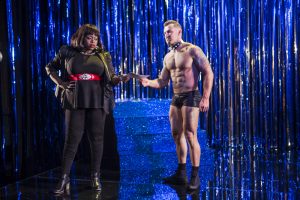 This might sound boring, but I've liked every single job I've had for different reasons. Being a part of Hairspray The Musical in 2010 was my first big job in Australia, which was a huge production and amazing experience. And also being on SYTYCD was important. I made the Top 40 in 2009 but broke my foot. Then in 2010 I made the Top 12. That was another experience I'm glad I had as I was transitioning from of young boy to a mature dancer… it was a really good time for me, especially as a lot of us in that season went on to do many jobs and travel together.
Q: What is your 'bucket list' job?
Chicago! … it's the one musical I would love to do. I just love the music and dancing in it.
Q: How do you see the industry in Australia at present?
I personally think the industry is strong at the moment, but it does depend on the individual and there isn't a job for everyone, so luck does come into it. For what I do in musical theatre there seems to be a lot of consistent work, which wasn't the case when I came out of full time. Most people I know are working in shows, but I think maybe the purely commercial dance scene is quiet and flat at the moment, especially with many of the TV talent shows disappearing and there doesn't seem to be music artists developing decent music videos anymore either.
Q: Do you have any advise for next generation of dancers?
From what I've seen, all these kids are so phenomenal and their training is amazing! It's cool and exciting to watch, and teachers are doing a really good job here in Australia as the standard is so high. When I take auditions there are so many talented kids and its impossible to take them all through so we have to cut based on minor things. They need to know not to take it personally, to have a thick skin, and … as clichéd as it sounds … believe in yourself and have confidence. Be sure to know your standards and your worth. If you can know your worth I think everything will come to you and you won't settle for second best.
Q: Do you recommend doing a full time course?
I think it was the perfect transition for me. I know a lot of people who haven't done full time and have managed to do the same things as I have, but for me personally I needed that 'boot camp' environment of full time. You come from a dance school where you may be the cream of the crop, and then you go into a full time course, where everyone else is as good… And you need that competition to give you a kick up the backside and push you because out in the real world no one is going to do it for you. In an audition the last thing you want to feel is not good enough … if you can go through that mental challenge before audition day then I think you are already ten steps ahead.
BIO | Heath Keating
Heath Keating is a well-known face on the Sydney scene as a versatile performer who has been working consistently in Australia and overseas for quite some time. He began dancing in Northern NSW/Gold Coast where he attended Palm Beach-Currumbin Dance Excellence programme and performed at the Gold Coast Arts Centre, alongside Rob Guest. Heath studied under full-scholarship at ED5 International in 2005 and then went on to Chistery in Wicked (Universal Studios Japan), Pacific Sun (P&O Cruises), touring Asia and the Middle East with Barney and Friends (Millennium Entertainment), SYTYCD Australian series 3 (top 11), Hairspray the Musical (2010), A Chorus Line (2012), Handa Opera's Carmen (2013), Grease the Musical for the 2013/2014/2015 Australia/Asia Tour, Bonnie Lythgoe's Aladdin and his Wondrous Lamp (2015), Cinderella (2016) and Sleeping Beauty (2018), dance captain on The Bodyguard the Musical (2017), and the parody, The Body Bag (2018).
Heath has performed many commercial live/TV/events including The 2018 Commonwealth Games ceremonies, X Factor (dancer), The Voice (dancer), Dance Academy, The Logies, Sunrise, The Today Show, Kerri-Anne, HEY HEY It's Saturday, and Australian Idol. Heath's music artist credits include Kylie Minogue, Taylor Swift, Ricki-Lee, Little Mix, Kelis, Sneaky Sound System, Alexandra Burke, Samantha Jade, Boy George, Gabriella Cilmi, Guy Sebastian, Anthony Callea, Zoe Badwi, Paulini, Deborah Cox, Luciana, Katie Noonan, Prinnie, Rogue Traders, Marcia Hines, Nikki Webster and Kate Alexa at various live-televised events and music videos. His choreographic credits include Kelis (2013), Sneaky Sound System, Angel Tupai, Zoe Badwi (2012), and Katie Noonan's Emperor's Box Tour (2010).