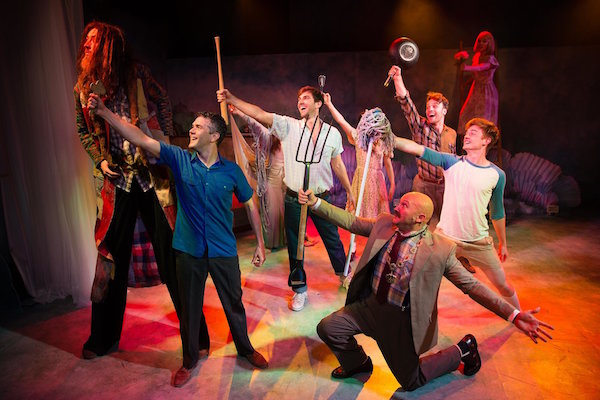 Pro Talent Watch | Cameron Mitchell
Big Fish The Musical
A firm fixture in the Australian choreographic and musical theatre industry nowadays, Cameron Mitchell has cemented his presence in the local and international arts fields and is relishing the opportunities to show his flair on productions like the upcoming Big Fish at the Hayes Theatre Company. 
Interview by Heather Clements 
***
Q: What is this interesting, unusual musical – Big Fish – all about?
Big Fish it's based on a book and a film. The film was by Tim Burton and starred Ewan McGregor playing a character called Edward Bloom who is basically telling his son fairy tales about what happened to him throughout life pretending that his life was far more interesting. The story really is about fathers and sons, and family, and finding your way home again. Also, that everyone wants to matter… that our lives to matter in some respects. So it has a few themes but it's a very emotional rollercoaster ride.
Q: So it's a relatively new musical for the first time in Australia?
This is the first time it has been played in Australia… it was on Broadway in 2013… but it lost it's way, they did it a little bit too big and a little bit too flashy… but it's really is a people's story. So we obviously scaled it down because we're doing it for a smaller audience at The Hayes.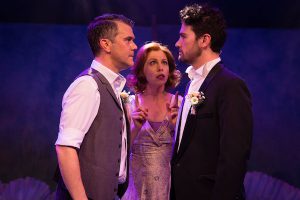 To be honest, I think the story has regained its heart in this production.
Q: So in terms of the music, people won't be familiar with it because it is a new show… can you give me an idea of what the tone/style of the music is like?
We have a lot of different sounds in it; it's set in the south of the US so there are a lot of Southern bluegrassy-sounds. There are also some beautiful ballads, pop sounding songs… I think the mix of music is really eclectic… but in one word I would say it is beautiful. 
Q: Ok, so it's a real sentimental version of the movie?
Yes, very much so bring your tissues. There's a lot of magic in the show… it's a fantasy… his story is very fantastical and there's witches and giants and mermaids, all this sort of stuff. Then when we come back to reality it's a real serious family story. So it has both sides… it has its majesty and its musical theatre land, and then we come back to a really serious play as well.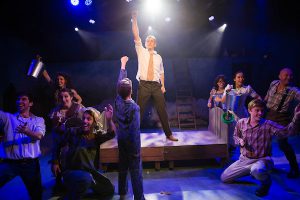 Q: How many musical numbers are there in the production?
Between 14-15, it's quite a big one. So there's a lot of dancing. Especially in the first act because it's that sort of fantasy world where there's a bit of gum-booting, a little bit of slight contemporary-ism and then there's a circus number. It's got a lot of different things in it.
Q: You mentioned the show has a southern-blue-grassy but pop-contemporary feel, but does the style of dancing vary much throughout the numbers? Is there an overall tone that dominates?
No, that changes with the song really. I realised today we did a run of the show and I thought… gosh there's a lot in this and it shows versatility within the piece. There's a 'tap-inspired' number, and a 'girly' number and then there's a number with which is quite contemporary and then the 'circus number' is very circus-styled. It all contrasts in a very serious balance, which will tear your heart out.
Q: So in terms of the cast, they've all come from a musical theatre background and they've got some dance experience as well?
When we were auditioning we had to make sure that we had especially a section of the cast were trained dancers. I think it's a lot easier when somebody has done dancing… just with problem solving as an actor. I think it's so important. It's weird that a non-dancer sometimes can't step on one… they always have to go 'and one' and put it down, they can't just step on one it's really weird.
I think I like to work with dancers that are actors as well. At the moment, especially in dance schools, it's become very much just about steps and all the intention, the heart has just gone out of the teaching. But that's a whole other article!!
But I think it's just as important for a dancer to be an actor, as it is to be an actor that can dance. Ask yourself: What is the purpose of doing that step, why are you doing it? Your audience can only connect with you when they see an intention, you can do 14 pirouettes but do they care by the fourth? This is where musical theatre comes into play. You get to use your brain in musical theatre … its not just doing steps … and it gets you longevity. Musical theatre is at its peak now in this country.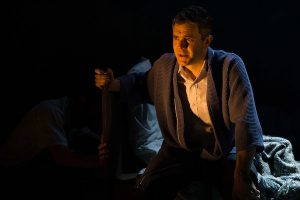 Q: What numbers in this show should people be looking out for?
I can't pick a favourite because there's so many – it takes you on journey. So you have a point where you go 'ooh I love this number' and then something else brings you into another mood and you love that. So I can't pick my favourite I love so many of them.
Q: What is the main theme of the show?
The overall main theme of the show is the 'father and son' relationship. It's rare for a musical – or any story! – To be focused towards men and their relationships. This is a rare story where the male lead heads a story of fathers and sons in a musical theatre context. It's truly unique.
And that's the other thing with Big Fish… someone said the other day "it's such a good piece it's a shame it didn't work on Broadway." I said "no way", it's a good thing it didn't work on Broadway because we wouldn't be doing it now! … we'd be sitting in the audience watching the big American production of it in Australia. So the good thing that it didn't work on Broadway is that we get to do it ourselves.
This is great heartfelt show for all generations and for all the family.
>>Click here to read our previous article on BIG FISH and watch the preview.