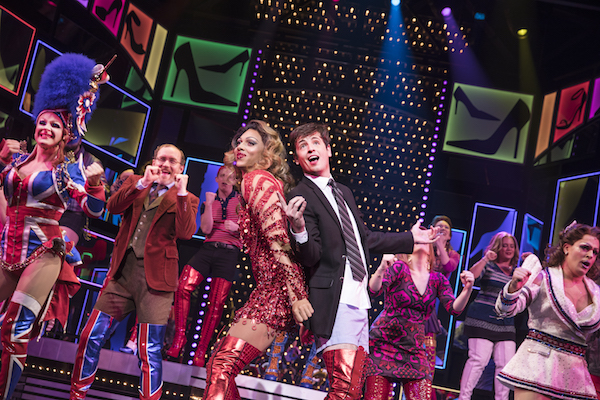 Don't Miss a Fabulous Time at Kinky Boots!
Review by Heather Clements
After a long run at Melbourne's Her Majesty's Theatre since last October, with favourable reviews, the fun musical story Kinky Boots has finally arrived in Sydney at the Capitol Theatre.
Kinky Boots, the multi-award winning production with songs by 80s pop icon Cyndi Lauper, takes audiences on a hilarious journey from a working class shoe factory to the runways of Milan.
The feel-good musical has played to packed houses and nightly standing ovations since its glittering Australian premiere in October last year. Audiences have fallen head over heels for the smash-hit show and its red-hot Australian cast, led by principals Callum Francis (Lola) and Toby Francis (Charlie). 
This is a quaint, yet quirky, story about a struggling shoe factory in conservative, regional England that adopts a new and controversial strategy to revive its business and avoid closing down and sacking its much-loved staff. In the same narrative vain as Billy Elliot and The Full Monty with a heavy touch of Priscilla Queen of the Desert thrown in, Kinky Boots is very accessible to modern audiences with contemporary themes of acceptance and entrepreneurship. In fact, the concept of drag queens being 'shocking' in society almost feels a little outdated in this day and age.
And yes! – it is a story about Drag Queens. In the spotlight is the artist known as 'Lola' whom, by chance, gives Charlie Price an idea on how to resurrect his dead father's shoe factory by making bespoke high-heeled boots for the drag-queen performance market. Crazy stuff!!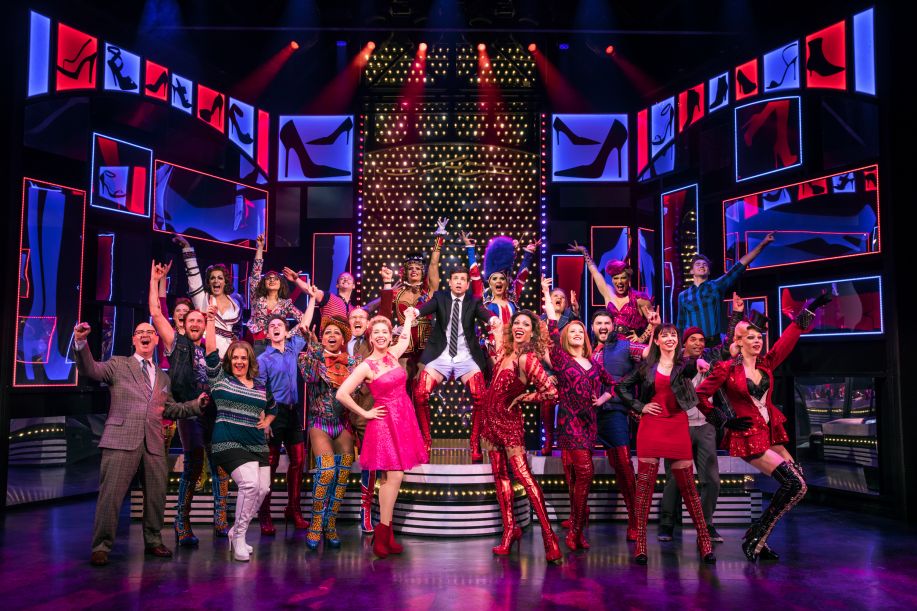 In the lead roles are Callum Francis as Lola and Toby Francis (no relation) as Charlie Price. Callum was brought over from the UK production to play Lola. Toby Francis is a Sydney-based singer, writer and musical theatre performer mostly known for his part in The Ten Tenors.
Toby Francis plays the 'sappy' reluctant shoe factory heir well – Charlie Price – and doesn't really show his true colours until the second act where he really comes into his own in the role. However, the closing number of Act 1, 'Everybody Say Yeah' certainly sets the scene for Act 2 and is energetic and uplifting.
Despite heated discussions about not utilising local talent for productions, which DanceLife wholly supports in general, there is no denying that Callum Francis was born to play the role of Lola!! He is setting out to make his mark in this role and make it an iconic performance for all future artists to emulate. If nothing else, see this show for Callum's performance. He is simply exhilarating and inspiring as Lola.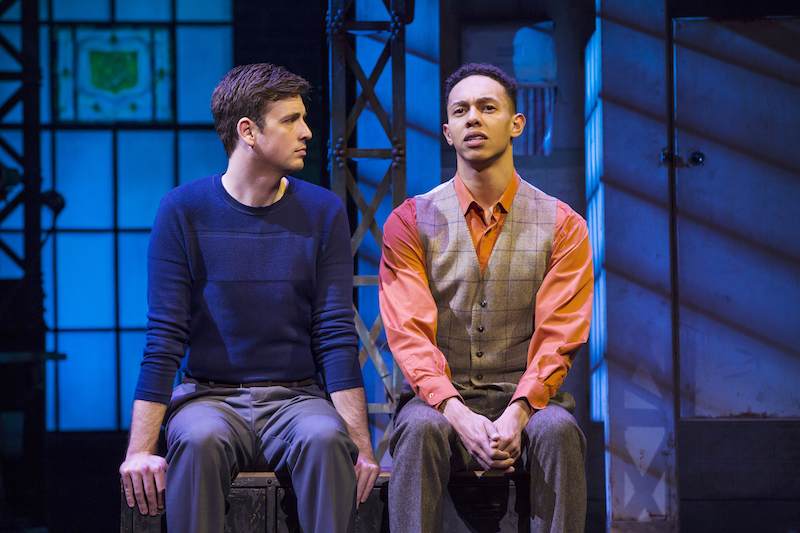 I have to admit though, as good as the overall show is, without the interjections of Lola's "backup girls" this show would be an empty shell. Lola's "girls" along with Lola herself are the heart of Kinky Boots.
Entertaining comic relief is delivered by the two characters of Lauren (Sophie Wright) and Dan (Joe Kosky) as one falls in love with Charlie and the other realises his prejudice against gays/drag queens is unfounded. Lauren is a most funny, edgy and cartoonish character relief.
Act 2 is certainly the stronger part of the show, with the most charmingly funny and entertaining scene being the boxing scene between Lola and Don – it is delivered perfectly!
Besides the two big Broadway-style numbers, the main showstopper in Kinky Boots is the solo number by Lola which is a 'Whitney Houston-esque' ballad that is simply a silencing, jaw-dropping moment by Callum Francis. Francis sings it beyond well and would have earned a standing ovation in any other setting.
The sets are purposeful and appropriately bleak as per the intended UK factory setting, but this makes the glamorous influence of the 'kinky' boots and drag scene more effective. 
Strangely, this show still has the main themes of "acceptance" and "what makes a real man" at its heart. It feels as though this would have been a cutting-edge show 5 or 6 years ago, but now it just kind of seems 'cute'. Are drag queens really such a controversial story line in 2017? Maybe for a shoe factory in Northampton it is.
Overall, Kinky Boots is one helluva fun night out with good songs and great talent on stage! The songs are by 80s pop star Cyndi Lauper, and while some are great, none are particularly memorable and I doubt they will become classics of the genre in the short term.
Kinky Boots is a little different to most musical theatre experiences – and for nothing else, it is worth attending for just this alone. For Callum Francis in the role of Lola – this is a must see! However, if you love a good laugh and a fun time, try to get along to see Kinky Boots in Sydney.
#KinkyBootsOz
>> Read more about KINKY BOOTS here
KINKY BOOTS


SYDNEY
from April 2017
Capitol Theatre, Sydney
Tickets on sale December 5
Book through Ticketmaster 1300 558 878 | www.ticketmaster.com.au or