Stephen Tannos A Perfect Fit for Outrageous TV Show
Choreographing The Masked Singer
Interview by Chris Duncan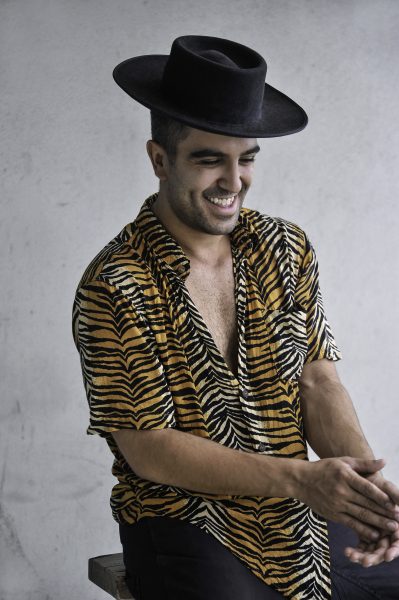 Last week we brought you Michelle Hopper's insights of working in the TV medium for the first time as a choreographer on Channel Ten's hit The Masked Singer. This week, we get the perspective from her co-choreographer Stephen Tannos.
Stephen Tannos is renowned for being one of the most talented creatives on the Australian dance scene over the past decade, with his dynamic energy and eccentric style almost perfectly suited to the whacky TV show The Masked Singer. From the musical theatre stage to performing alongside pop artists and on TV shows as a dancer, his career has seen Stephen carve out his niche in creating spectacular short dance films and directing independent dance productions.
This in-demand artist spoke to Chris Duncan about his love of the challenges presented by the TV form to a choreographer as well as what he has planned for life in this industry post-Covid lockdowns.
***
Q: How was working on The Masked Singer again this year?
We finished that about six weeks ago … It was me and Michelle Hopper assigned the task of choreographing The Masked Singer this year with The Squared Division as creative directors. We did six routines a week over nine episodes, so it was a mammoth task. And if you've seen the show, you'll know that we had to create choreography on dancers in snorkels and flippers and with giant watermelon heads and big flags … it was very, very challenging.
I've choreographed on most of the Australian TV shows that use dancers and I would think The Masked Singer is the most challenging by far; but it is also the most fun because we're able to be as ridiculous as we want, in fact we were encouraged to be ridiculous. Usually on these shows they're asking you to pull it back, but on The Masked Singer they're like 'we need the dancers to have giant fish heads and go for your life make it quirky'! So I feel like it's a show very much designed for me. With Ash and Ant from The Squared Division as the creatives (Ashley Evans and Antony Ginandjar), they kept encouraging us to push it further and further and be as ridiculous as we wanted because the show is ridiculous!
Q: I think that's' why people like it so much.
It's a show that's very self-aware and that's why people enjoy it. It doesn't take itself too seriously and it's just kind of a bunch of celebrities having a crack and doing something ridiculous and I think that's what people are really responding to. That's why I've continued on this season.
Q: How many seasons have you worked on The Masked Singer?
I did a few numbers on the first season two years ago; but it was a different creative team then, so it wasn't quite as hands on. It was just kind of, the dancers were very much a part of the furniture kind of thing. I was asked to do it last year with Squared Division but was unable to due to Covid and it being filmed in Melbourne. So I was happy to sign-on again for this season in Sydney.
Q: Did Covid impact production this year?
Even though Covid did ramp up again in Sydney when we were in production, we just had to get tested two or three times a week and just stay in our work bubble. So we were really lucky to have all had work for the first month of the lockdown. We just had to wear a mask all day, every day, even when we're dancing and rehearsals, but you get used to it. They ended up pushing the final film day forward a couple of days so we managed to get to the end of the show before lockdown got more serious, which was lucky.
Q: Can we reveal who the dancers were?
There were six main dancers: Sophie Holloway, Georgie Fabien, Felicia Stavropoulos, Matt Antonucci, Devante Latorre, and Stephen Perez.
They learned about 67 routines in total. And then, the way that the show works, you bank a bunch of routines before you film them. As contestants start getting eliminated you start losing routines. So while we did 67 routines, about 12 or so were not used due to eliminations.
As a dancer, it's one of the most gruelling shows you can do because there's just a small group of you and you're learning so much content. Sometimes you have half an hour to put a number together. Sometimes it's on stage two days later and you know how TV works, there are always changes and notes. Because you choreograph it in the room and then you take it on stage, you might figure out it doesn't really work for the camera or on the space or lights or the artist doesn't want to move as much or the artist wants to move more … So it's a good challenge for me actually. The nature of this show is that things are constantly changing. It really teaches you to think on your feet, not get too attached to elements and kind of like go with your gut and improvise as you go. I think every choreographer should be able to do that. And The Masked Singer definitely makes you do that.
Q: What do you love most about working in TV? And working with The Squared Division?
The first few TV shows I did; it was terrifying. I'd be lying if I didn't say it still makes me nervous. But I love that and I just love the environment of it all. Like, when you work on TV for long enough and you start to know everybody and it starts to become very family orientated. There's something about the long hours of it and just the reward at the end of the day. We're all there just trying to make something great and there's actually money involved in it. I kind of like the pressure and the end product, obviously, as well.
And it is great to work on a TV show that's an avenue for dancers; as we don't have many anymore on TV. But we take what you can get, and that's what's so great about having The Squared Division involved. They really make it a dancers medium and make it a show for us to sink our teeth into. That's why they're so great, with their attention to detail and wanting to make something amazing no matter what they do.
They're the most hands on. Before we started the job, we all had a Zoom meeting and Ash and Ant told us to get ready for lots of notes! They know exactly what they want and they're going to push us to make sure it happens. And in TV you learn to remove your emotions from things and just get the job done. As creatives, we're overly emotional and attached to things. And that doesn't always work, if it's my own project and it's something I'm funding myself then, yes, that makes sense. But if it's something that we're pushing for a certain product and there's all these different moving parts, the less emotional you can be about it, and the more focused you can be on getting the right thing done the better off you'll be. It's like any job really … Leave the ego at the door, let's just make amazing work.
Q: And you worked alongside Michelle Hopper on this season?
I've known Michelle ages. It's funny as we danced together on a job for The Squared Division years ago on The X Factor. And it was a gig that everyone talked about because I made a big mistake in it on live TV, I ran onto stage at the wrong time. She would jokingly give me so much crap for it back then. Now it's funny to see us working together again, because she was a dancer who had done so much in her career that I kind of looked up to and was terrified of. So for us to be working together again is cool. She had never worked choreographing TV before, but it was fun working together on the show. She works very differently to me. Like, I'm not the cleanest choreographer, I'm a bit rough and ready sometimes, and she's super focused on all the detail. She would look at some of my stuff sometimes and tell me to clean this a bit and that a bit more; and then she'd come to me and ask for advice about camera angles. So we worked really well together. So much fun.
Q: What are you planning next?
I'm waiting till we are far enough out of the woods with Covid that I know I can put something on and it will actually happened. First cab off the ranks will be getting my Tannos Collective Youth Company up and running again after the first one this year went so well. We were just starting to get momentum and I had so many people from the first one joining up to do the second one again. But I think I only just scratched the surface as to what I could do with it. So definitely keep your ears and your eyes kind of peeled for that.
But actually, I think the first thing I want to do creatively out of lockdown is to make another short film. It's been long enough since I made The Process, and I feel like I've evolved so much and that there's plenty to comment on at the moment on a film.
Q: What have you learned from living through the Covid pandemic?
If this pandemic's taught me anything, it's that at the end of the day we're all struggling here. So I would much rather put myself in the mindset wanting to see people shine. Because if you come out of this situation on top, you should be pretty proud of yourself.
It's taught us to think inside your own head a little bit more. But I think the more time you spend with yourself, the more you kind of discover what it is that actually makes you tick and why you got into this work. Discovering the things you feel like you can do to better yourself. If there is one positive from Covid it's that self-care and thinking about ourselves, but an a non-selfish way.
***
Stephen Tannos is arguably one of the most innovative minds in performing arts in Australia. His unique and exhilarating choreography, combined with his infectious personality and incredible work ethic has quickly established Stephen, as the most in-demand choreographer in the country.
 
Stephen was born in Sydney and has trained extensively in all styles of dance as well as singing and acting. His career took off initially in Musical Theatre with roles in Cats and Fame -The Musical as well as being part of the cast of large-scale production of the opera Carmen, choreographed by Kelley Abbey in 2013.
Stephen has also enjoyed much commercial success as a performer. His credits include working with with Artists such as Ricky Martin, Natalie Bassingthwaite and Jess Mauboy. Plus, in 2009 he was selected to be a part of the Top 20 in the 2009 season of the hit TV show So You Think You Can Dance Australia.
However, it is now Stephen's choreographic skills and creative direction prowess that are truly making the industry sit up and take notice – both locally and Internationally. It began with showcases and events and then Stephen collaborated with Morgan Choice to create and direct 'Tannos & Choice' with help from producer Marko Panzic. Their very first production played sold out seasons in both Sydney and Tasmania and received overwhelmingly positive feedback from the public and their peers in the Industry.
Stephen's stand-alone choreography has been featured on Channel 10's So You Think You Can Dance Australia (receiving rave reviews from the judges) as well on The Voice Australia, The Voice Kids, Dancing With The Stars, Dance Boss and in 2018 Stephen was given the opportunity to choreograph for Rita Ora's ARIA awards performance. He has also created work for music videos for artists such as Alpine, RUFUS, Set Mo and Vaudeville Smash. And in 2016, Stephen once again collaborated with Marko Panzic to choreograph and co-direct (with Marko) The Dream Dance Company's Genesis, to great critical acclaim.
 
Stephen's latest creative endeavour was becoming the artistic director of the brand new dance company WE ARE DANCE PROJECT. The first show from that Stephen directed and choreographed, FOUND, premiered in March and received rave reviews. Stephen plans to continue helping this company grow and creating more works with them in the future. 
Stephen plans to continue pushing limits; creating original, mind-blowing performances as Choreographer and a Director as well as flexing his own performance muscles on select projects. He truly is a one of a kind Artist.