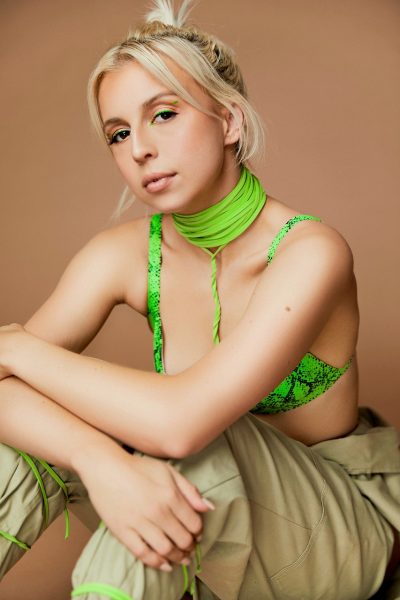 "I believe – in the deepest of my heart – that Australia has the hardest working dancers in the world!"
Interview by Chris Duncan
The last time we spoke to the incredible Gaynor Hicks here on DanceLife seems like a lifetime ago. Back in June 2021 she was itching to get back on stage thanks to the pandemic.
This week, Chris Duncan had a chance to catch up with Gaynor and find out what she's been up to in the US for the past few years and hear her take on why Aussie dancers are so well-loved!
It's been a little minute since we last spoke … how have you been?
"I think last time we spoke I hadn't been on tour with Justin (Bieber) yet. We did our New Year's show, and I think we were just in the rehearsals for the JUSTICE tour."
Wow, what was it like working with Justin Bieber?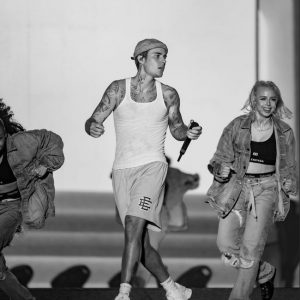 "It was my dream job! We toured around North America, went over to Canada, did a few shows in Europe.
Unfortunately, it got cut a little short – just due to some health reasons on his end – but it was still the best thing I've ever experienced.
He is just the best! The team is the best … the choreographers … and I just felt so at home on the stage and off the stage in in on that tour!"
What other jobs have stood out as 'pinch yourself' moments?
"This year I got to tour with BlackPink which was really fun! We headlined at Coachella. We did two weekends of Coachella and it had been on my list of goals for a while as well. I had always gone to Coachella – just witnessing in the audience – a hundred thousand people attend that festival!
"Every time I was there, I was like, "I want to dance, I want to perform here!" To do it with BlackPink and to headline two weekends in a row is just something that's unheard of unless you're on tour!
"I was talking to some of the students that I reconnected with when I was recently in Australia, and I emphasised just how important the rehearsal process is because that's going to show how prepared you are to go in for the performance.
"The good thing about having two weekends at Coachella was that you can be like, "Oh I went a little too crazy with my energy in this part – I can I can pull it back a little". You just get so excited and it's just literally the best experience in the world! Your adrenaline just kind of takes over, so when you do the second weekend, you're like, "oh I can just relax a bit here".
"Between those two major jobs, I've been able to perform at the AMA's with Imagine Dragons. I've done a handful of music videos. I've been training my little butt off which is also the best thing about living in LA … being able to take so many classes. I've also started teaching quite a bit in America.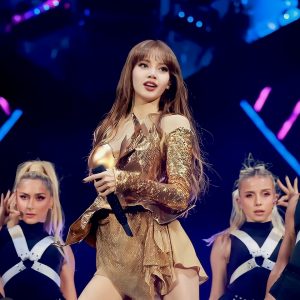 "Life just moves so quickly that … sometimes you do need to stop and just appreciate each moment whilst you're in it instead of being so consumed with 'Okay, what job is next, what job is next?' Make sure you're just really taking in each moment as it's there so that you can retain everything and be present and be excited for what comes next.
"I moved here as a dancer and to really focus on that. So, when I first got to the US, I put my teaching to the back for a bit. I wanted to perform and put myself out there as a dancer.
"As I felt that side of things slowly build up, I wanted to focus a little bit more on my teaching and put myself out there as a teacher and a choreographer. Eventually I would love to flip flop over to the other side. I've been teaching at Millennium which has also been a dream come true!
"A lot of different things pop up here and there which weren't necessarily in my view when I first thought about moving here but that's the magical thing about living here in the US …  those opportunities just pop up! That's when you can take a risk and just really enjoy it!"
Where do you like to train the most?
"Millennium is where I'm teaching and love to train … but Movement Lifestyle has just reopened as well. They closed in 2020 due to the pandemic but it has always been the studio that feels the most like 'home'.  It's spoken about so highly in our community that when it closed it was quite sad for all of us (Aussies) over here. They now have this new facility … they've got a bunch of studios brand new … it just feels like the world is finally back in order! After COVID it's taken a minute for everything to feel back to normal but that felt like the last piece of the puzzle."
In terms of working in the US what do you feel you bring to a table that is unique?
"I believe – in the deepest of my heart – that Australia has the hardest working dances in the world! I believe that is because our opportunities are so limited in Australia. If we want to achieve our dreams and be on the biggest stages in the world, we know that we have to work the hardest!
"I believe Australians do so well overseas – in America and in London particularly – because it stands out that we know we need to work hard … We need to get ourselves across the ocean, I guess!  I've had conversations with choreographers in America and they always say they love Australians because of their energy and how hardworking they are!
"I think it's in our nature that Australians just have a lot of energy and love a good time and can take a joke and know that It's not that serious. It's just something special and unique about an Australian that just stands out from the rest. Since moving here I've become even more proud to be Australian.
"In Australia you don't really talk about it, but being over here I can see that we really do create some of the best dancers in the world!  I remember being in Australia and I knew that I wanted to be on tour … I knew that I wanted to do all these big jobs, but I just couldn't even fathom how I was going to get there. To be able to be in those rooms and be working so hard, I think that just becomes ingrained in you as a human and as a professional … you continue to work that hard when you are finally in those rooms. I find that even if I'm in class or in rehearsal or I always know that I can be better and that there's work to be done … and I just love it!
"I think the LOVE is the fire to make me keep working .. I just love it so much, just obsessed!"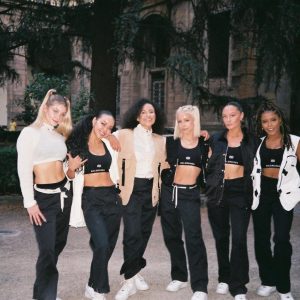 Have you had many other Aussies on tour with you?
"For my first big job in America in 2019 I was with Morgan Choice in Bec Morris with Squared Division. That was kind of my stepping stone … it felt like I had my family to just hold my hand and be like '… you're gonna be okay'.
"When I transitioned into the Bieber camp, I was the only Australian and, to the best of my knowledge, I believe I'm the only Australian they've hired before. It almost went from zero to a hundred in that sense. I didn't know too many people in the camp … I knew a few of the guys on the team but I wasn't overly familiar with many of the girls. It was a different feeling going into a rehearsal room where you knew everyone to then stepping into a room where I didn't know anyone. "I now can say though that the Bieber family is my family in LA! They are some of the greatest friends I think that I'll ever have … I'm just so appreciative for what that job gave me on stage but also what it gave me off stage. It was able to make LA feel like home to me!
"BlackPink is choreographed and directed by Kiel Tutin who is a New Zealand choreographer. On that job it was three quarters Australian and New Zealand dancers … so that felt really nice, very homely to be around people who understand the grind as much."
What is your process to work out what you want to manifest into your professional life?
"I do this thing where every six months I'll write a set of goals … I put it on paper, and it makes me think about what I'm manifesting or mentally working towards for the next six months. If I don't tick it off in those six months, then that goal moves to the following six months."
What are you hoping to manifest next?
"The next big thing would be performing at Super Bowl which happens in February … I would absolutely love to be a part of that … that's I dream that I would hope for. I would love to do Coachella again which is in April. I would love to go on another tour … I have a lot of artists and choreographers I would love to work for!
"I just want to keep experiencing new things, be in more rooms, be on more stages!
"After I ticked off one or two of my big goals I was like, 'Okay so what's next?' You kind of have to think that basically anything is possible because if I can achieve that I can achieve anything!
"Back in the day, I would not have even known what manifesting was … little did I know I was unconsciously manifesting my dreams. It's just knowing that you're going to end up in that place. You can do as much as you can, but also three quarters of it is out of your control … but you just put your head down and do the work … you're going to end up where you're meant to be and it's going to feel the best because that's the most genuine position for you."
What advice would you have to give to young Australian dancers that are wanting to follow in your footsteps?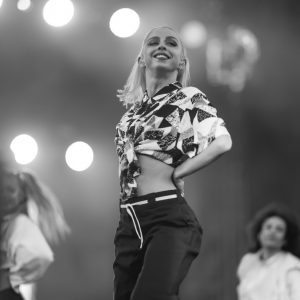 "I think the best way to believe that you can do it is by keeping your head down and just staying true to what you believe your dream is. Sometimes you can get on your journey and you can take a look out the other side and see what your friend is doing and be like, 'Oh why is it not going like that for me?' And then you get a bit discouraged with what you're doing. If at the end of the day you keep your eye on the prize, and you realize okay … maybe I want to move to America … 'what's the first thing I need to do?' The first thing I need to do is get in contact with a lawyer, or maybe go there and see if I even like America.
"I think sometimes people think, 'I want to move to London' – because everyone else is moving to London. Or, 'I want to move to America' because everyone's moving to America.
"If you take a second and think about what you genuinely want, I think you'll realize that it is so achievable and all you really need to do is work hard and look at it as little steps along the way. I think sometimes when we look at the mountain and it looks like Mount Everest, you think 'I can't that'. It's more than achievable if you do it one step at a time!
"If I jumped from living in Sydney to then 'How am I going to end up on a tour?' … I'd be like 'oh I can't do that'. If you backtrack and break it down, you it's going to feel a lot more achievable.
"If all the super talented dances that I know live in Australia backed themselves and believed that they could do it, they would all be on those stages right there with me … I'd be sharing these huge experiences with the most talented, hardworking dancers that come from Australia.
"I have a lot of people that helped me get to being the dancer that I am in my training and everything. But when I think about finding my style and 'my lane', YouTube was my best friend! People mentored me without even realizing they were mentoring me. I was watching Lyle Beniga and Nick DeMoura on YouTube when I was like fifteen … just sitting at my parents' house in Brisbane.
"Anyone that I thought was incredible or was inspired by, I would just look them up on YouTube and watch … you don't always have to be in the room with these people. There's so much information on our phones and especially now that we have social media."
BIO – GAYNOR HICKS
Gaynor Hicks is a professional dancer from Sydney, Australia and is one of the go-to dancers for high-profile performance opportunities. Gaynor has appeared in campaigns for McDonalds, Bonds and Vodafone and was a resident dancer for both The Voice AU & X Factor AU. Gaynor made her theatre debut as a featured dancer and dance captain for the world tour of The Illusionists 2.0 and also made her musical theatre debut in the ensemble of Saturday Night Fever.
Since moving to Los Angeles in 2019, Gaynor has been featured in large scale commercials as well as touring both nationally & internationally with Latin Grammy award winning artist J Balvin. At the beginning of 2020, Gaynor joined Justin Bieber's team for the tour "Changes". Since then, she has gone on to work with Justin Bieber for multiple performances including T Mobile presents: Justin Bieber NYE, Nickelodeon Kids Choice Awards, iHeart's Wango Tango Festival & Made in America. Gaynor has just returned from touring nationally and internationally with Justin Bieber & his 'Justice' Tour
Gaynor has had the pleasure of working alongside many international and Australian recording artists such as: BlackPink Pharrell, Ava Max, Imagine Dragons, Ricky Martin, Zara Larsson, Little Mix, The Veronica's, Charli XCX & many more