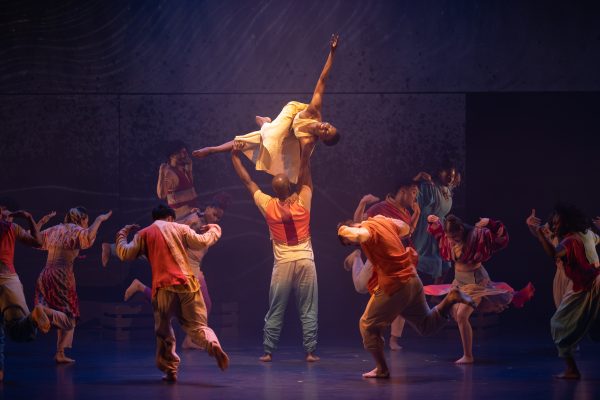 Message In A Bottle
A Universal Story of Loss, Fear, Survival, Hope and Love
Reviewed by Karina Lawrence
Being present at the iconic Sydney Opera House on the harbour was already the first gift, then the message was delivered from a truly inspiring, motivating and energetic new dance theatre show.
An Australian premiere of this Uk tour, the magnificent show Message In A Bottle certainly did not disappoint.
Inspired by the passionate, evocative and iconic music of Sting – Message In A Bottle is a universal story of loss, fear, survival, hope and love.
You couldn't help being moved with the concept behind this creative masterpiece, particularly with what is happening in the world today!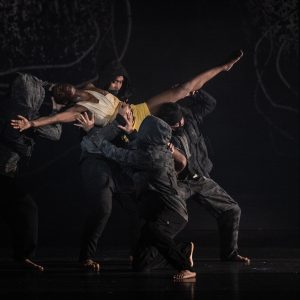 It is a vital story of humanity and hope that explores the global refugee crisis through the lens of one family's experiences.
From the moment the show started I was emerged and fully engaged! The music, soulful and the movements captured an embodied sense of wonder, excitement and compassion, as this beautiful story unfolded right before your eyes. Holding everyone's presence with a captivation of profound uplifting energy, in celebration of these artists bringing an important message to life, through this beautiful medium.
The power of art and artistry, movement, dance, production and no doubt endless hours of development in creativity to address more of what this world needs….compassion, humanity and love!
How loud the voice of movement truly is!
Based on the songs of Sting, the stunning soundtrack also features new vocals by Sting and new arrangements by Grammy and Tony award winner Alex Lacamoire (Hamilton, The Greatest Showman). Songs include Every Breath You Take, Roxanne, Every Little Thing She Does Is Magic, Walking On The Moon, Englishman In New York, Shape Of My Heart and Fields Of Gold.
Directed and Choreographed by Kate Prince, with ZooNation: The Kate Prince Company, this incredible work is a Sadler's Wells and Universal Music UK production co-produced with Birmingham Hippodrome and The Lowry, Salford. Research and development supported by The MOVEment.
The concept was beautifully executed, showcasing the talents from so many clearly talented individuals. It truly made me so proud to be part of the creative arts industry and community! Pure Brilliance!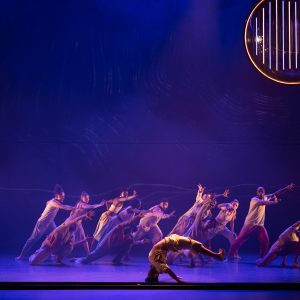 The music was so well incorporated into the production. It truly made you appreciate the talents and gifts of Sting on a whole different level. With Music Production and Arrangement by Martin Terefe, it felt like a gift as new music intertwined and was revealed into the next hit after hit, while framing this important story and topic.
Just brilliantly delivered! It undoubtedly takes a village and it showed the level of professionalism from all involved including, Sound Designer, David McEwan, Music Co-Producer and Mixer, Oskar Winberg with Music Associate and Additional Arrangements by DJ Walde.
Now let's share this incredible cast full of passion, endless stamina, talent and infectious energy including, Oliver Andrews, Lindon Barr, David Cottle, Deavion Brown, Harrison Dowzell, Nestor Garcia Gonzalez, Natasha Gooden, Lizzie Gough, Anna Holström, Megan Ingram, Ajani Johnson-Goffe, Daniella May, Dylan Mayoral, Lukas McFarlane, Robbie Ordona, Lara Renaud, Hannah Sandilands, Jessey Stol, Steven Thompson and Malachi Welch.
The talent of these dancers is exquisite! Accentuating such passion and joy within the movement of each intricate step. Embracing authenticity and diversity of talents, reminding us that art is art in all its form, shapes and sizes.
It was exhilarating to witness and watch the incredible Choreography by Kate Price and Associate Choreographer and dancer in the show, Lukas McFarlane.  The way the rhythms and movements intertwined with the music and complimented each other, all in the art of storytelling in such a powerful and creatively though out way!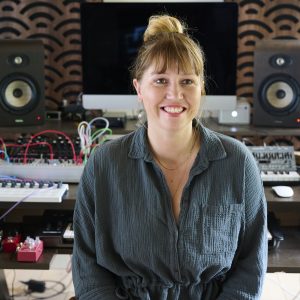 Truly also a credit to all the dancers as well as Assistant Choreographers, Tommy Franzenand and Lizzie Gough.
Credit also to the company's Dramaturg, Lolita Chakrabarti.
The sets, by designer Ben Stonesso, had a minimalistic feel, yet so effective and well crafted and derived. The staging well thought out and interactive, allowed the audience to be captivated and drawn in on another level of appreciation on this incredible journey, that had you all inspired and engaged from start to finish.
Sensational graphics with the Video Design by Andrzej Goulding, created a modern and futuristic vibe to the stage, submerging us in almost a rock concert meets musical theatre duality of creativity.
Lighting was just as amazing with the Lighting Design by Natasha Chiverss with its effects connecting to movements and music, certainly enhancing the staging and overall visual assortment delivered. The performance was tight nit and flowed beautifully.
Costuming was beautiful from designer Anna Fleischle, with colours and designs a visual feast while creating the atmosphere of the similar yet changing worlds revealed, as we embark on the experiences of three individuals from the one family.
I was literally blown away and so appreciated seeing this wonderful shown that left me feeling so motivated and inspired with how the arts can truly affect the world!
Definitely an all time memorable favourite for me!
Definitely NOT TO BE MISSED!