Pro Talent Watch | Bree Langridge
Loving Life as a Munchkin in the Wizard of Oz
Interview and Article by Heather Clements

In her first time role as Dance Captain on the new musical theatre stage production of The Wizard of Oz, Bree Langridge is proof that honing one's skills will pay off and keep performers in work. She is also testament that anyone can turn their apparent weaknesses into assets, by making the most of her tiny stature in an industry that can often be critical and unforgiving when casting dancers and leading roles. Never one to give up, Bree has had a varied career including theme park work, children's entertainment and numerous parts in hit musicals from Cats to Wicked. She is also a yoga instructor, music theatre teacher, writer and performer of a Motown tribute show and is studying a business management degree. 
We spoke to Bree on the opening day of The Wizard of Oz in Brisbane about how joyful this show is for both the cast and audiences of all ages, and how it will bring a fresh approach to this iconic story of Dorothy and the mythical Oz. Bree also has some great advice for aspiring performers.
Read our Review of The Wizard of Oz here
PLUS! … Win a double pass to see the opening night of  The Wizard of Oz in Sydney on Tuesday 2nd January 2018. To enter, send in your name and phone number to win@dancelife.com.au with the subject title 'Wizard of Oz Tix'. Winner drawn randomly. Entries close December 11.
***
Q: This is your first time as dance captain I believe?
Yes correct, it is my first time. The show is in great shape and as dance captain I've had a chance to be back stage, on stage and out the front, and to experience it from all aspects. I think it's going well, it's been beautifully received by all age groups – from little kids to the elderly.
Q: So what freedoms have they given you as dance captain? What's been the biggest learning curve or challenge for you?
After being offered the role of Dance Captain I wanted to understand exactly how the show ran, what was required of me, how big the show was going to be and how big the position was so that I could do a good job. I loved the audition and I loved Richard Rowe (who is the assistant choreographer to Arlene Phillips in the original production). I knew that the choreography itself sits well in my body… it's something that feels right. I think my experience to date with 'swing' roles and being able to understand the show from that level – you work so closely with the dance captains in that position – that I knew what was going to be required of me in the job. But every job, company and show is different so I asked a lot of questions in that respect. Then when Richard came over (from the UK). He's the one I worked closely with here and he empowered me and gave me all the right tools to be able to do my job.
In terms of freedom I think the show is mine after opening night, and then it's my job to in turn empower the company to enjoy it, be the best that they can be and keep the choreography at its clean, crisp precise shape. Particularly in The Wizard of Oz, we have very specific worlds we need to recreate every night … from Munchkinland, the Emerald City, the witches, the winkies and monkeys… So in terms of movement it's quite a textured show for the ensemble. This show suits my style and it's very comfortable for me stylistically. I mean from a dance perspective it's kind of huge.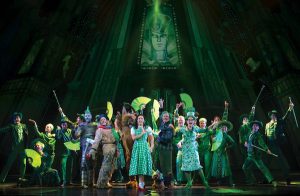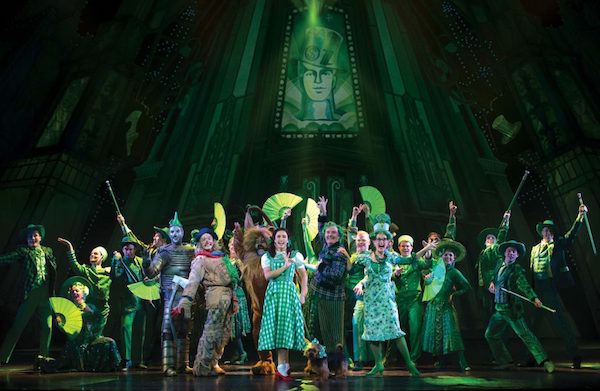 Q: Most people are only familiar with the movie version of The Wizard of Oz; are there very big dance numbers in this stage musical? And what dance styles are used?
Yes there are! Tim Rice and Andrew Lloyd Webber have written five new numbers for this specific London Palladium version of The Wizard of Oz. In Munchkinland the movement is very specific, joyful, exciting and creative for us as dancers – and it's a nig number in the show. We also have the Emerald City number where it's an entirely different physical approach … your Emerald citizens are very pulled-up and proper, with an elegance to the movement.
But I think the Munchkinland number is the most exciting and different that takes the show to another level. I think the most unexpected element of this show is the winkies.
The winkies are the wicked witch's people … her army. There is one very contemporary dance routine for the winkies which is unexpected with a lot of partner work, but not in the usual way.
It's very exciting … the wicked witch puts us under a spell and we dance for her… it's very contemporary and very grounded and it's wonderful! That's the new stuff that I don't think audiences will expect and it's really layered.
Q: How do you make such an iconic story fresh and appealing for today's audiences?
Obviously it has its wide demographic, but I think there is so much heart and truth in this production that it does have a fresh appeal. The calibre of actors we've got are the best in the country and they are really bringing the story to life and I think there's something for everyone… it's a very rich production. It's new, modern and the costumes are incredible!
Q: Tell me about your background and training.
When I was young I trained as a dancer in Hobart, Tasmania, where I did all my dance exams and then I went to the Victorian College of Arts the first year they offered music theatre as an evening course in 2003. I was the guinea pig year… it is now a bachelor course.
I did that for two years and then I was a unsure of how to put it all together. Full time training gives you the information and tools, but it's after when you learn the real skills and the real work begins. I decided to go and work on my weaknesses… my vocals, I went back to dancing in a more stylistic technical way.
I guess the difference for me in this industry is that I didn't do a full time dance course. I decided to seek out the best dance teachers in Melbourne myself and polish my dance skills as an adult.
Soon after, I booked my first job at Universal Studios in Japan and then came home and got into Wicked the musical.
Q: And just most recently you were doing The Bodyguard?
Yes, I was in the ensemble for The Bodyguard and was the on stage swing … I covered the four dancers, two backing vocalists and under studied the Rachel Marron role. I literally finished The Bodyguard on a Sunday night and started rehearsals for The Wizard of Oz on the Monday morning. The Bodyguard was challenging physically, but not vocally.
Q; Who have your mentors been?
I've had incredible people to work with. People like Amy Campbell (who was dance captain in The Bodyguard) and Emma Delmenico… she's currently the resident choreographer of Book of Mormon and I worked with her on Wicked and Cats. I've had some really good mentors so I guess it's prepared me for this job.
Q: What is your advice for someone who's coming out of full time and trying to work out where their place is?
I think the first thing is it's actually a really good time in our industry. Everyone is excelling and confidence is building. I think once you get out of full time you should take every single opportunity and be the best in every single opportunity. Even if you know you want to be in a musical or you know you want to be a leading lady don't dismiss the small jobs. Samantha Dodemaide (plays Dorothy in The Wizard of Oz) is a perfect example… she has done countless musicals in the ensemble and as a cover, and this is her first big lead role!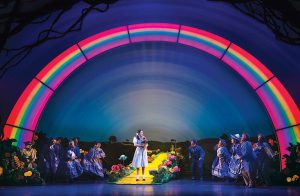 You've just got to slog it out, you've just got to put the hard yards in and keep your training up. In terms of taking cruise ship or theme park jobs … for me personally it was a great thing. Universal was great for me because I could go away, save some money, and do what I love. But I also remained super motivated while I was over there. You're surrounded by so many people that are artistic for a whole year or six months so you use those people around you to build on your skills.
When I came back I didn't have to work full time because I had saved money… I could go to the right classes and put myself in front of the right people to get my next job. So I do recommend young people take on the theme parks and cruise ships, but don't get caught to stay there, be really clear when you want to leave.
Q: What do you consider to be your best asset in this industry?
Well, I'm only 4 foot 11 inches – very short ! – and everyone told me I was too small for this industry and to take on leading roles. Sorry!! I just had to make my skills so good that they could look past the height restrictions. I'm realistic about which roles are right for me and which aren't. I've also worked hard on my total skillsets so that I'm useful in a company. And that has come to fruition now because in my last three jobs I've been really utilised and that's fulfilling. Several years ago all I wanted to be was the supporting lead because that's my niche.
I am still driving for that but I'm also useful as a swing, cover and dance captain and seeing the show from another side because it's all kind of useful and interesting. I also love teaching… I teach music theatre and dance, I teach a lot of dance to actors.
Q: So you've taken what could have been a weakness and turned it into your point of difference?
Correct. It was a clear indicator when I auditioned for Wicked seven times. I got close so many times, felt deflated, and in the end I replaced a girl they were recasting who was 5'4" … but I had the right skillset even though I was shorter. That was a perfect example of just working hard and they made an exception for my height in the end.
But I do have to be realistic about parts due to my height. I guess for young performers coming out it is about making your skills so good theat you cant be ignored. You have to be in the top 5% of dancers and top 5% of singers to get cast in a musical. Then if you want to be just a singer you've got to be in the top 2% and if you want to be just a dancer you've got to be in the top 1%. So I think it's just about honing in on those skills and then surrendering to what you're suitable for and just being ok with it.
But I was perfect for Cats! And I would do that show again in a heartbeat!
Q: You were a finalist in the Rob Guest Scholarship?
Yes, I think doing the Rob Guest Endowment Award process helped me work out who I was as a performer. I did it the second year it was running in 2010. It forces you to showcase yourself and think about your place in the industry because you aren't auditioning to be in a show, just presenting your best version of yourself as an artist. It makes you realise where your place is.
Q: Why should people go and see The Wizard of Oz stage musical version?
There are so many reasons they should come and see it! It's our actors and our ensemble, often I don't say this but they're incredible! There are just moments that are truthful and real and heartfelt and funny and it's beautiful. The production itself is mesmerizing and so exciting, it's so new yet they've managed to keep the real movie classic story alive but in a way that is fast paced. You're only here for 2 hours and 15 minutes including interval. It's so great and it moves so quickly and it's exciting. I just don't think we get a chance to celebrate the really classic stories like this often enough.
Home is the main theme. It's all based on home and heart and that's a very important story for the young, old, and everyone. It took me by surprise, I auditioned for the show and was excited about the concept of it but it constantly takes me by surprise of just how wonderful it is. It would be a real shame if people missed this show.


BIO | Bree Langridge
Bree is a proud Indigenous Tasmanian woman, graduating from the Victorian College of the Arts in Musical Theatre. Bree most recently performed as a swing (cover Rachel Marron) in the Australian premiere of The Bodyguard (GFO). Her previous theatre credits include Tattooed Lady in SideShow (One Eyed Man Productions), swing and cover Victoria, Jemima, Rumpleteazer, Demeter, Tantomile in Cats (RUG) starring Delta Goodrem, winning the Green Room award for Best Ensemble, ensemble in Show Boat (The Production Company), and ensemble and cover Truly Scrumptious in Chitty Chitty Bang Bang (TML). In 2010 Bree was a Rob Guest Endowment finalist, in the same year as making her professional music theatre debut in the Australian cast of Wicked (GFO). She went on to tour Australia and Asia in Wicked. Bree has performed in the children's entertainment industry as Stephanie in LazyTown Live, Yo Gabba Gabba Live Onstage, Ben 10 Live, Pepper Pig and Wendy in Peter Pan's Neverland at Universal Studios Japan. Bree is a lead and backing vocalist across Sydney's live music scene and wrote and produced Little Diana – A Motown Story, touring across Australia and South Asia. Bree is so humbled to be returning to Oz with this show that holds so much joy in her heart.