Follow the yellow brick road to the musical Wizard of Oz
Lyric Theatre, Brisbane, November 9
Reviewed by Deborah Duncan
PLUS! … Win a double pass to see the opening night of  The Wizard of Oz in Sydney on Tuesday 2nd January 2018. To enter, send in your name and phone number to win@dancelife.com.au with the subject title 'Wizard of Oz Tix'. Winner drawn randomly. Entries close December 11.
***
As a child, like millions of children worldwide, I sat glued to the television marvelling at The Wizard of Oz movie, barely blinking. It was a wonderful, over-the-top cinematic extravaganza. I've watched it faithfully countless times since then, always excited for Dorothy and Toto's colourful transition to Oz and waiting breathlessly for favourite songs.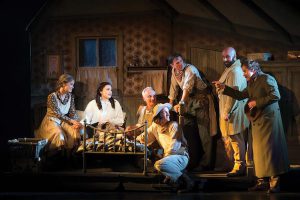 On heading to QPAC's Lyric Theatre for the Australian premiere of Andrew Lloyd Webber's stage production of this classic, I have to say I was a little nervous. Will they do the black & white to colour transition? A tornado in a theatre? Hundreds of flying monkeys? Will cherished songs live up to expectations? But no matter, I was so excited to finally see it on a big stage, having only ever watched it on the small screen my whole life.


Saying the production was visually excellent is an understatement… it was truly next level! Superb sets and costumes by Robert Jones are revealed for each scene, impossibly outdoing the previous as you venture further into the land of Oz. Jeremy Sams' technical production was astounding, raising the benchmark for musical theatre. Vivid 3D sets, mechanised flooring, ingenious projections of layers and immaculate sound, lighting and stage effects magically bring Oz to life.
Life on the farm in Kansas for Dorothy and Toto is as expected in sepia tones, transforming to colour when they land in Oz. And, there actually  WAS a tornado, a yellow brick road to skip down,  and the Emerald City with its almighty and powerful ruler – Oz. There were sleepy poppy fields and dark forests, flying monkeys and tiny Munchkins. Witches appeared and disappeared; and I'm certain some real magic was going on with the ruby slippers. No detail was spared, we were mesmerised.
The classic Harold Arlen and Yip Harburg score is expanded by the additional sprinkling of new music and lyrics from the Andrew Lloyd Weber and Tim Rice collaboration, giving more depth to Kansas farm life and to the witches, and cleverly providing continuity from the musical Wicked. The flawless orchestra moves seamlessly between score and songs. 
The cast was cleverly convincing in bringing the fantasy to life. Samantha Dodemaide plays Dorothy perfectly in her first lead role. Energetic, naïve and emotive, her powerful rendition of 'Over the Rainbow' prepares the audience for the calibre of performances to come. The masterful Anthony Warlow delivers as the Wizard/Professor Marvel with verve and humour; totally immersed in character.


Lucy Durack and Jemma Rix reprise their Wicked roles of Glinda the Good Witch of the North and the Elphaba the Wicked Witch of the West. There is a sprinkling of references to plotlines of Wicked although one wouldn't ponder on it if they had missed that show. New songs showcasing the talented Durack and Rix make the deviation from the original score forgivable.
Hunk/scarecrow played by Eli Cooper, Alex Rathberger as Hickory/Tin man and John Xintavelonis as Zeke/Lion play their roles to a tee. Scarecrow hilariously falls apart all over the place. All three show their comedic and dance prowess as realistic animated characters and would almost steal the show if not for Toto the dog. We fell in love with canine stars Trouble and Flick! And though I might have seen a doggy treat sneaked here or there, Toto is a true star and never a paw was out of place!


The ensemble cast includes Paul Hanlon as Uncle Henry and Sophie Weiss as Auntie Em, alongside Justin Anderson, Sheridan Anderson, Lewis Beer, Shay Debney, Sage Douglas, Mikey Halcrow, Zoe Ioannou, Bree Langridge, Rubin Matters, Scott Morris, Justine Puy, Michael Roache, Mitchell Roberts, Emma Russell, Dean Schulz, Darren Tyler, Caleb Vines, Stephanie Wall and Rachael Ward.
And what would Oz be without the Munchkins? A sing-along chorus and impeccable non-stop choreography is delivered by the ensemble – beloved Munchkins, Emerald City citizens and the malevolent army of the Witch of the West. The Lullaby League and Lollipop Guild were adorable, the flying monkeys as terrifying as ever. Choreographed by Arlene Phillips, dance moves were sharp and snappy, flowing through scenes with plenty of references to the original film's routines.
All the classic songs were enchanting and easily measured up to expectations. Looking around the theatre, the audience smiled as fond childhood memory stirred. I went to sleep that night singing "You're out of the woods, you're out of the dark, you're out of the night…"and woke up with "…if I only had a brain."


I'd coerced my impossibly casual and reluctant partner to accompany me to the theatre for the first time on the offer of some excellent pre-show beers. He is only impressed by quality craftsmanship, big waves, a runaway try by the Broncos or a good pale ale. Well he was impressed and though I wouldn't say he's now a devotee, he's been thumbing through the program and happily listens to me singing the songs from Oz since the curtains dropped. And if we never go to the theatre together again it won't matter, we've been somewhere over the rainbow.


THE WIZARD OF OZ
BRISBANE
Lyric Theatre, QPAC
To 3 December
Bookings: 

qpac.com.au

 or 136 246, 
Groups 12+ call 07 3840 7466
SYDNEY
Capitol Theatre
From 30 December
Bookings: 

ticketmaster.com.au

 or 1300 795 267, 
Groups 12+ call 1300 889 278
ADELAIDE
Festival Theatre, Adelaide Festival Centre
From 3 April 2018
Bookings:  

bass.net.au

 or 131 246,
 Groups 12+ 08 8205 2220
MELBOURNE
Regent Theatre
From 15 May 2018
Bookings: ticketmaster.com.au or 136 100, Groups 12+ 1300 889 278