STOMP Returns to Australia with its witty, rhythmic & musical percussion
"BIG, NOISY AND IRRESISTIBLE" – Sun Herald, Sydney
Following a sell-out visit in 2013, STOMP returns to Australia with its unstoppable energy and 'pure stage magic'. The Broadway, West End and international sensation will tour to Melbourne, the Gold Coast, Adelaide and Sydney from May to August next year.
Wordless, witty and fun, STOMP has become a global phenomenon over the last 26 years. For those unfamiliar with STOPM, performers use an array of ordinarily mundane objects, from which they create musical magic; an exhilarating soundtrack inspired by the commotion of everyday life.  Everything from Zippo lighters, bin lids, and even the kitchen sink are used to hammer out an explosively feel-good rhythm enjoyed by audiences of all ages.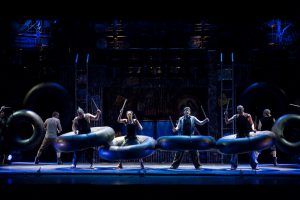 Its universal language of rhythm, theatre, comedy and dance has resonated with audiences throughout the world, setting feet stamping, fingers drumming and adrenalin rushing for over 12 million people in 55 countries across six continents.  There are now up to five STOMP companies performing worldwide at any time; one on tour in North America, another throughout Europe, one touring the rest of the world, one in New York (now in its 23rd year) and one in London (now celebrating its 15th year).
"We are really excited about coming back to Australia," says STOMP's Co-Creator/Director Steve McNicholas.  "If you've never seen STOMP you should come and see what all the noise is about, and if you have, come again and see what's new."
The "Trolleys" routine plays on the everyday experience of negotiating a busy shopping aisle with a fully-laden supermarket trolley, with the piece building to STOMP's first ever fully-fledged drum corps march: certainly an eye-catching spectacle.  "Frogs" explores the bizarre sonic possibilities of a variety of plumbing fixtures: it has to be heard to be believed!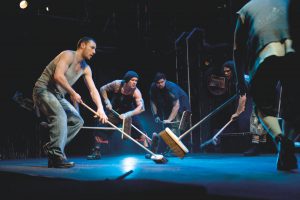 In another spectacular routine, paint cans are tossed between the performers, as they simultaneously build an astonishingly complex rhythm over every surface of the airborne cans.  With the emphasis very much on 'spectacular', the Stompers are also joined by inflated monster truck inner tubes strapped around their waists to create both a dance of bobbing, whirling rubber skirts and pounding, portable drum kits – the ultimate redefinition of 'surround sound'.
Still remaining is STOMP's signature high-octane mix of slick choreography, tight ensemble work, industrial percussion, and continuous comedy; as the irrepressible troupe turn brooms into soft shoe partners, clapping into intricate conversations and water cooler bottles into sophisticated instruments.
Producer James Cundall, CEO of Lunchbox Theatrical Productions says "STOMP has to be one of my favourite shows.  It is a unique and supremely clever idea, to create music from everyday objects and combine it with side-splitting comedy and intricate choreography to produce a polished theatrical performance, the likes of which you've never seen before.

"STOMP has little or no melody in the traditional sense, so it doesn't matter if your taste in music is jazz, classical, dance or pop.  The show has no words either, so it really is a show for everyone," adds Mr Cundall.
The fun started back in 1991 at the Edinburgh Festival in Scotland, with a single drum hanging around Co-Creator/Director Luke Cresswell's neck.  STOMP was an instant hit, becoming the Guardian's "Critic's Choice" and winning the Daily Express's "Best of the Fringe" award, and went on to play to capacity audiences around the world.  In 1994 STOMP received an Olivier Award nomination for "Best Entertainment" and won the award for "Best Choreography in a West End Show".  With appearances at the Oscars, the Emmy's, on prime-time US TV shows such as Letterman and Leno, and even at the London 2012 Olympics, STOMP has become a household name across the world.
STOMP is presented in Australia by Lunchbox Theatrical Productions, David Atkins Enterprises, STOMP Productions and Glynis Henderson Productions.

www.StompTour.com.au

STOMP
MELBOURNE


Comedy Theatre
1 – 6 May 2018 (8 performances)
Bookings: StompTour.com.au – Contact Ticketmaster Groups for information on Groups 8+ T: 1300 889 278 or groups@ticketmaster.com.au
GOLD COAST


The Star
31 May – 3 June 2018 (6 performances)
Bookings: StompTour.com.au –Contact Ticketek Groups for more information on Groups 8+ T: 1300 364 001
ADELAIDE


Adelaide Entertainment Centre Theatre
6 – 10 June 2018 (7 performances)
Bookings: StompTour.com.au – Contact Ticketek Groups for more information on Groups 8+ T: 1300 364 001
SYDNEY


Capitol Theatre
31 July – 5 August 2018  (8 performances)
Bookings:   StompTour.com.au – Contact Ticketmaster Groups for more information of Groups 8+ T:02 8240 2290 or groups@ticketmaster.com.au