Resurgence in Tap sees Forge Tap Project present premiere work ALPHA
One Show Only | December 14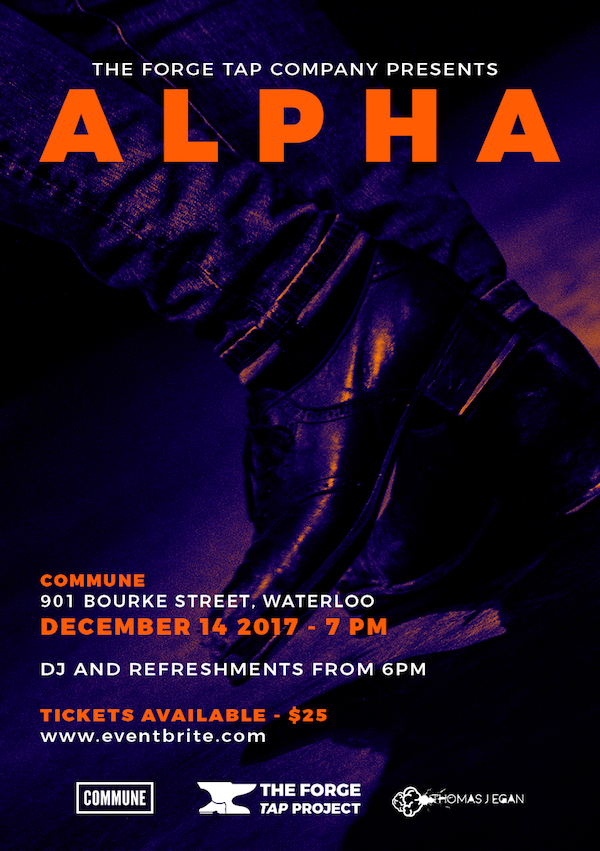 PLUS! … Win a double pass the this show. To enter email win@dancelife.com.au with your name and number with the subject of 'Alpha Tap'. Entries close Dec 8th. Winners drawn at random.
The Forge Tap Company, a brand new contemporary tap company, will present its premiere new show on December 14th in Sydney using the best tap dancers in Australia.
ALPHA will consist of a collective of Australia's finest tap dancers nurturing and innovating the art form of tap dance, and is the first full piece put on by the contemporary tap company. The piece signifies an exciting new space starting for tap in Australia.
Driven by tap-dancing brothers Thomas and Jack Egan, their collaboration on ALPHA represents an exciting new direction for the modern-day Australian tap scene. Thomas is a co-creator of The Tap Pack and brother Jack coaches an international team of tap dancers for the world championships. Thomas Egan is the choreographer and director of ALPHA, with Jack Egan assistant choreographer.
"The tap scene is experiencing a massive influx of passion and enthusiasm and I am excited to see where this company will go in the future as I am in it for the long term, to create opportunities for young tappers and choreographers. ALPHA will be choreographed by myself with my brother, Jack Egan's assistance. We have not worked together before and are very excited about the opportunity," said Thomas Egan.
ALPHA will consist of three short acts, combing the modern and traditional elements of tap while continuing to progress Australia's unique connection to tap dance. The Company will be joined by The Forge Tap team, a select group of young dancers from Sydney who are mentored by the company.
Cast: Thomas J Egan, Jack Egan, Sally Hare, Peta Anderson, Sean Robinson, Nathaniel Hanncock, Richie Miller, Sam Marks, Katie Struik, Charles Cameron, Tania Chodda, Jonah Ede, Georgia Anderson, Siobhan Parker, Aaron Noble, Nicole Saleh, Laura Scarfo and Michaela Mead.

ALPHA by The Forge Tap Company
14th of December at 7pm – Doors open for a DJ, drinks and refreshments at 6pm
Venue: The Commune, 901 Bourke St, Waterloo
Tickets: $25.00
Bookings: www.eventbrite.com.au/e/alpha-the-forge-tap-company-tickets-39149436017