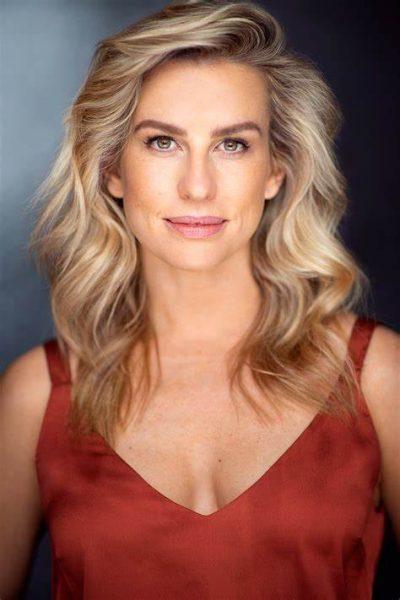 Amy Takes a Giant LEAP With New Production by Neil Gooding
East Coast Tour – Tickets Now On Sale!
Interview and article by Chris Duncan
Hot on the heels of choreographing a new version of A Chorus Line, Amy Campbell dives deep into creating her own show with LEAP backed by Neil Gooding Productions. Ten gifted dance artists cast from vastly different backgrounds are currently rehearsing for their multi-date east coast tour starting at the Riverside in Parramatta, finishing in July in Mackay. Amy draws on her multi-disciplinary background together with the eclectic mix of skills from her hand-picked cast to develop a show which promises to be something like nothing you've ever seen before. 
Chris Duncan caught up with Amy last week to find out more about her aspirations and inspiration for this brand new production.
***

Q: You've been involved in lots of productions recently, can you tell us a little bit about what you've been up to?
It's been quite busy since we were allowed out of lockdown again … it was this crazy thing of like, go stop, go stop. But I've been very fortunate to be a part of a couple of different productions in the last few months. Most recently just opening A Chorus Line at the Sydney Opera House which was a kind of a bucket list moment! Now, I'm about to start full time rehearsals on my next show LEAP.
Q: So tell us a little bit about LEAP and that came about …
So LEAP is fresh from the back of my brain, and it's been percolating for a couple of years. I mean, every creative mind I think has dreams of making shows and you always have a few going on in your head. So I started applying for funding about five years ago and Neil Gooding – the producer – and I have been talking for a couple of years about making a dance show. Finally last year we were fortunate enough to receive RISE funding from the New South Wales government, which was amazing. Many applications later, sometimes they do work out!
So now, we're making a brand new commercial dance show, 10 dancers, 4 musicians, and we'll be doing a tour up and down the east coast of New South Wales. So I'm pretty excited about the opportunity to finally, after all these years make something from scratch. I've never done it before. I've never made anything that didn't have a script, so we'll see how this one goes.
Q: Knowing your creativity I am so excited about this project … is there a narrative? What was the inspiration?
There's lots of different inspiration, mostly it's about trying to create a platform for commercial dance to exist within some kind of loose narrative that's outside of what we traditionally see commercial dance in. There is a loose narrative to follow along through the show and it's quite a fun little journey you get to go on as an audience member. We definitely fall in love with all the humans who are on stage. There's a bit of voice work. There's a bit of live musician work. There's a little bit of imaginative play, and it's basically 70 minutes of a glimpse into the heartbeat of an artist really.
I don't think I've ever seen a show like this made. I feel like I've taken all the things I've worked on, musicals, contemporary dance companies, commercial stuff, and sort of just used the best of storytelling. It kind of breaks all of those rules, and it's not going to be like a format you've seen before. It will either be great or terrifying!
The dance artists are so up for it … we had one week of development and we had the best time just making up dance with no rules, like it doesn't have to fit a musical or it doesn't have to fit like a choreographic showcase. It's not about me and my steps, we're actually just making this epic story on stage and that's kind of the fun part.
Q: How did you go about choosing your dancers? 
I wanted to make sure that the show felt accessible and the audition brief went out to as many people as possible. We were on a pretty tight timeframe, so it was kind of just like 'we're doing the show who wants to do it'. So I held auditions, and everybody from anywhere could submit a video to start with. It was really about finding artists who were up for using what they know, but in a new way. So the audition started out as a typical dance audition and then we spent hours and hours playing and improvising through each round.
It was really about finding humans who want to play, want to work really hard and want to do some awesome choreography, but also kind of want to see what it's like when a contemporary dance artist smashes up against a pure jazz dancer, who smashes up against a vogueing artist, who smashes up against a hip hop dancer. I'm excited to see what all of those genres do up against each other … to create around what they bring and what I bring. The style will be so new because it's not mine or theirs, it's what we're going to make together. I think that's the most exciting thing!
Q: It's going to be touring up the east coast … where exactly will you be taking the show?
We open in Parramatta on the 22nd of April, then we go to the Central Coast which I'm excited about because it's my home town. It goes basically Newcastle, Port Macquarie, Grafton, Gold Coast, Sunshine Coast, Toowoomba, Bundaberg, Rockhampton, Mackay – everywhere! It's so cool that it gets to go to so many places and that we can bring a brand new Australian dance show to Australia.
Q: What about this contract do you think appeals to the dancers? 
It's a great contract to be able to offer dancers because you know, very rarely do you ever get a six-week rehearsal, a whole run and all of those things. I'm good at making things quickly and I can pivot very quickly. So if someone says to me '… You can do this, but you've got X amount of time and rules and money', then you just sort of figure it out.
It's great that the artists get to work this hard, but then get to show it because they're all from different places. There's nothing better than bringing a show to where you're from and showing the people that you love. Or showing someone who might never have seen a show like this before. It could be the reason they might go and try a dance class or see a show. The more you go and see productions, the more it feeds into artistry in this industry. It's cool that way.
Q: What else can you share about the show?
You spend your whole life thinking, '… when I get my time to do a show, I'll do all these things …' and then it finally turns up and you sort of like freak out! You've got all these dancers in the cast that I've really been aching to play around with over the years … people like Neven Connelly, Callum Mooney, and so many more … to actually be able to create a show around these humans is the best.
If this is the last thing I ever do, then I'm going to make sure, A) it's really fun, but B) we're swinging pretty hard in terms of concept and production values. It's going to be a whole 70 minutes that hopefully people are excited about.
Q: How do you like to work with new faces like the amazing Shontaya Smedley?
These days I want to make art. I'm pretty loyal and if we work together and I have a great experience, then I'm crazy not to book you again. But also important for me is to always have people on the job who I've never worked with before, so that you are always providing a new opportunity. I'm challenging myself as a choreographer to meet new artists, and also providing an opportunity for new people to work.
It's a pretty personal thing of mine to always have someone new and try to always have people that I love working with too. You just get the best mix of energy and people are always challenging you in that way too. If you're working with someone for the first time, I have to figure them out. I have to figure out how to work and showcase their bodies and their movement and their personality.
Shontaya is amazing … I taught her a bit when she was 12, and she came and blew me away! I was like, WOW! It's the coolest to see someone  all these years later and they are now ready and at an age where I can work with them. I would never have guessed that I'd meet Shontaya at a dance workshop and she would've stuck in my brain all these years, and then finally there's a show and she auditions.
Q: What types of work have you done in your career that may have influenced this show?
I was a classical and contemporary trained dancer, working with choreographers like Penny Mullen in my formative years. Then I jumped on cruise ships, which led to musicals like Saturday Night Fever, Fame, Xanadu and King Kong. Then I got to work on TV shows like X-Factor and dancing for artists like Redfoo, Kylie Minogue, Flo Rida, and a whole bunch of artists. Then I choreographed on Dance Academy, to then choreograph for Universal Music, which was more of my commercial roots.
In the last few years I've choreographed musicals, and that led to movement direction. I've choreographed shows from 12-minute ballets to In the Heights, Wicked, Spring Awakening and Violet. Then I ended up like being a resident director on Hamilton, which is just incredible.
You know, it's everything it's dancing on the Harbour for Kelley Abbey, its being in the Sydney Fringe Festival when I was 16. It's creating shows for Adelaide Festival, which is like Spiegeltent – amazing pure entertainment. I learn from every project and that teaches me how to best access an audience, how to move them. What I've learned is, regardless of the style, you can change an audience's energy in a second. So my job as a director and choreographer is to engage that live performance aspect.
I'm so fortunate that each genre has taught me something different about storytelling, and I don't still really know where I fit, but one thing I do know how to do is make a really good show. So I don't know what genre it'll be, but it'll be all of them.
I always try to make things that I'd be proud to showcase around the world, but also that my mum and dad would love to come and see. The most brilliant art is accessible. You can take people somewhere, and we all need to go somewhere after the last two years. Let's take them away for 70 minutes, where you can escape and live in your imagination.
***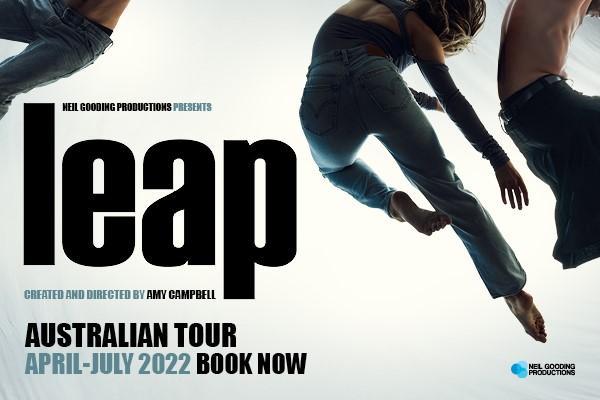 LEAP is an explosive new dance show created by Amy Campbell, one of Australia's most exciting young creatives.
Featuring ten of Australia's foremost dancers and four extraordinary musicians, LEAP re-imagines recognisable classical music into a modern soundtrack.  A unique blend of dance and story, LEAP will transport you into the lives of compelling characters in the effervescent and unknown world that is LEAP. Do you stay where you are…or will you take the leap? What would you do to get everything you ever dreamed of?
 Catch LEAP on its premiere Australian tour before it takes the world by storm!
***
LEAP – Show Schedule
Parramatta

 – Riverside Theatre
Fri 22nd, Sat 23rd, Sun 24th April – Book Tickets Here
Wyong

– The Art House
Wed 27th, Thur 28th, Fri 29th April – Book Tickets Here
Newcastle

– Civic Theatre
Port Macquarie

– Glasshouse Theatre
Grafton

– Saraton Theatre
Gold Coast

– Star Casino Theatre
Sunshine Coast

– The Event Centre
Toowoomba

– Empire Theatre
Maryborough

– Brolga Theatre
Bundaberg

– Moncrieff Theatre
Rockhampton

– Pilbeam Theatre
Mackay

– Mackay Entertainment & Convention Centre