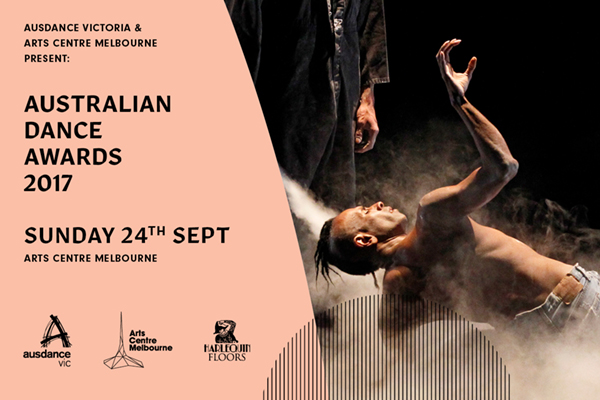 2017 Australian Dance Awards Nominees Announced!
Gala Awards Night in Melbourne 24th September
PLUS… Win Tickets to the Gala Awards! … see below
The nominees for the annual Australian Dance Awards (ADA) have been announced. Celebrating twenty years in 2017, the awards recognise and honour dance artists, educators and administrators in 12 categories of achievement. The awards will be presented on Sunday 24th September at the Arts Centre Melbourne.
Presented by Ausdance Victoria and Arts Centre Melbourne, the Awards are judged by a panel of dance professionals representing numerous sectors of the industry, following an open public nominations process, managed by Ausdance National.
Michelle Silby, Executive Director Ausdance Victoria and NSW, said, "Ausdance Victoria is thrilled to be presenting the Australian Dance Awards in 2017. The Awards ceremony is an important celebration of the astonishing work that occurs both on and off the stage in dance across Australia. We're putting together an amazing array of performances and we can't wait to welcome everyone to Melbourne. With the National Dance Forum following the Awards, September is the month to celebrate dance in Melbourne!"
Nominations were spread across the country, highlighting the depth and diversity of the national dance scene, with The Queensland Ballet and The Australian Ballet receiving three nominations each, and Melbourne's Chunky Move and Lucy Guerin Inc, Townsville's Dancenorth and the Darwin-based Tracks Dance Company all receiving two nominations each.
 The gala ceremony takes place at the Arts Centre Melbourne on Sunday 24 September, hosted by cabaret star Yana Alana and dance sensation and 2017 ADA-nominee Benjamin Hancock, with performances from Stephanie Lake Company, Raw and Rugged Dance Crew, The Australian Ballet and more. Tickets are on sale now.
OUTSTANDING ACHIEVEMENT IN COMMERCIAL DANCE OR MUSICAL THEATRE
Sarah Boulter – Dance Academy (ABC TV)
Jack Chambers – Singin' in the Rain (Stage Entertainment & Chichester Festival)
Company 2 – Scotch & Soda
The Dream Dance Company – The Secret Society
OUTSTANDING PERFORMANCE BY A COMPANY
The Australian Ballet – Nijinsky
Bangarra Dance Theatre – OUR Land People Stories
Queensland Ballet – Strictly Gershwin
Sydney Dance Company – Untamed
OUTSTANDING PERFORMANCE BY A FEMALE DANCER
Natalie Allen – Decadence Perth 2016 (STRUT Dance)
Amber Haines – Syncing Feeling (Dancenorth)
Ako Kondo – Coppélia (The Australian Ballet)
Clare Morehen – Lest We Forget (Queensland Ballet)
OUTSTANDING PERFORMANCE BY A MALE DANCER
Richard Causer – Black (Expressions Dance Company)
Benjamin Hancock – The Dark Chorus (Lucy Guerin Inc)
Kevin Jackson – Nijinsky (The Australian Ballet)
James Vu Anh Pham – Rule of Thirds (Chunky Move)
OUTSTANDING ACHIEVEMENT IN DANCE ON FILM
Juliet Burnett, Nicholas Robert Thayer & Gabrielle Adamidis – Letting Blood
Lucy Doherty – Mandala (One Dance Collective)
The Samaya Wives – The Knowledge Between Us
Sally Wicks & Dan Crestani – Empathy is the Devil (Sumi Productions)
OUTSTANDING ACHIEVEMENT IN CHOREOGRAPHY
Anouk van Dijk – Rule of Thirds (Chunky Move)
Lucy Guerin – The Dark Chorus (Lucy Guerin Inc)
Kyle Page & Amber Haines – Rainbow Vomit (Dancenorth)
Natalie Weir – We Who Are Left (Queensland Ballet)
OUTSTANDING ACHIEVEMENT IN COMMUNITY DANCE
Liz Lea & collaborators – Great Sport!
Country Arts SA – Dance Jungle Gym
Tracks Dance Company – Landed
Sprung Integrated Theatre Inc. – Encounters
OUTSTANDING ACHIEVEMENT IN YOUTH DANCE
Catapult Dance, The Flipside Project – In Search of the Lost Things
QL2 Dance – Connected
Slide Dance – Secrets
Tracks Dance Company – Milpirri (Kurdiji)
AWARD FOR SERVICES TO DANCE
Ben Cobham
Nicolette Fraillon AM
Jennifer Irwin
Philip Piggin
AWARD FOR SERVICES TO DANCE EDUCATION
Sally Chance
Lesley Graham
Katrina Rank
Kim Walker
WIN  TIX!
We have a double pass to giveaway to one lucky dance fan to attend the Australian Dance Awards Gala on Sunday 24th September. To win, send your name and mobile phone number to win@dancelife.com.au with the subject title 'Ausdance Awards' along with the reason you would like to attend. Entries close September 15.
Australian Dance Awards 2017
Sunday 24 September, 7pm
Playhouse, Arts Centre Melbourne
Bookings: 1300 182 183 or www.ausdancevic.org.au/ada2017