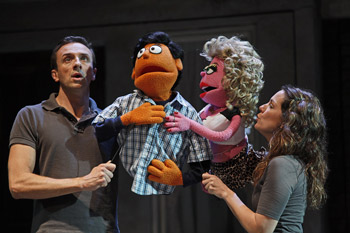 Hi everyone, my name is Nathan M. Wright and I am thrilled to be making my writing debut, here on Dancelife. When it came to deciding on my first topic, I really wanted to make it interesting, therefore I thought that I would share one of the most fabulous experiences I have had in the past year and that is choreographing the Australian production of Avenue Q. Receiving that 'phone call was a dream come true and one that I had hoped for a long time. I will be forever grateful to Jarrod Carland, Torben and Richelle Brookman for giving me this amazing opportunity.
The chance to recreate a Broadway show is Australia doesn't happen very often, so I was delighted to be asked to choreograph this production. I was very fortunate to be teamed up with Jonathan Biggins as Director, David Skelton as Musical Director and the incredible Richard Roberts as the Designer. As I knew Avenue Q was hugely successful and had a massive following, I also felt the pressure to recreate something that was true to the original but at the same time leave my new stamp on the show.
One thing I didn't do was to watch any footage of the show. I didn't want to be swayed by anything that I had previously seen, oh, plus, I had never choreographed puppets before either!  As I love a challenge, I started working with Sue Giles from Polyglot Puppet Theatre nearly six months before rehearsals. I was in the Associate Choreographer on The Rocky Horror Show, which was playing in Melbourne, so whenever I had some spare time I would be in the Polyglot Theatre, working with some of Australia's best puppeteers.
The auditionees needed to not only be able to sing, but have multiple character voices, act and dance…. not much to ask really!
The auditions started in Melbourne in September 2008. Everyone had to prepare two songs and a comedy monologue. Can I just say, that I h ave never laughed so much in an audition? Since I am also a performer, I completely understand how nerve-racking auditions can be, so, when I am on the other side, I always make sure that I'm smiling from ear to ear. You want everyone to be brilliant; you want to give everyone a job. At the end of the day we need you!
As there wasn't a requirement for a separate dance call, all of the fabulous people that were called back had a mini workshop with the puppets and then had to sing and manipulate the puppets all at the same time…. let me tell you, it is not as easy as it looks!! While you're in an audition belting out your best ballad, forgetting that your have a puppet on your hand, is quite easy to do.
I'm going to be completely honest with you all…I get my best choreographic ideas from vacuuming! Yes, vacuuming. So by the time rehearsals started, I had the cleanest carpet in history. I had two rehearsal puppets at home to work with. This is the time that I must thank my friends who came over to my lounge room and danced around with cushions and socks on their hands for weeks, before I started rehearsals.
My biggest fear was whether what I had created with those cushions and friends, was going to work on the floor of rehearsals?
I had great days when everything which I had imagined, went off like a dream, then those days when I would swear to the cast that they were about to witness pure theatre magic and it doesn't even come close to what you are thinking!
The other challenge I found when choreographing the show was discovering how to make a puppet behave like a human. Then to make things a little more difficult, two people play one role.
One person controls the left side and the other manipulates the mouth and the right arm, oh, then there are the feet, which is basically a Pas de Deux!
So each morning for the first two weeks of rehearsal, I would workshop with the cast on puppet movement that we could create.
We had five weeks rehearsal in total before we started our tech in Melbourne. For a show like Avenue Q where none of our cast had ever used puppets before that isn't a huge amount of time. Rehearsals for the first three weeks were in Sydney as Jonathan was performing in Travesties for The Sydney Theatre Company, and then we made the move to Melbourne for our final two weeks. By then end of our three weeks in Sydney we had finished the show, which then gave us the opportunity to work on everything else.
The Director, Jonathan had the most incredible ideas, and did he make me laugh?! The most important thing for me in rehearsals is having a laugh. If the cast isn't having a good time, then you won't be either. I discovered that some of my favourite parts of the show were when we were mucking around with the puppets and someone would do something spontaneous and Jonathan and I would be like…"that's it!"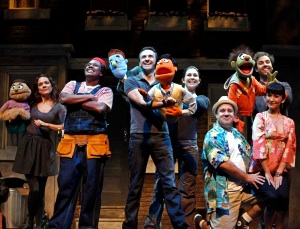 We were very fortunate to have the most incredible actors in out show. Each one of them brought so much to this production. When casting this show we had to find actors to fill the roles but then also actors that could cover the roles! You wouldn't think that Avenue Q would have a Dance Captain, as it might not look like the most choreographed show in the world.
The reason that this show is choreographed to within an inch of its life, is because, should one of the performers get sick, the show or the puppets don't alter. For example, if one of the actors who share the puppet 'Trekkie' falls ill and a cover goes on, all of the reactions and footwork have to be exactly same. As nearly every performer in the show changes puppets throughout the show, so every moment is choreographed to perfection, for the well being of the production.
Once 'Opening Night' hits, The Creative Team leave the show and The Dance Captain and Resident Director take over. Their work is to maintain the vision of the show, throughout the run. Both Jonathan and I pop in whenever we can, to see the show.
We moved into the theatre five weeks after the rehearsal journey started. It was so thrilling to see Richard Roberts set design. Richard also didn't look at any other footage or images of the show when embarking on his vision. Our set was the first one that revolved into the three apartments on Avenue Q.
We finally hit previews!!!
After dissecting the show for the past six weeks, the jokes are still funny but the cast now needs a real reaction from a paying audience! The previews went through the roof. The reaction was incredible. I remember sitting in the stalls and the show started, my stomach was filled with every emotion possible and then they laughed, and laughed again! It was truly the most wonderful sound to hear after you invest so much of yourself into something.
Jeff Marx who wrote the show came out for the Opening in Melbourne. What an incredible man. He came and watched a preview on the Sunday matinee. I was so nervous to be sitting next to Jeff who wrote the show and won the Tony Award for best musical! Long story short…he loved it. Loved all the little changes and the choreography!
Avenue Q was one of the most incredible times of my professional life. I want to thank every single person who I worked with throughout this time. The show is still running now nearly a year later. I'd like to make special thanks to the cast, band, crew and producers.
Nathan M. Wright.
DanceLife would like to congratulate Nathan on being nominated for a Green Room Award, Best Choreography in a Musical. Goodluck and well deserved. We are also lucky enough to have Nathan as one of our judges at DanceLife Unite!