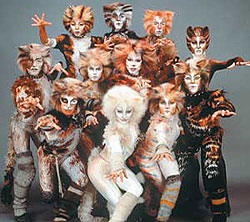 In anticipation of cast changes for the upcoming touring seasons of CATS in Manila and Taiwan and possibly future dates in Asia in 2011, Company on Stage Ltd UK, a member of The Really Useful Group will be holding auditions in March 2010.
Season Dates – Artists must be prepared to fly to Manila about the 18 July 2010.
Rehearsal Dates – Rehearsal Dates are to be confirmed however artists must be available for rehearsals from May 31 June to 13 June, and also from 5 July to 18 July.
Audition Dates – Auditions will be held in both Melbourne and Sydney from 9am to 6pm.
Melbourne Monday 8 March & Tuesday 9 March
Sydney Wednesday 10 March & Thursday 11 March
Submissions
RUG are looking for female and male well trained dancers with strong singing ability and trained singers with some dance ability. It will be a condition of employment that the artist has a valid passport and no recognised impediment to travel to fulfill the requirements of the tour.
Contact your Agent for further details.