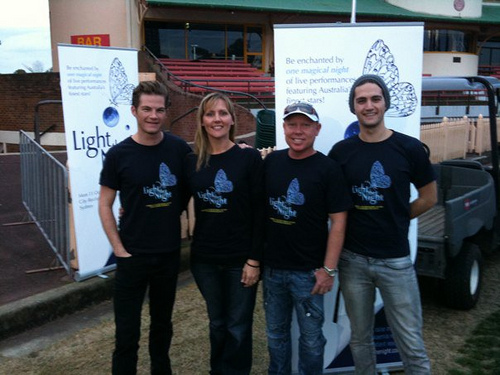 First and foremost Light the Night is about the families, friends and people who experience and confront the challenges of Leukaemia. Light the Night is an annual benefit concert that has donated over $200, 000 to fund research.
Courageous Leukaemia battler Matthew Rennie was the inspiration for Monica and Greg Smith and Shaun and Adam Rennie to found Light the Night 6 years ago. Sadly Matthew Rennie lost his battle in 2007. This year Light the Night is funding two projects, a research grant for the Arrow Bone Marrow Transplant Foundation and the Transport Support Project as part of the Leukaemia Foundation.
Over the years stellar award winning performers have graced the stage, all in support of such an important night. Entertainers have included Anthony Callea, Lior, Tim Campbell, Don Lane, Matthew Newton, Paulini, Rhonda Birchmore, Barry Crocker, David Campbell, Human Nature, the cast of WICKED the musical, Nathan Cavaleri and many more.
Last night Josh Thomas was our MC and he carried it extremely well, he generated a good amount of laughs and had the ability to soften the 'awkward silences' between acts or if the big screen was playing up a bit. The entertainment lineup this year included: Eddie Perfect, Members of the Cast of Jersey Boys, Katie Noonan, Michael Cormick, Nancye Hayes, Rob Mills, Verity Hunt Ballard and Wendy Matthews just to name a few.
My favourites though were the kooky and unique Emma Dean, the upbeat acapella beats of Idea of North, the amazing-as-always vocals of iOTA, the mesmerizing and haunting sound of Katie Noonan, the ever-charming and witty Sheridan Harbridge and to top the night off – Wendy Matthews who delivered her acclaimed song 'The Day You Went Away' which was the highest selling single on the ARIA charts in 1993 and it still resonated all these years later.
Quite a few of the acts throughout the night were fairly slow, sombre and at times sleep-inducing but luckily there was a sprinkling of upbeat, energetic numbers. I think for a charity concert like this it's important to have the overall feeling of the night positive, lively and mood enhancing.
The night came to a close with all the performers onstage singing the classic Monty Python song 'Always Look on the Bright Side of Life' do-do, do-do-do-do-do-do! Be sure to check out this great cause – www.lightthenight.com.au for more info and to come along next year!
Emma Bell is writer, reviewer and interviewer and can be found at www.emmabell.com.au
Photo: Light The Night Crew Shaun Rennie, Monica Smith, Greg Smith & Adam Rennie.