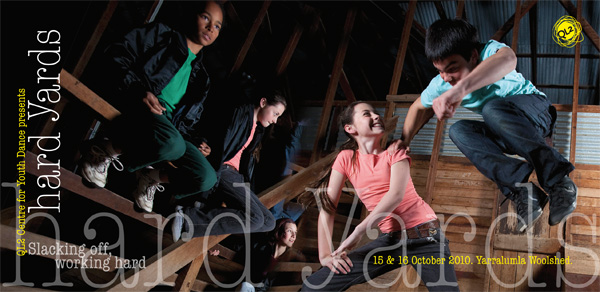 Forty-five young dancers from QL2 Centre for Youth Dance have been working hard these school holidays, creating and rehearsing a new contemporary dance work: Hard Yards. The dancers, aged eight to eighteen, from Canberra and Cowra have collaborated with choreographers Liz Lea and Dean Cross, together with Artistic Director Ruth Osborne, transforming the iconic Yarralumla Woolshed with this unique dance performance about working hard and slacking off.
The choreographers have drawn on personal stories and movement developed by the dancers. 14 year old dancer Ryan Stone describes the work as an "abstract view of working hard" which asks "whether or not we work as hard or as long as people used to." It also draws comparisons between heavy physical labour and the work that goes into learning and growing up.Hard Yards will be performed in the rustic and charming Yarralumla woolshed, a vestige of Canberra's rural history. Choreographer Liz Lea identifies the value of "taking a work out of the theatre and into a space with such a rich Australian history", adding character and meaning to the experience for both dancers and audience – who wending their way around the sheep pens to the main hall.
"Dancers from Torsion Youth Choreographic Ensemble in Cowra are a wonderful addition to this year's ensemble" says Artistic Director Ruth Osborne. "They have travelled long distances to work with the ACT group, bringing their country NSW viewpoint to the work." And although Hard Yards focuses on hard work, the choreographic process has engaged and extended the young dancers, "who have come to the conclusion that working hard can be great fun!"
When 7pm Friday 15 October, 
 4pm & 7pm Saturday 16 October
What: Hard Yards – A new 45 minute dance work
Where: The Yarralumla Woolshed, 208 The Cotter Road, Curtin, ACT
Tickets: $18 full, $14 conc, $12 under
– online at www.ql2.org.au or at the door 30 minutes before each show.