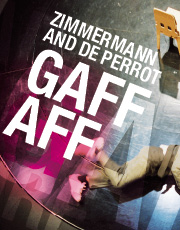 Ingenious Swiss performance duo, Martin Zimmermann + Dimitri de Perrot, bring their comedic
dance performance, GAFF AFF to Sydney. Described by the New York Times as "Mime, physical theatre and silent-movie comedy with sampled sounds and DJ pyrotechnics" this carousel of circus, theatrics, music and artistry will be at the Playhouse from 18 24 October.
Imagining earth as a giant turntable, Zimmermann, playing 'everyman' acts out a man's life on the revolving, vinyl record stage. De Perrot, as the disc jockey, improvises a soundtrack of rhythmic heartbeats and background melodies.
Going around and around on the edge of the turntable, Zimmermann, full of frustration and melancholy parodies what it is to be human. Dressed as a greysuited office worker, he tries to keep his feet and head facing the same direction, no easy task when the turntable/stage is divided into two different sections rotating against each other.
With the turntable mirroring his frazzled mind, Zimmermann endeavours to control and understand forces out of his control – eating, working, walking – on this treadmill to nowhere.
Mikhail Baryshnikov first saw them at the 2008 Pina Bausch Festival and booked them for his own theatre.
He said, "When I first saw their work I was very, very impressed. They really are innovators in my view. It's probably their smallest show, but it is so exciting and He said, "When I first saw their work I was very, very impressed. They really are innovators in my view. It's probably their smallest show but it is so exciting and arresting. The design is phenomenal, everything is made in front of your eyes and it builds up admirably and magically."
The winner of over 20 awards for choreography, music and set design, Zimmerman and de Perrot, both in their 30s, created this work more than a decade ago in Zurich, Switzerland. Since then, they have performed in over 85 venues and created over seven major works.
Both Zimmermann and De Perrot grew up in Zurich, Switzerland and met at a club where De Perrot worked as a DJ. Zimmerman studied set design and attend the national circus school in France, eventually becoming a founding member of Compagnie Anomalie as well as
performing in Joseph Nadji's Cri du Cameleon. De Perrot commenced DJ'ing while still in high school in Zurich. After graduating he studied Art and continued to pursue his musical studies, most of which were self-taught and in 2005 was named Musician of
the Year in Zurich.
GAFF AFF is part of the 2010 Sydney Opera House Adventures program, curated by Wendy Martin, Head of Theatre and Dance.
Dates: 18 – 24 October 2010 Venue: Playhouse
Tickets: Adults $49 Concession $39 Under 30 $30 Bookings: 02 9250 7777 or www.sydneyoperahouse.com
WIN TICKETS TO OPENING NIGHT!
DanceLife is giving away 3 double passes to opening night of GAFF AFF on Monday 18th October at 7.30pm. Email your name, suburb and mobile number to win@dancelife.com.au.