Cirque du Soleil's KURIOS Arrives in Melbourne
Delight in the Whimsy of a Cabinet of Curiosities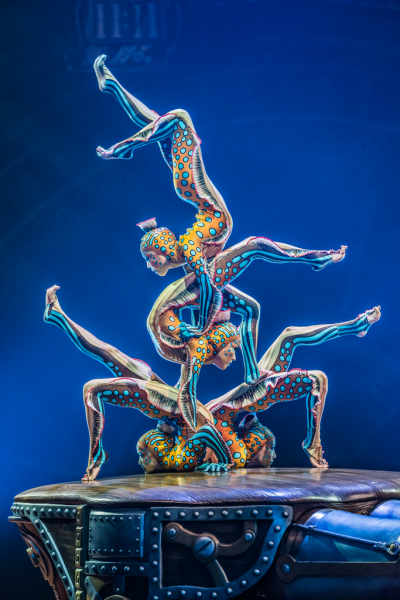 After seasons in Sydney and Brisbane, the magical and inspiring KURIOS has opened in Melbourne for an eight- season before heading next to Adelaide and Perth.
Written and directed by Michel Laprise, KURIOS – Cabinet of Curiosities is a tale in which time comes to a complete stop, transporting the audience inside a fantasy world where everything is possible. In this realm set in the latter half of the nineteenth century, reality is quite relative indeed as our perception of it is utterly transformed.
In an alternate yet familiar past, in a place where wonders abound for those who trust their imagination, a scientist ("The Seeker") is convinced that there exists a hidden world – a place where the craziest ideas and the grandest dreams await. Out of his curio cabinet steps an international cast of 47 artists from 17 countries, a collection of otherworldly characters made up of world-class gymnasts, acrobats, contortionists, hand-puppeteers, yo-yo wizards, clowns, actors and musicians. Together they turn the Seeker's steampunk world upside-down as they are guided by an energetic gypsy jazz, electro swing soundtrack.
"… its magic lies in its ability to appreciate the pure simplicity of true physical talent and opens the power of the audience's imagination. " ⏤ DanceLife
"Kurios is perfect in every way – ★★★★★" ⏤  Sydney Morning Herald
"A staggering feat of the artistic and athletic imagination." ⏤ Sunday Telegraph 
"One Cirque show you'll kick yourself if you miss!" ⏤ Arts Review
Read our Review of KURIOS in Sydney here.
Some Curious Facts about KURIOS….
To make the Accordion Man's attire, the costume-maker spent an entire week sewing inside the costume
Australian Rima Hadchiti, the artist who plays Mini Lili is 3.3 feet tall and weighs 41 pounds. She is one of the 10 smallest people in the world
The mechanical hand weighs 750 pounds and measures 15 feet by 6.8 feet
More than a hundred costumes were created to dress the cast of KURIOS
There are 426 props in the show, the most of any production in Cirque du Soleil's history
The 122 tour members come from more than 20 different countries. Some have been touring with Cirque du Soleil for more than 15 years
This is the first time that Cirque du Soleil presents a welcoming act on top of the big top before the show starts. When weather permits, 3 artists climb up the big top and greet the guests from above while playing music and acting. Guests get a taste of the KURIOS experience as soon as they enter the site
It took the team of props makers approximately 250 hours to build Mr. Microcosmos' round belly
All performers are responsible for applying their own make-up every show, which can take them between 40 minutes and two hours
KURIOS – Cabinet of Curiosities
MELBOURNE

 ⏤  Flemington Racecourse, Melbourne
From Thursday 12 March – 10 May 2020
ADELAIDE

 ⏤ Adelaide Showground
​
From 29 May – 7 June 2020
PERTH ⏤ Claremont Showgraound
From 15 July – 2 August 2020