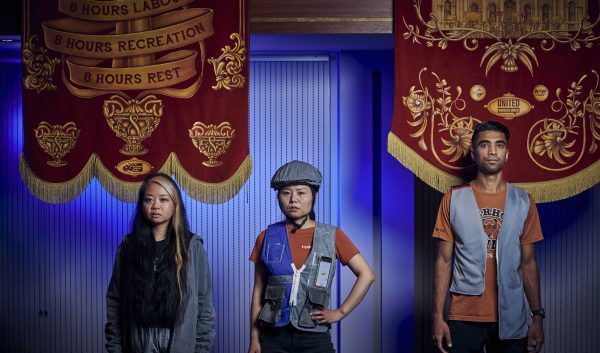 Experimental Company Comments on the Gig Economy in Easy Riders
Convenience With a Not-So-Hidden Cost
Gig workers of the world, unite!
Open the app. Add to cart. Go to check out. There's a knock at your door. Your purchase has arrived.
Within the union stronghold of Trades Hall, Carlton, experimental art company APHIDS and real on-demand "gig economy" workers come together in a ritual performance 'unboxing' personal and global experiences of work. Objects are delivered, unwrapped and accumulated. An electric bike weaves around obstacles and entry points. The speed of work builds to 'walk–run' pace as a shift like no other unfolds.
EASY RIDERS considers how the demand for convenience is shaping bodies, behaviour and perception of time; and jeopardising hard-won workers' rights including the eight-hour workday.
EASY RIDERS is a site-responsive performance exploring work, precarity and the physical body in the digital age. Developed through a unique collaboration between artists and workers of the platform or 'gig' economy, EASY RIDERS honours the experiences and physicality of contemporary on-demand workers within the historical 'beating heart' of the labour movement and the eight-hour work day in Australia.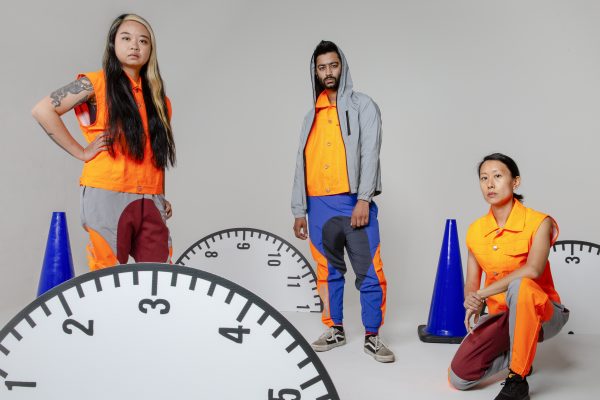 Co-created by Lara Thomas and Mish Grigor, the show is lead by artist Eugenia Lim. Composer and sound design is by Corin Ileto, writing consultant is Cher Tan and the Choreographic consultant is Amrita Hepi. The Worker-Performers are Wasay, Mirza Baig and Jessica Wen.
EASY RIDERS asks: whose time = whose money? How much of our daily lives should be outsourced to others? At our most 'efficient', are we Übermenschen or über-assholes? Through movement, voice and collective action between 'independent contractors' of the gig economy and artists—come and witness a shift like no other unfold. The future of work is already here.
In 1969, artist Mierle Laderman Ukeles wrote the groundbreaking "Manifesto for Maintenance Art!" In it, she wrote that society confers "lousy" status on our cleaners, housewives, taxi drivers, garbage collectors, cooks and service workers—the very people who keep it, and us, moving. More than 50 years later, the convergence of neoliberal and digital advancements in the global economy have atomised employment. The service workers of Laderman's era are now more than likely to work independently for Silicon Valley digital platforms—without the support of unions or income safety nets—as freelancers or temporary workers within the 'gig economy'.
Inspired by Laderman Ukeles' lifelong work, EASY RIDERS seeks to find solidarity between artist–workers and workers of our on-demand present.
APHIDS is a 26-year-old artist-led experimental art organisation based on unceded Wurundjeri Woi-Wurrung land in Melbourne, Australia. Collaborative and future-focused, APHIDS is led by co-directors Eugenia Lim, Lara Thoms and Mish Grigor. The work of APHIDS is feminist, intersectional, angry and funny; bringing artists into meaningful exchange with audiences through performance, moving image, critical dialogue and unpredictable encounters in the public realm. Past APHIDS works have been presented in major venues in every state and territory in Australia, and in more unexpected places: in regional Drive In cinemas, nursing homes in Finland, industrial zones in Bulgaria, and beamed into outer space. Current works in repertoire include HOWL (Adelaide Biennial of Australian Art), The Director (ITFOK, Kerala) and Exit Strategies (Arts House).
EASY RIDERS
Saturday July 24 ⏤ 6 session times from 10am to 6pm
Trades Hall, 54 Victoria St, Carlton
Bookings: www.trybooking.com/788213