The Adults Only Magic Show
5 Shows Only, Melbourne Magic Festival, July 6-10
---
WIN TIX! … We have a double pass to give away to see the Adults Only Magic Show on Wednesday July 7 at 9pm. Prize valued at $66. To enter send in your name and mobile phone number to win@dancelife.com.au with the subject title 'Adults Only Magic Show'. Entries close Monday July 5. Winner will be drawn at random and contacted directly.
---
Following the phenomenal success of their sold-out 2020 and 2021 seasons, Showmen Productions are once again returning to their hometown of Melbourne with their hilarious R-rated 18+ magic show aptly named – ADULTS ONLY MAGIC SHOW.
Prepare to be 'wowed' out of your comfy red seats in this 70-minute jam-packed spectacular featuring hilarious, raucous comedy, mind-bending illusions, and stunningly dangerous stunts seen on stages all across the globe; with just a cheeky hint of nudity!
After winning numerous awards at Fringe Festivals across the country with their 2 family magic shows – The Greatest Magic Show and CIRCUS – the creative minds of Sam Hume and Justin Williams are now getting set to completely flip the script on what you would expect from your typical magic show; replacing the bunnies and top hats with raw comedy and sex appeal. Oh! and did we mention FREE DRINKS for all the volunteers? Yes you read that right – join the magicians on stage and the next drink is on them!
The Showmen are seasoned magic performers Sam and Justin who met in 2014 and made a name for themselves with their unique blend of magic, comedy and theatre.
As a part of their first season at Adelaide Fringe in 2019, they were compared to their idols, and Vegas' most iconic magicians by GLAM Adelaide who hailed them as "Quite possibly the Penn & Teller of Australia! ★★★★★!"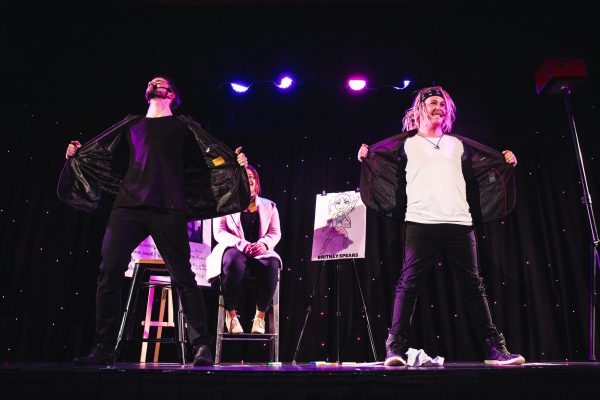 Last year at the Magic Festival, the duo put on the absolute highlight of the festival: 5 completely sold-out nights at the Circus Oz Melba Spiegeltent and together with their family shows, secured the title of 'Highest Selling Show' at the festival in 2021.
This year in Melbourne, strap yourself in for "a night of unwarranted laughter" (What's On Sydney) as two of the best magicians in the business present a show with creative flare and impressive showmanship that will not be forgotten.
★★★★ "A true triumph as two engaging lads deftly build a bond with the audience, going from card tricks & sleight of hand to illusions & escapes!" – Adelaide Advertiser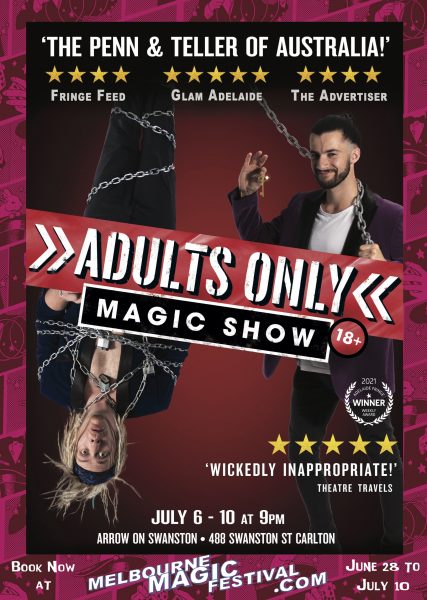 "We have painstakingly put together completely original routines, bringing together a range of disciplines to deliver a show that is sure to leave an impression. We guarantee the people of Melbourne have never seen anything like this before!" says Showman, Sam Hume.
NB: This show is restricted to ages 18+
ADULTS ONLY MAGIC SHOW
MELBOURNE

– The Houdini Theatre, Arrow on Swanston, 488 Swanston St, Carlton
6 – 10 July @ 9pm
Bookings: www.melbournemagicfestival.com
#AdultsOnlyMagicShow