Pro Talent Watch | Joel Bray
Weaving Dance with Digital Images for Melbourne Fringe During Lockdown in Melbourne
Interview and article by Heather Clements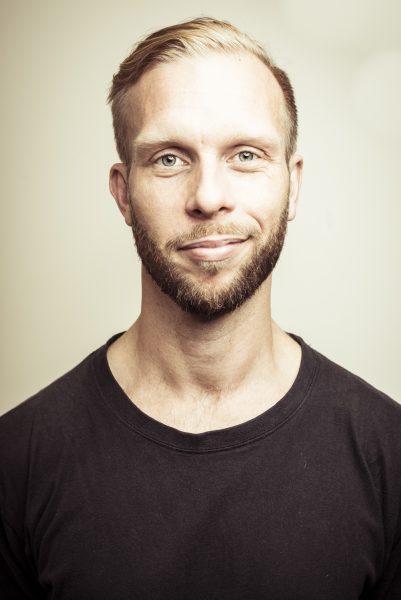 On Saturday August 22 I joined a Zoom group meeting with choreographer Joel Bray discussing a preview of his work-in-progress for Take Over! 2020 ⏤ Giraru Galing Ganhagirri (The Wind Will Bring Rain). Run in collaboration with the Arts Centre Melbourne, the Take Over! program has commissioned ten artists/companies to make unique works which will be developed in at-home residencies and presented during Melbourne Fringe 2020. Joel Bray is one of three dance artists invited to develop works. Depending on Covid19 restrictions, the final presentation of Take Over! works will be held in some form in November. 
Joel Bray has become a hot name in innovative Australian choreography, despite finding dance at the late age of 20. Bored with studying law at the University of Sydney, he auditioned for NAISDA mainly to connect to his Indigenous roots.
"I wasn't really going because I wanted to dance, it was more because I wanted to connect to my culture and be in a community of other backfellas. Because NAISDA take a lot of people who don't have any dance experience their audition process is a week long event … and I remember ten minutes into the first class on the Monday morning of the audition week doing a jazz class and realising this is what I wanted to do for the rest of my life! It was clear as day," said Joel. Admittedly, he had done some ballet as a child but quit due to all-too-common bullying of boys who dance.
He grew up in Orange in Central West NSW on Wiradjuri land, and has come to express his proud indigenous connections in his work as an independent dance artist. After NAISDA he went on to complete a Diploma of Dance at WAAPA (Western Australia Academy of Performing Arts) before heading to Europe where he further enhanced his dance training and experience working with various companies. Since returning to Australia, he bases himself in Melbourne and has created works for Chunky Move and Melbourne Fringe ⏤ opportunities he is incredibly grateful for and proud of.
Joel's previous creations tended to deal with 'big picture' ideas. However, with Giraru Galing Ganhagirri (The Wind Will Bring Rain), Joel has turned inward and this project sees him thinking of home and about the cycles of nature. He admits that the events of 2020 have influenced his creativity so far and also his state of mind.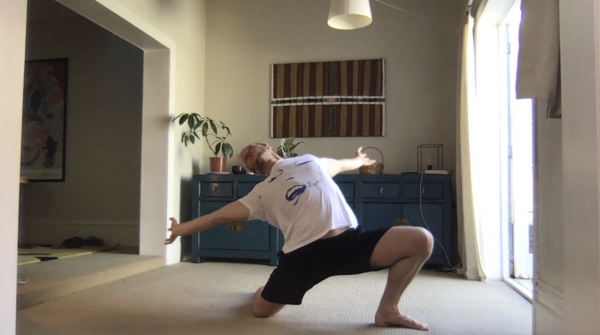 "With everything that's been happening in 2020 I've been finding solace in meditating on the ancientness and endurance of nature … The Wind Will Bring the Rain reminds me of those continuing cycles. With everything being so unsteady this year, and constantly changing, those constant rhythms of nature have been reassuring, and as someone who lives off their ancestral country (Central West NSW), I've been noticing when a storm comes down from my country to where I am in Kulin country here in Melbourne is something I have been connecting with at a time when I can't actually go home.
The Wind Brings The Rain will use beautiful choreography to focus on the cyclical elements of nature and impact of water in these cycles. He has found trying to work from home a real challenge with this project, but says that meditating on the enduring nature of his country has helped him cope with the challenges of Covid and lockdown in 2020 and the fact that he cant return home. This project will be mainly delivered on film, which is the first time Joel has worked solely in this medium, so he has been at home experimenting with his phone trying to shift from a choreographer to a filmmaker, which is a different perspective for him.
"One of the reasons I went for film to create Giraru Galing Ganhagirri is because we just don't know what is going to happen with Covid, and whatever I create can be released and shown online at least. It's not my ideal, as I love live performance, but you gotta make lemonades out of lemons!"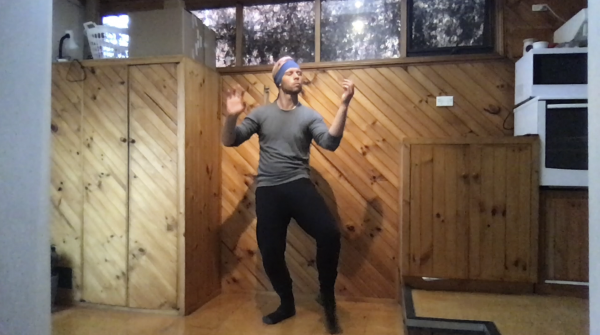 "It will be about a twelve-minute film in four parts: before the storm, the rain coming, the climatic storm, after the storm. I'm using the dramaturgy of the weather as guidance. I currently have three elements I'm working on which I previewed online…"
The first video sneak-peak we saw in the  Zoom presentation sees Joel playing with the concept of 'air' as he imagines his skin dissolving into air and finding the space around him in a very fluid dance style. The second video shows him exploring the concept of the rain 'patter' and the rhythm of rain. Then the idea of 'flight' and the of body being 'water logged' are explored. The film samples he played were concepts for the first two parts that depicted: planted feet on the ground/rooted to country where only body moves; his body floating through air; white body ochre on his back being washed away by water; interesting angles contrasting with the fluidity of movement; dramatic rain sounds with the release of the storm in frenetic motions set to chimes and thunder.
There is a close up of his body with light and shadow moving over his back and then water running off his back, which depicts the concept shadows and of rain on a landscape… also of light washing over the body and the white ochre paint slowing washing away with water depicting erosion and the cleansing of rain after a storm.
In the final video snippet, Joel experiments with projecting images and coloured lines onto his naked body with his skin as the canvas.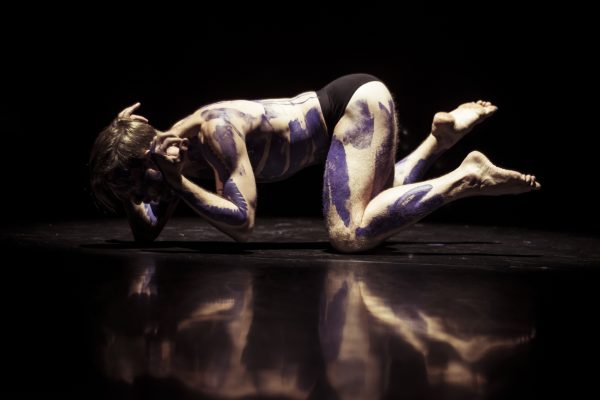 "There is one element where I have coloured line images projected on my body that is a little less organic than the rest, and I am thinking I might explore something to contrast the sweetness and organic-ness of my idea and maybe there will be something that interferes with that and go into a more psychological place … I am not sure yet."
The music for Giraru Galing Ganhagirri is being created by Daniel Nixon. The preview revealed it will have hypnotic, strong nature themes as he has collected and recording field sounds from nature that reflects the cycles of a storm. He has actually recorded sounds connecting Joels' country from NSW down to Melbourne.  Joel's sister, Sophie Mara McKenzie, will be the cinematographer and editor. 
The creative process for this work has progressed from Joels' initial excitement about getting the commission to questioning everything! He has now decided to free himself of having to have a narrative and meaning in the work, and just go with his gut instincts – to be more abstract. He has decided that the final presentation of the work will be some combination of the film on screen and  a live performance along side it.
"I'm not sure if I will have a live dancer yet performing alongside the film, I create immersive encounters so the movement of the audience is just as important to me as the performer, so I may do something with the shape of the audience and their response to the film and objects where the choreography is the incidental response to the objects … I'm looking at ways I install the work actually causing the audience to move, which is a kind of choreography.
He sees this work being on film as a natural progression, as everything right now is mediated and experienced through screens, so it seems logical for this dance work to be a film.
"If you look at the works I've made in the past, I've always had an interest in the screen in some way being a part of them … so I think at some point I was always going to put on the filmmaker hat. Now with everything that's happened this year and the fact that so much of what we do is mediated through the screen now, it seems like a logical time to do it."
Joel takes a pragmatic approach to his work, stating in the preview that "The lived experience of an artist is mostly failure, more than success." He understands that failing is part of the creative process.
"It's a journey … an exploration."
I can't wait to see the finished work of The Wind Will Bring Rain in some form later this year in the Take Over! 2020.
Watch Joel Bray talk about Giraru Galing Ganhagirri (The Wind Will Bring Rain) below:
***
Melbourne-based artist Joel Bray is a proud Wiradjuri man. He began dancing at age 20 in traditional Aboriginal and Contemporary dance forms at NAISDA Dance College and went on to graduate from the Western Australian Academy of Performing Arts in 2005.
Joel has performed with CHUNKY MOVE, touring in Complexity of Belonging and An Act of Now, and with Anouk van Dijk and Falk Richter in their production Safe Places at the Frankfurt Schauspielhaus.
Joel's fourteen-year career spans France, Portugal and Israel having performed with with Jean-Claude Gallotta, Company CeDeCe, Kolben Dance, Machol Shalem Dance House, Yoram Karmi's FRESCO Dance Company, Niv Sheinfeld & Oren Laor and Roy Assaf.
Joel's choreographic practice springs from his Wiradjuri cultural heritage. Rather than recreating an Indigenous 'form', his methodology is rooted in traditional Wiradjuri ways of making work; namely durational, site-specific and cross-artform processes. His works engender intimate encounters with audiences who are 'invited in' as co-storytellers and co-performers.
Joel's works are informed by his body, his experience, and the intersection of songlines including his Indigenous heritage, skin-colour and queer sexuality.
Joel first work when returning to Australia, Biladurang (2017) at Melbourne Fringe Festival, won three awards. Based on the traditional story of the platypus, Biladurang has toured to Darwin Festival, Brisbane Festival, Sydney Festival and Dance Massive.
Dharawungara (2018) created for Chunky Move's Next Move season began an initial investigation into Wiradjuri rituals as recorded by white anthropologists and has spurred a series of deeper investigations.
Daddy (2019) — a personal investigation into desire, fetishization and colonisation — was commissioned by YIRRAMBOI Festival, Performance Space and Arts House, and has been presented at Brisbane Festival and Liveworks.
Joel's two new works in development: Considerable Sexual Licence for Speakeasy/ City of Darebin, and BURBANG, extend his research and practice into collective participation, civic rites, contemporary performance and traditional ceremony.