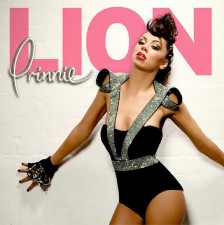 Meet Prinnie… Australia's newest pop urban superstar! Prinnie's debut single Lion is released on Monday 25th April, which will be made available via iTunes. Lion was co-written in London by Prinnie, UK 'X Factor' finalist Duane Lamonte & Australian-born UK production and writing team, Philippe-Marc Anquetil and Christopher Lee-Joe.
Prinnie is one of the most exciting new recording artists/singer/dancer to come out of Australia. Her songs and live shows are world-class and her performance and dancing skills are second-to-none. Her pop sound spans over many different genres, but her unique soulful tone sets her apart from the rest. Marko Panzic also choreographed the film clip for lion! See it here.
'I'm really excited to release Lion as my first single. When I heard the song, I instantly loved it; I knew I had to re-write it from a female's point of view! It's a song that I love performing live, it lets me dance and use up a bunch of energy… I can't wait to see how people will react to it… this is just the beginning!' said Prinnie.
Prinnie may only be in her 20s, but her experience goes far beyond her years. For a long time Prinnie was better known as backing vocalist to the stars such as Robbie Williams, Smokey Robinson and Lionel Richie. She has supported artists such as Ne-Yo, Rihanna, Snoop Dogg & T-Pain as well as touring with local artists Guy Sebastian, Jade MacRae and Jessica Mauboy.
Prinnie moved to New York City in 2007 where she was signed to Denise Rich's label (through Sony Music) for three years. She was working with the best in the business including Rodney Jerkins (Lady Gaga, Beyonce), Dallas Austin (Michael Jackson, Madonna) and Lashawn Daniels (Michael Jackson, Brandy & Monica, Destiny's Child). During this time, Prinnie played to audiences all over the world and performed alongside Patti Labelle, Chaka Khan, Mary J Blige, Gladys Knight, Joss Stone and John Legend.
Prinnie has also appeared in feature films and musical theatre productions. In 2010 Prinnie landed her first lead role in a short film, 'By The Waters Edge', premiering with rave reviews.
Prinnie is now back in Australia and recently supported Trey Songz and performed at the '2011 Supafest Urban Festival'.
With extensive experience in Australia and America, Prinnie is now pursuing her solo career; the release of Lion is the start of something very exciting for Prinnie and pop music fans worldwide.