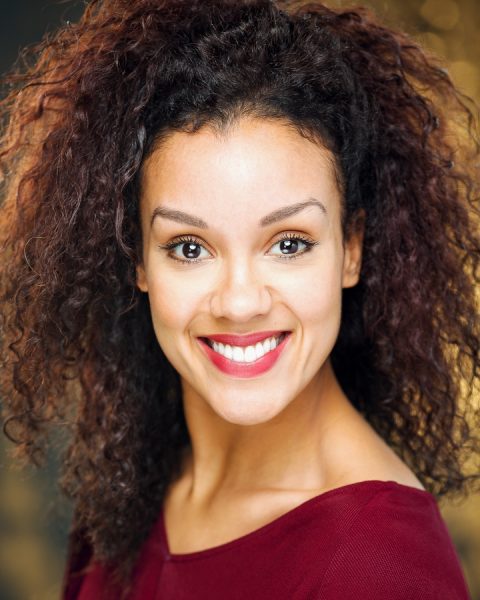 'TINA' TheTina Turner The Musical
International Associate Choreographer for Tina Turner The Musical
Interview by Chris Duncan
The highly anticipated premiere of 'TINA' in Australia is set to take place in Sydney and it's creating quite a buzz. Those behind the show have announced that it will stay in Sydney until January, before packing up and traveling to other cities including Perth, Brisbane, Adelaide and Melbourne. Although this will be the first time the show has premiered in Australia, it has been a hit in London for the past four years. Associate Choreographer, Simone Mistry-Palmer, sits down with our very own Chris Duncan to reveal the backstory of this incredible show. She says that opening night in Sydney "is going to be electric".
Simone was lucky enough to be part of the original workshop process in London and has been involved in the show since the very beginning. The show has taken her from London to Hamburg, Broadway, Holland, Madrid and most recently, Stuttgart. She describes herself as being very fortunate to have been a part of the production from the start.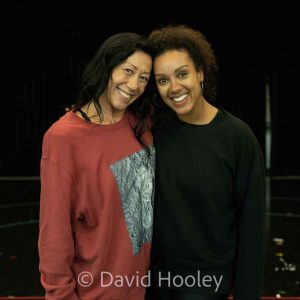 "I was very fortunate that I came on board before we did even the first auditions for 'TINA' London. I was part of the original workshop process … we were in a room for about a month just kind of working out the show."
Simone Mistry-Palmer is an accomplished International Associate Choreographer who has worked on many successful productions, including the highly acclaimed Tina Turner The Musical. Simone's dance training started at an early age and she continued to hone her craft by graduating from the London Studio Centre. Simone's impressive theatre credits include working as a Resident Choreographer for Motown the Musical, Dirty Dancing, and Hairspray. Her dynamic movements have also been featured in various TV shows like The X Factor, Top of the Pops, and the Opening Ceremony of the 2012 London Olympics. Besides being an accomplished artist, Simone is also a television producer, contributing to the enjoyable Mann Bros' series, Spongers. Simone's career journey exemplifies that with hard work, talent, and creativity, you can turn your dreams into reality.
While Simone didn't set out to become a choreographer specifically, she was encouraged by those around her as opportunities presented themselves.
"I was a dancer from the age of three, I started ballet at three. Then I think I took on tap around four or five. I started having singing lessons and someone then turned around and said to my mother, "You know Simone's got a nice little voice". Then from that, I did a lot shows, did a bit of modelling  and that kind of stuff until I was…16. At 16 I moved to London and I got a full scholarship to go to a theatre school in London…
"I went there and then I graduated at 19 I was lucky to go into my first show straight away, and I did a bit of commercial dancing as well. Then I just kind of went into musicals. I was very lucky to have a successful career musicals.
"I guess I naturally made the transition of going into choreography. I was like a dance captain; resident choreographer then associate choreographer – that's kind of been my pathway.
"It wasn't like one day I turned around and said like today I'm going to be doing choreography only. It was just opportunities were coming my way and I was kind of encouraged and people said, 'you're kind of good at this',
"It's interesting, my mother … when I told her I got offered a resident choreography job, she wasn't at all surprised. She said as a child, I was always the one who retained who would be getting my group of friends together to create dances … I was either the choreographer or the director! I had written out the whole script, done photocopies and said we're going to do this play … that's the kind of child I was!
Simone went on to tell us more about creating the choreography for the show which was an exciting and challenging process. We knew we had to recreate some of Tina Turner's iconic performances, like "Proud Mary," with authenticity, while also giving it our own spin for the theatre. It was a delicate balance of paying homage to Tina's original style without creating a carbon copy. Our goal was to bring the essence of Tina's choreography to life on stage, with added fire and pop for theatrical effect. The performers in the show were a huge credit to our success in creating a unique and engaging choreography. It was a challenge, but one we were excited to tackle, and we are proud of the result.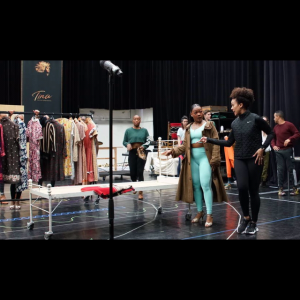 "While we were putting the show up in London originally, Anthony (Van Laast) and I got to spend a lot of time with Tina Turner herself working on the choreography, really understanding where the steps came from and the thought process behind them. It seems like there's a misconception that choreography is just steps, you know? And especially with Tina and the way she created the choreography there was always kind of a story behind each move in each detail. So, it was really beneficial and we were very lucky that we got to spend so much time with her.
"I got to dance with her – just getting original information from the amazing source that is TINA TURNER! She was so grateful and gracious. She was so gracious with her time, the knowledge and the information. It really was lovely to be in her presence.
"What a lot of people don't know is that… in those days, because of her relationship with Ike, she didn't go out to a lot to like clubs and didn't really keep up on what was kind of new and current in a way. So the 'Ikettes' (dancers) would go out and do that for her. They would bring the steps back to her and she would then create it (the choreography) and make it authentic and her own with her own spin on it.
"She would always have the final say in what the choreography would be – the choreography was her domain. Ike would have the band and the music was his. You actually see moments of that in our show where Tina starts to talk about the groove of the music and Ike says to her, "Who gave you permission to do that? Who asked you to speak?"
"He kind of shuts her down. That is very, that is very truthful that he looked after the music and she looked after the choreography. She was in charge of the girls and he didn't touch that.
"There's even some moments in our show. There's a scene where the 'Ikettes' are rehearsing. We found some old footage of them rehearsing in a basement. It was the days of no mirrors; it doesn't look very glamorous, and they've got their hair tied up and they're just casually rehearsing.
"When I had one of my rehearsals with Tina, we were doing like a shimmy set and she said, 'no titties, just the shoulders'. And we used that moment – it's now in the show. One of 'Ikettes' are kind of just shimmying and shimmying a bit silly, and another says to her, 'no titties Tina said no titties you know just the shoulders'.
"So, some of this information I mean history is that's in the show and it's really truthful. I love that we were able to, to add those moments and really create this honest world.
"We have recreated some of the iconic performances pretty authentically in the stage show. You know obviously numbers like proud Mary for example, you know as soon as it kicks in you know you've got those ladies doing the iconic turns.
"We were very careful. We not do a carbon copy. We really wanted to make sure that we paid homage to the original style and make sure we get the kind of essence of Tina's choreography in the show. But also not do a carbon copy of that."
"So we obviously add a spin on it for theatre and we add a little bit of extra fire to make it really pop and for the clarity and cleanness and so it's a credit to the performers that we have in the show."
When asked how she found the Australian talent and auditioning process here, Simone was full of praise for our home-grown talent.
"I must be honest I thought it was really rewarding… so much more rewarding than I anticipated. Obviously coming here and to any country, you want to make sure you cast the show right, and to the standard that the show needs and deserves to be.
"For us, when we came to Australia, I was very much the very, the optimistic one wanting to cast people from here. We're going to cast the 'Tina' from here. I was very, very passionate about that.
"I want to say 95% of the company is from Australia. There's a couple that we've brought in from England and then one one lady who's been in our show previous in Poland. The majority of the people have come from Australia and to me I think that is really rewarding. 
"The cast have been brilliant to work with. The energy and the enthusiasm – the culture that's been created in the rehearsal room has just been life-changing. I actually feel like I'm going to go home taking away something myself.
"I plan to be here until Opening Night, which I believe is on the 18th of May. The next day I will be straight on a plane home to London unfortunately and then I am pretty much straight into a London cast change!
"But you know, I love I love the work and I love 'Tina' and I'm very passionate about the show. So, to me it's a win-win. I mean, I'm so entrenched in it!"
BIO: Simone Mistry-Palmer
International Associate Choreographer for Tina Turner The Musical
Simone began her training from a young age at the Jenny Sullivan School of Dance and the Janice Thompson School of Singing. She then went on to further her training, graduating from the London Studio Centre.
Simone has had a successful career both as a performer and as a creative.
Theatre credits include: International Associate Choreographer for TINA (West End, Hamburg, Broadway, Holland, Madrid), Resident Choreographer for Motown the Musical (Shaftesbury), Dirty Dancing (UK, Ireland and European tour), Hairspray (UK and Ireland Tour), High School Musical (original cast, UK and Ireland Tour), Daddy Cool (International tour), This is Elvis (original cast, National tour), West side Story (Wyvern Theatre) and Oh What a lovely War (UK tour).
Television credits include: The Lenny Henry Birthday Show, Top of the Pops, Children in Need, Blue Peter (BBC), Disco Mania, CDUK, Can you feel it?, The X Factor, Britain's Got Talent, (ITV), Una's Dream Ticket (RET), T4 in the Park (Channel 4), Opening Ceremony of the 2012 London Olympics (Worldwide) and multiple music videos and commercials.
Simone is also producer of the television series Spongers (Mann Bros).