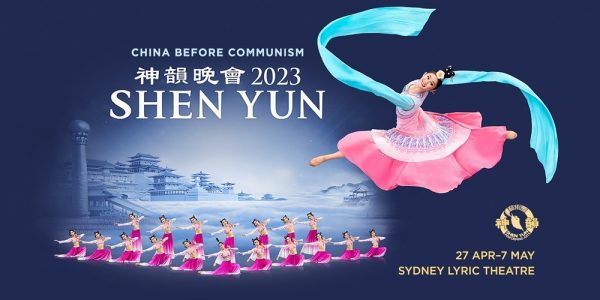 Shen Yun 2023
Sydney, Adelaide, and Canberra
The art form at the heart of Shen Yun is classical Chinese dance, developed over thousands of years to become one of the most comprehensive dance systems in the world.
In the years to come, the story of Shen Yun, a New York-based performing arts company, will become a legend about how a group of elite dancers, musicians, and artists used their talents to save their rich and artistic traditional culture from the perils found in modern times.
"Chinese classical dance is not the same as other forms of dances where you just learn the moves and you get it," says principal dancer Piotr Huang in a video on ShenYunCreations.com.
"With Chinese classical dance you have to understand the Chinese culture behind it and then you can master the art," he says.
Shen Yun was formed in 2006 with a mission to revive 5,000 years of traditional Chinese culture which had come close to extinction since 1949.
For the last 15 years Shen Yun's artists have performed to millions in sold-out venues such as the Lincoln Center in New York, Kennedy Center in Washington D.C., and Palais de Congrès in Paris, among others.
Shen Yun allows audiences to experience China before communism, when its deeply rooted spiritual heritage shaped the cultural norms, art, music, dance, fashions, and architecture of the "Middle Kingdom."
Shen Yun says the company aims to present pure goodness and beauty on stage—a place where heaven and earth intersect and magic is possible. The company's name, Shen Yun, means the beauty of divine beings dancing.
Without shen yun, Huang says a classical Chinese dancer doesn't have the inner bearing of a Chinese man or woman.
"You won't have the feeling of the dance. You're just doing pure moves. There's no meaning behind it," he says. "So inner bearing is your own understanding of the Chinese culture and the arts and through that understanding you translate it into movements."
The company says this is one of the reasons audiences feel there's something different about Shen Yun.
Shen Yun has become the world's premier classical Chinese dance and music company, which also performs ethnic, folk, and story-based dances, with orchestral accompaniment and solo performers.
It's performers bring to life stories from Chinese legends, vignettes of historical events, stories of morality, traditional ethnic and folk dances that show the diversity inside China, as well as events in modern-day China.
The performing arts are a powerful tool to convey messages, but for Huang, the arts are meant for a higher purpose.
"For example, in the Renaissance period, the arts were used to glorify the divine, or go back to the traditional culture, and I really think this is what arts should be doing," he says.
In fact, many Shen Yun performers have overcome enormous tribulations on the road to reviving traditional Chinese culture, but they find guidance and strength in practising the spiritual discipline of Falun Dafa, which has moral teachings centred on the principles of truthfulness, compassion, and tolerance, and meditative exercises.
Huang's most memorable performance was in Paris a few years ago, when his grandfather flew out from China to watch him dance. They had been separated since Huang was a young boy because Huang could not return to China.
"When he came to see me I was really happy," Huang says, holding back tears. "I remember him saying that, 'You guys are the hope of humanity. Keep going.'"
Those small words gave Huang encouragement to push through the difficulties of long tours away from home.
"I think every Shen Yun dancer has a wish to one day go back to China and perform," he says.
The company's dancers are propelled by their mission to save their true culture and guided by their spiritual discipline, believe that pursuing virtue alongside their rigorous training allows them to create more beautiful and pure art.
This Year, Shen Yun returns to Sydney for a limited engagement from 27 April to 7 May with an entirely new production and live orchestra. For showtimes and tickets visit ShenYun.com/Sydney
Sydney – 
SYDNEY LYRIC THEATRE – 
Apr 27–May 7, 2023 – 
TICKETS & INFO