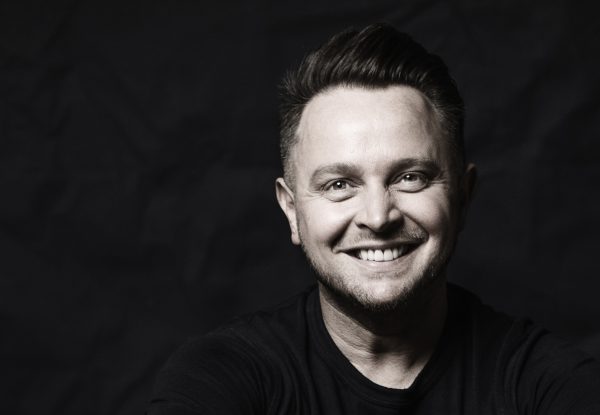 The Rocky Horror Show 50th Anniversary Tour
Adelaide, Melbourne, Perth, and Canberra
Interview by Chris Duncan
The Rocky Horror Show, written and created by Richard O'Brien in 1973, is one of the most enduring pieces of musical theatre. To mark its 50th anniversary in 2023, Australian producers will kick off a year-long celebration full of performances across the globe.
This musical comedy tells the story of Brad & Janet, two seemingly-innocent college students who have an unexpected encounter with the mad scientist Dr. Frank-N-Furter and his peculiar assortment of followers. As Brad and Janet explore this bizarre world of time warps, floor shows, and wild card surprises, they must decide if their curiosity is worth the risk.
The Rocky Horror Show is the only contemporary rock musical to have been around for 50 years. Its frothy fun and irresistible music are sure to entertain audiences of all ages. So, join in the celebration and get ready to take a wild ride with Brad & Janet!  It's going to be an unforgettable experience.
Led by director Christopher Luscombe, the team also includes set designer Hugh Durrant, costume designer Sue Blane, choreographer Nathan M Wright, lighting designer Nick Richings and music composer Richard Hartley, who has provided new musical arrangements.
To get a deeper insight into the creative process behind this special production, Chris Duncan speaks to choreographer Nathan Wright about his experience working on The Rocky Horror Show 50th Anniversary show.
Chris Duncan: What inspired you to become a choreographer? 
Nathan M Wright: I always knew I wanted to create. I was inspired as a young performer watching and working with different choreographers create their work. I love the process behind creating the material and collaborating with a creative team. Most importantly being in a rehearsal with artists that bring your ideas to life.
Chris: What has been the most challenging part of working on The Rocky Horror Show?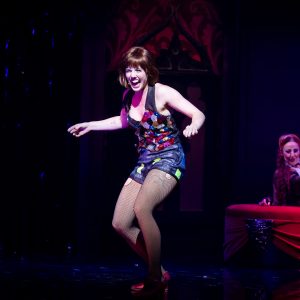 Nathan: Keeping it fresh for audiences around the world that have seen the show for over fifty years, as well as creating staging that inspires the current cast. Rocky has an incredible relationship with its audiences and I always want to offer them something new each time they come to the show.
Chris: How do you ensure that each night's performance is as good as it can be?
Nathan:  I like to always recreate the show for each new production, as the show heavily relies on the talent of the cast to bring it to life. One of the wonderful elements of the show is that it constantly allows for new interpretations of the staging. Creating choreography that is sustainable for a company to perform eight times a week is important, but once the show is set I like to give the company license to continue exploring and discovering new things throughout the tour.
Chris: What other projects are you currently working on?
Nathan:  I have just launched a new program called THEatreBRIDGE with Andrew Bevis, Torben and Richelle Brookman. THEatreBRIDGE is a progressive program whereby participants grow and develop skills across the four-week timeline, each week building upon the knowledge and skills that have been acquired in preceding weeks. Performers in the THEatreBRIDGE program will work directly in the room with leading creatives and professionals from the first-class theatre industry. Throughout the program we focus on targeting specific eras and genres of Musical Theatre through the elements of scene study, acting, vocal work, character development, dance technique and choreography. The program kicks off in July at GWB studios in Sydney. Submissions close on the 29th May. For more information please visit our website www.theatrebridge.com.au
Chris: What advice would you give to aspiring choreographers? 
Nathan:  When I was in this exact position, I reached out to three choreographers that I really admired and asked them for their advice on how to be a choreographer. They all responded and said, if you want to be a choreographer then you are a choreographer. I also offered up my services. I wanted to learn anyway I could. I ended up assisting John O'Connell on an audition and that led to a ten year working relationship. He taught me everything and now he is one of my closest friends.
Chris: What do you enjoy most about being a part of the show?
Nathan:  Being part of Rocky is like being a part of a family. The creative team are so passionate about the show and the message that it still delivers after 50 years and the opportunity to work with artists from all over the world and seeing their interpretation of the material.
Chris: What do you think makes The Rocky Horror Show so timeless and popular?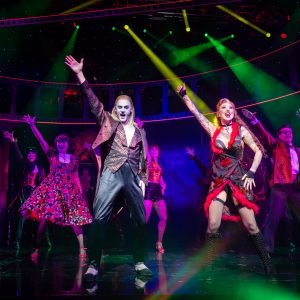 Nathan:  People connect with the show because it speaks to everyone. There is something for everyone in this show. It has amazing music, sets and costumes but at the very heart of the show is an incredible message – 'Don't Dream it, be it' – what an amazing message to take away.
Chris: What would you like audiences to take away from the show?
Nathan:  The beautiful message that Rocky offers its audiences every night. Be yourself, be who you want to be.
Chris: What have been some of the highlights of your work with The Rocky Horror Show?
Nathan:  This is my eleventh production of Rocky Horror and each time I'm offered another production I can't quite believe it. One highlight would be when we filmed the production for cinema release in the London's West End and Emma Bunton (along with many other amazing artists) was one of our guest narrators. I will never forget teaching Baby Spice the Timewarp in the foyer bar of the theatre.
Chris: What do you believe sets The Rocky Horror Show apart from other musicals and productions?
Nathan:  Rocky has an incredible fan base. This show speaks to people in a way that I haven't seen before.
Chris: How does it feel to be a part of something so iconic and beloved by so many people? 
Nathan:  I feel honoured. It's a privilege to be part of such an iconic show. For a choreographer, shows like Rocky Horror don't come along very often.
Chris: How has your experience with The Rocky Horror Show impacted your career goals and aspirations?
Nathan: Rocky Horror changed my career in London. I was in the UK working on the 2012 Olympics at the time and once the games were over I was offered the 40th Anniversary production. Having your work seen on such a global scale can only be a good thing. From there my career in London became what dreams are made of.
***
The Rocky Horror Show 50th Anniversary Tour
Melbourne

– Athenaeum Theatre
From May 18 – July 30
Perth

– Crown Theatre
From August 6
Canberra

– Canberra Theatre Centre
From September 29