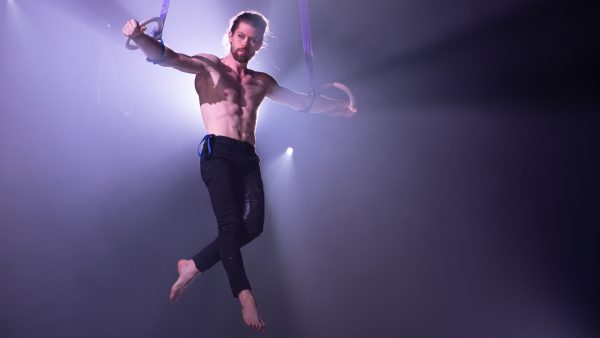 Le Aerial
Arts Centre Melbourne
Interview by Brendan Daynes
Australia's world famous Le Aerial is returning home after thrilling audiences worldwide, with its aerial artistry, playing to full capacity crowds and enjoying five-star reviews.
The cast includes international gymnastics sensation Alex Caulfield, fresh from his latest Cirque Du Soleil production, local Melbourne musical theatre superstar Mike Snell, Craig Monley and Sriani Argaet from 'Dancing With The Stars', and a line-up of exceptional gymnasts and dancers who are feeling highly energised to be performing to audiences at the Playhouse.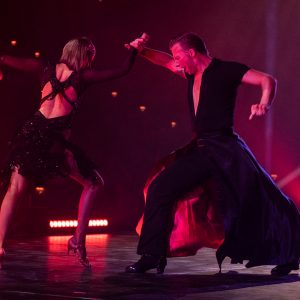 Brendan Daynes recently caught up with Alex as the cast prepares for their upcoming season scheduled for May.
Brendan: Tell us a little bit about Le Aerial…
Alex: Le Aerial is a visual display of precise and athletic control of the body. Le Aerial features highly trained dancers, aerialists and musicians who deliver an exciting performance that displays what the human body is capable of doing.
Brendan: The show has been around for 8 years touring internationally, how long have you been working on the show and how did you come to join the company?
Alex: Craig Hryhorec, our shows Director, did gymnastics with my original gymnastics coach back in Queensland. I actually hadn't met Craig, but he found me through my coach being a mutual contact and then I joined Le Ariel just over a year ago for Adelaide Fringe.
Brendan: Can you walk us through your typical training routine, and how do you keep yourself physically and mentally prepared for performances?
Alex: I was originally a competitive gymnast so I am used to doing a lot training, sometimes we would have 20 hours of training per week. For the last couple of years of my life, I've mostly just been doing strength maintenance training and I don't particularly work on any new skills. It's just like strength and fitness maintenance so I can be ready for my shows.
On a normal show day my regular physical preparation involves getting to site usually about 2 hours before the show which gives me time to put my makeup on and have about an hour of warm up and mental preparation. My mental preparation varies depending on the character I am playing. In Le Aerial I have a more of a serious, trying to be sort of cool character. In a lot of other shows I've done I have played more of a parody character, for example I'm a caveman in one of my other shows, so no matter what the show, my physical warm up is the same but it is the mental preparation that gets me into character. Then I'll perform the show. After the show finishes I will do my strength training. I incorporate body weight type strength training exercises, like pull ups, as well as stretching. I'll do that for about an hour to 90 minutes.
Brendan: Coming from competitive gymnastics and transitioning those skills into performance art, how do you approach your stage presence and performance style?
Alex: My experience with competitive gymnastics is different to performing as gymnastics can be a high stress environment and stage presence and performance style is not really a part of gymnastics at all. I find performance to be much more fun. With performing you have the sense that people come to watch you, to have a good time and enjoy themselves and it's not about being the best at what you do, it's just about entertaining.
Brendan: How do you stay motivated and inspired when working on a long-term creative project?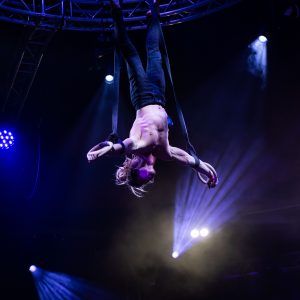 Alex: That's an interesting question because even though the shows are the same skills over and over, it still stays fresh and fun doing it to a new audience all the time. Each audience gives a different energy, so that gives me a different energy and motivation for each performance.
Brendan: Can you share a memorable moment or experience from your career as a performer, and what made it special?
Alex: Standing ovations are something really special. It's quite an amazing feeling, it's quite humbling. I previously worked with Cirque Du Soleil on their show Totem and a full house in the big top was two and a half thousand people. To get a standing ovation from two and a half thousand people is quite a feeling!
Brendan: What advice would you give to aspiring performers who are just starting out in the industry?
Alex: Firstly, it's very exciting, and I can understand how people want to rush into learning all of the skills and pushing their body. I would recommend that young artists try to take a step back and think about the long term, the longevity of their career, because in this type of performing industry, your body is the most important thing to you. So you really need to take it slow, work progressively, and make sure you look after your body first and foremost.
Brendan: What do you think sets your show apart from other circus shows?
Alex: Le Aerial features not only aerialist, we also have two live singers and live music which takes the performance to a whole other level.  All of the aerialists have a very clean and refined look to their lines which comes from Craig's gymnastics background. Overall, Le Ariel has quite a classy feel to it.
Le Aerial is set to deliver a sensational season of aerial expertise, curiosity, and excitement over five days from May 3rd to 7th at the Arts Centre Melbourne – Playhouse. For tickets and more information visit https://www.artscentremelbourne.com.au/whats-on/2023/theatre/le-aerial or https://www.leaerial.com/