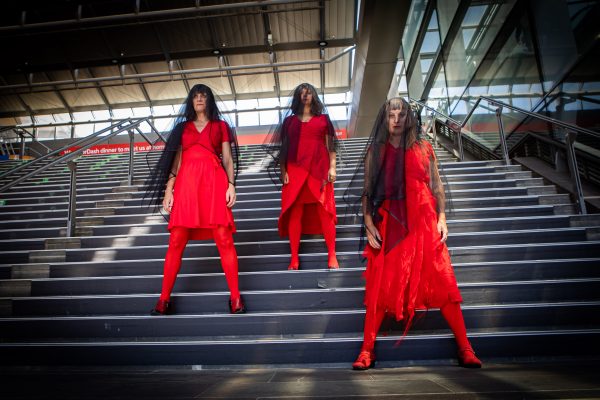 Reclaim the Crone
Gabrielle Leah New and The Space Between Performance Collective
Getting old doesn't have to mean becoming invisible
Defiantly coming out of the cultural shadow, these dangerous older women Reclaim their Crone superpowers to transform the planet
Join them in a world where age, experience and knowledge are power, beauty and trouble.
Reclaim the Crone is a bold and haunting new performance that uses contemporary Butoh Dance Theatre, Projection, Poetry and Song, to take you on a wild adventure to reclaim the archetype of the Wise Old Woman.
Witness the Crones as they journey and fight for recognition within the Patriarchal domain, invoking the Goddesses of old through song, ritual and powerful dance.
Inspired by the wise words of local Crones, they will mourn the losses of climate devastation and get down to business cleaning up the metaphorical mess as they mend and weave a potential new World where humanity
reconnects with the mysterious old crone-Mother Earth.
"I wanna be a wild old woman. I wanna break the rules, create a new paradigm, find a way to heal the original old crone –  Mother Earth."
Gabrielle Leah New
THE CRONES ARE COMING!!!
Performed by: Gabrielle Leah New, Karen Berger, Helen Smith
and Peter Fraser as the Patriarchy
Directed by: Gabrielle Leah New
Sound by: Norm Skipp
Running time: Approximately 60 mins
Promo Video: https://youtu.be/X4U0S7OKyq8
When: Saturday April 22nd @7pm,
Sunday April 23rd @ 5pm followed by a free Q&A with the Artists at 6.15pm
Where: Peninsula Community Theatre. 91 Wilsons Rd, Mornington, 3931
Tickets: Full $35, Concession $25, Group of 5 $150
Free Event –Crone Walk: Saturday, April 22nd11.30 am at Rosebud Pier.   2 Jetty Road, Rosebud, VIC  
Wear Red pants, skirts, shoes, tights- basically, Red on the Bottom… to walk together to support older women and our connection to the Earth...
All Tickets: https://www.trybooking.com/events/eventlist/eventListingAccount/reclaimthecrone