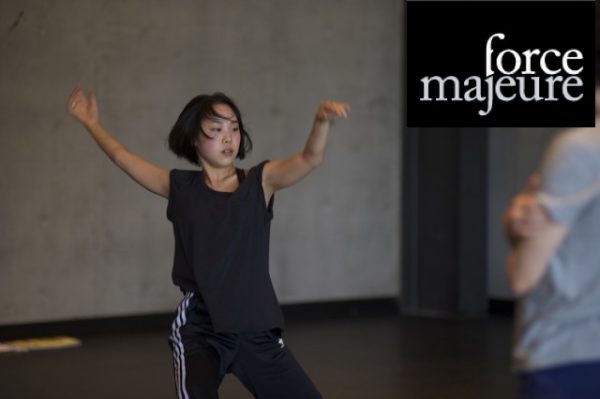 Professional Dance Theatre Intensive for Years 10 – 12 in July
Applications Close May 10
INCITE Youth is contemporary dance company Force Majeure's professional dance theatre program for students in years 10 to 12. This program has been developed by Artistic Director, Danielle Micich, in consultation with education experts across NSW. 
INCITE Youth offers a rare opportunity for students to work with one of Australia's leading dance theatre organisations, creating professional pathways for young people into the dance industry. The program will run throughout the July 2019 school holidays, presented in partnership with Carriageworks and supported by Create NSW.
This is a new pilot program offered by Force Majeure and complements their existing INCITE Masterclasses and INCITE Intensive programs aimed at professional dance makers. Read our article on this year's INCITE Intensive here.
BACKGROUND
After many years of experience as a maker, performer and mentor, Danielle Micich has spent the last four years developing an extensive industry-leading professional training program – INCITE. The program provides artists with the requisite tools to maintain their practice and hone their creation process as dance theatre makers. INCITE Youth is an exciting new addition to this program, providing HSC students the access industry standard training that directly links to their high school studies.
THE PROGRAM
The one-week intensive program will focus on the following tasks:
• In-depth research of the students' chosen stimuli 
• Understanding how to create improvisation tasks
• Critical thinking around composition of their solos, including choreographic principles and choreographic structures
• Development of motif and phrase
• Development of personal style
WHO CAN APPLY
INCITE Youth is best suited for students that have:
• An interest in choreography and creation
• Potential to score highly in composition rather than performance
• An interesting and unique movement style
Applications will be assessed on a creative writing task or video response. For the 2019 pilot year, we also invite teachers to encourage suitable students to apply. Limited places available.
KEY DATES
March 29: Applications open
April 8 – May 10: Force Majeure will come to talk to you at your school 
May 10: Applications due
May 17: All applicants notified
July 8 -12: INCITE Youth option 1, including sharing in the afternoon of July 12
July 15-19: INCITE Youth option 2, including sharing in the afternoon of July 19
Cost: $300 for successful applicants | Payment plans available
APPLICATIONS
For information regarding suitable students for INCITE Youth, and how to apply, please contact:
Elle Evangelista, Company Administrator, projects@forcemajeure.com.au
Or visit www.forcemajeure.com.au/artist-development/incite-youth