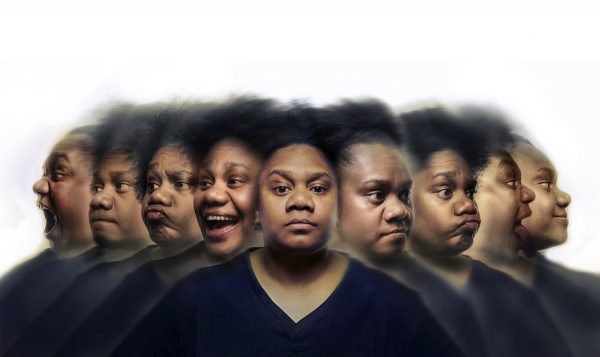 Pro Talent Watch | Ghenoa Gela
Heartfelt Story Telling by Acclaimed Torres Strait Artist
Interview & Article by Heather Clements
Multi-disciplined performer Ghenoa Gela is difficult to label as an artist. And that is just the way she prefers it. The one label she is happy to own is that of a proud Torres Strait Islander woman. Hailing from Rockhampton in Queensland, as a master storyteller, she brings together her talents as a dancer, actor, stand-up comic, musician and theatre-maker in her one-woman show MY URRWAI which she is currently touring around the country.
Ghenoa will perform her critically-acclaimed show as one of five curated works in the Sydney Opera House's Festival UnWrapped program – a bi-annual celebration of diverse, new and risk-taking works from some of Australia's most admired contemporary performance makers playing over 3 – 19 May. There will also be artist talks, a participatory artwork and a pop-up bar.
In MY URRWAI, Ghenoa tells a deeply personal story of her life, family, culture and experience as an Indigenous woman. In this rare and intimate performance, MY URRWAI explores the interplay of political, social and colonial expectations that Gela dances with daily. Gela debuted this show last year at Sydney's Belvoir Street theatre to soaring reviews, and she is considered to be one our our most ground breaking performers with a unique story-telling ability being able to elicit an audiences full range of emotions with her humour and humanity.
Ghenoa is a recipient of both the renowned Keir Choreographic Award and the Deadly Funny Melbourne International Comedy Festival Award. She has also performed at the Edinburgh Fringe Festival, with Circus Oz and appeared on the TV series Move It Mob Style and So You Think You Can Dance.
Don't miss the opportunity to see this incredible performance artist in MY URRWAI, where laughter and deep reflection go hand in hand in this unique and intimate story told through movement and story-telling. Ghenoa will also be conducting a free 'Artist Talk' session at the Sydney Opera House on 18th May, 3pm.
DanceLife spoke to Ghenoa during her regional tour.
***
Q: Your name has been associated with so many great reviews and productions… How do you describe yourself, as a performer?
Well, I try not to use any of the labels except Torres Strait Islander … I'm just a proud Torres Strait Islander woman, who's trying to share my culture and I'm using any vessel that I can to do that. I had issues before with people just calling me a dancer, so that really limited my career. So, I decided that I was going to try and do a lot of things, because I can, to broaden people's ideas of what an artist is.
Q: You wrote the show MY URRWAI yourself, how did you conceive of it and what does it tell?
We opened at the Sydney Festival last year at the Belvoir Street Theatre, and I started touring it in March this year … I'm touring all over the place! … It started in a totally different space altogether. I did a programme with Force Majeure, when Kate Champion was still the artistic director, called Cultivate Culminate back in around 2015, with emerging choreographers and I got yarning to Kate about what I'm really interested in growing and doing and she helped me see how to do this.
She told me one of the best ways that she learnt how to choreograph and direct was by making a solo show … and that's kind of how MY URRWAI started … because I want to be a better director and choreographer.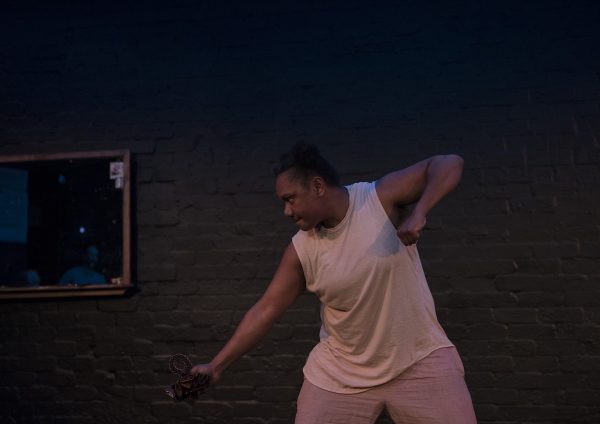 Q: And it's purely a personal story?
When I thought of a solo show, the first thing that I knew mostly about at that time was myself (laughter). Yes, I am the kind of person that only likes speaking from experiences, I don't like trying to make things from what I don't know. I like to make sure that I have had personal experiences just in everything that I make, because that's the foundation that I want to come from.
Q: Do you address any controversial topics directly in the show? Or is it more subtle?
That's a really good question. From my perspective, it's from my personal experiences. I actually don't know if I tell it directly or not. Rachael Maza, my director, and Kate Champion, my Dramaturg and movement consultant, tell me they see things in it that I never actually saw or intended. So, the shape of the show is actually all three of us, it's not just me. That's art … People take away different things from it.
Like, one story that I thought was important or relevant to the storyline, Rachael and Kate were like 'It's actually not as strong as this one. I think this one should be stronger—'. There were lots of conversations about what stories to align with the through-line. I'm pretty proud of what it is now.
Q: You are a NAISDA graduate… how did that eventuate?
My initial training form and technique is traditional Torres Strait Islander dance. My parents taught me and my brothers in our backyard back in Rockhampton. And as I grew up, the amalgamation of pop culture really hit hard. Because I grew up in the 80s and 90s the amalgamation of pop culture really hit hard and I watched a lot of Michael and Janet Jackson … all of that break dancing and early hip hop stuff which really influenced me with a different flavour.
I didn't really decide to go to NAISDA, a friend of mine made me apply. I never thought I was going to be an artist at all, because I was really big into sport, I thought I was going to be the next elite athlete, like Kathy Freeman. But a friend of mine sent me an audition form to NAISDA and I actually only applied because I thought it would be really exciting to jump the border and go check out Sydney, the big smoke!
But I auditioned and got accepted, so that was my firth formal dance training with ballet, jazz, tap, contemporary and everything! I started in 2005 when NAISDA was still in Sydney, then moved up to the Central Coast with it a few years later.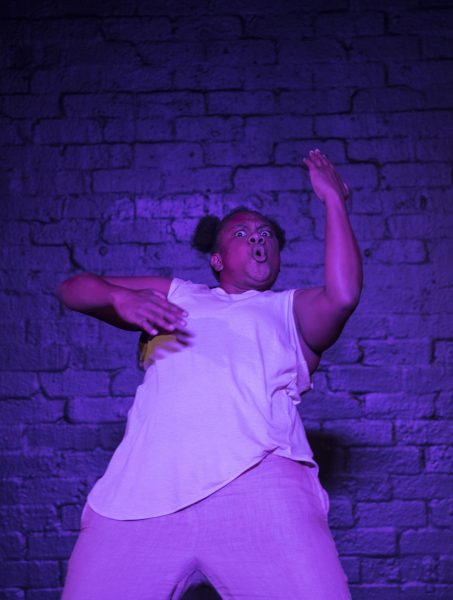 Q: How is dance still relevant to you now?
I don't know that it is still important to the work I do now. I've made some really amazing friends in the contemporary dance world. One of my support girls, Miranda Wheen, is really passionate about modern technique. So, I think that when it comes to that kind of dance stuff, me and her (sic) were sitting down and talking about formal training from my cultural perspective and from her modern dance training perspective. And I find that quite interesting. So, I'm interested in contemporary dance in that kind of sense, but it's not incorporated in my work. When I did Fragments of Malungoka: Women of the Sea for the Keir Awards, I had three contemporary dancers, all non-Torres Strait and that was really exciting to try and navigate my technique and form on their bodies. The good thing about dancers is that they know how to use their bodies.
Q: With MY URRWAI, is there something that still surprises you about how audience react and receive this particular show?
Unfortunately, the majority of the reactions are pretty much the same, like some people are quite shocked about some of the things that have happened because of my culture. I think I'm always hoping for a new reaction, but I haven't received one yet. I think people are just shocked at how racist Australia is and they don't really realise that.
I have made the decision to tell my stories through the 'white' western mediums … to cut through. Kate Champion has helped me navigate this part of the industry, and the Westerrn perception, because I don't know that side of things, to be able to reach the audience.
***
MY URRWAI by Ghenoa Gela
Festival UnWrapped
Sydney Opera House
8 – 12 May
Bookings: www.sydneyoperahouse.com
Artist Talk: Performing Selves – artist talk with Ghenoa Gela
18 May, 3pm
FREE via Registration
10 July – 30 August
Lismore, Brisbane, Rockhampton, Tenant Creak, Darwin, Katherine, Wyong, Canberra, Bendigo, Wodonga
Tour Dates & Bookings: www.performinglines.org.au/projects/my-urrwai/