Hot Talent Watch | Hannah Russell
New York Beckons for this Ambitious, Talented and Hard Working Humble Aussie
Interview and article by Heather Clements
Hannah Russell, 26, has always backed herself. She has trained hard in multiple performance disciplines, earned herself a business degree, built important relationships and set herself up for success in the biggest town of all – New York City. After a two year stint in the city, where she certainly got a taste for the Big Apple, Hannah is ready to return and live her dream as a dancer and artist. 
Initially classically trained, she moved into other genres quite late in her teens to go onto full time at Sydney's Ev&Bow before suffering a setback with foot surgery. But she made the most of this recovery time by undertaking an arts business degree and worked on her singing instead. After working in kids TV, Hannah made her way to Broadway Dance Center where she was the recipient of the prestigious Outstanding Student Award in 2017. New York renewed her career focus. There she caught the attention of choreographers, teachers and directors and is currently preparing to take her career back to the Big Apple with a highly regarded dance company and theatre contracts on offer. She may even get her wish of becoming a Rockette one day!
DanceLife spoke to Hannah about her experiences, advice and what awaits her as a dancer. Enjoy.
***
Q: How did you start in dance and what was your training?
My dad was in the Air Force so we moved around a bit, but I started dancing in Melbourne. I started in ballet, and I did all my Cecchetti ballet exams. Then, when I moved to Sydney at around 16 I did RAD ballet and trained at Performing Arts Western Sydney. That's when I started to do contemporary as well, but I didn't really start doing jazz and music theatre until I started full-time dance at Ev&Bow in 2011.
After graduating from Ev&Bow I studied a Bachelor of Music majoring in Arts Management at the Australian Institute of Music (AIM) from 2013-2016. I did half a music theatre degree, before I moved to arts and music business. After that I gave myself a graduation present to attend Broadway Dance Center in New York!
Q: Did you suffer any setbacks?
After Ev&Bow I did every audition I could, but I was really ambitious and excited, and they weren't really getting me anywhere. So I decided to work on my singing voice. And actually halfway through my music theatre degree I had to have bunion surgery on both of my feet, and then, three months later, I did my ankle!! So, I was like, "I'm going to have to back this up with something." I was a little bit discouraged from auditioning and things early on and truly didn't know if it was what I wanted to do, but I still wanted to go give Broadway Dance Center a shot.
So I saved up and went there when I was 24. It just brought my love of dance back … I had a new energy from all the teachers, and I eventually won the Outstanding Student award there. 
Q: Tell me about your singing? Was that another skill that you discovered or was it something that you've always done?
At Ev&Bow I really excelled in the music theatre genre and the singing teacher there helped me out a lot. And I thought I might as well give it a crack! Then at AIM I had some really good singing teachers and found my voice.
I'm really grateful for my vocal training because it's really helped with my work … I've done a lot of kids' entertainment like Nickelodeon. In fact, I've probably done more in the singing and acting, than just dancing.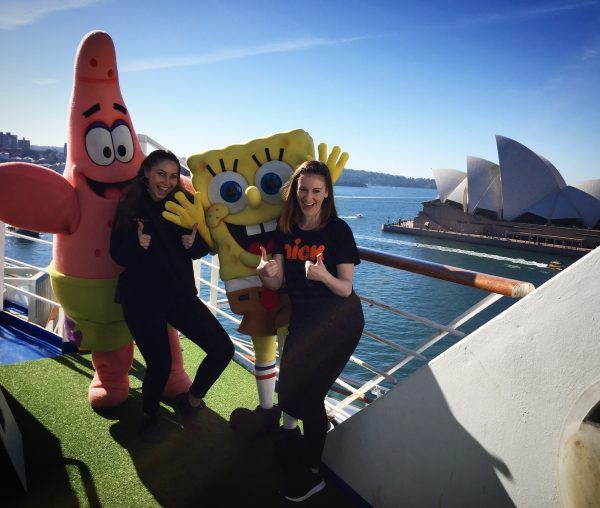 Q: What was your first professional job?
It was actually Penrith Panthers' cheerleading squad! (Laughter) Then I did do a lot of hosting kids' TV shows for years for ABC Kids and Nickelodeon. And I still do those.
Q: During your time in New York at Broadway Dance Center, how was it a culture shock and what was the best part for you?
For me it wasn't a culture shock… it was more of a really great opportunity because there were classes there in every single style for all ability levels. It wasn't like you needed to be the best dancer in the entire world. Everyone found a class to suit them, and then once you found your class, you could delve in and out of other classes. But you had your little community there, as well.
I'm glad I went to BDC later (I was 24) and I'm glad that I did Ev&Bow first … Because the International Student Visa Program at BDC is less structured so you've got to work hard … it's up to you to motivate yourself and meet your goals.
I met Ginger Cox at Broadway Dance Center … took her classes a lot and decided that's somewhere I needed to be. So, I came home, worked for eight months, and I had a one-year visa opportunity … So, I went back.
During the 3-month ISVP I wasn't allowed to work in the US. But when I went back the second time with my 1 year Visa I worked at Lululemon and took classes and went for as many auditions as I could. It's really like you're living the life, you can just go take class and then hang out in New York City. When you have to work there, dance, and audition, it's a different lifestyle.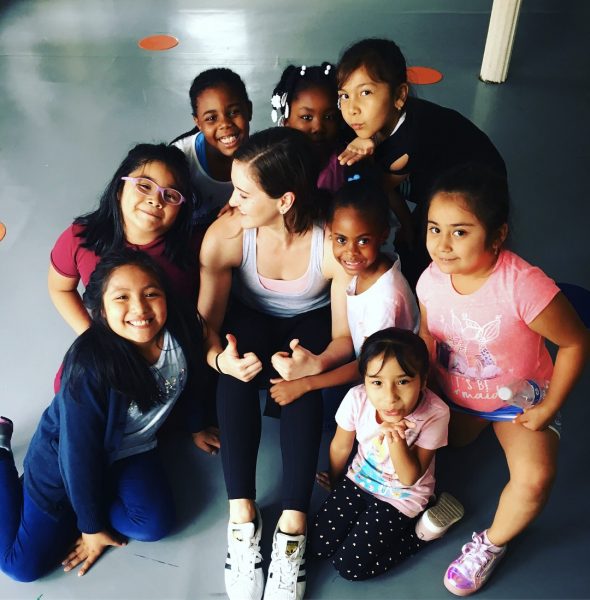 Q: How has your path changed over time compared to what you originally thought you would do?
It's changed a lot. When I was younger, I wanted to do ballet but as I got older I moved into contemporary, and I used to be quite nervous in class. I learnt along the way from meeting a bunch of different people that I needed to become more versatile. So I spent many years trying to be more versatile.
And I think as I've come back to dancing after those years of being at university, and learning the business-side from my degree, as well as teaching dancing I've become a stronger dancer myself with life experience. I found that teaching younger kids has helped me become a better dancer and work out how to correct myself and how to approach class.
As a more mature dancer, I think that's why I did really well at Broadway Dance Center, because I approached class with this understanding of being a teacher as well. I could take corrections as feedback and as gifts rather than being super scared and afraid to show who I really am.
Q: You returned to Australia at the end of 2018 … what are you plans moving forward?
I'm freelance teaching at the moment around Sydney and I actually just started my own workshop series as well. It's performance and goals for pre-teens and teenagers and it's like my own little workshop where I'm talking about values, goals and self-worth, which I've put together since I've come home from New York – it's called Class With Hannah. 
I'm now 26 and after spending the better part of 2 years in the US I have decided to move back there and pursue my career with gusto. I have an exciting contract lined up with a contemporary and theatre jazz company in NYC and I just need to get my paperwork in order so I can start!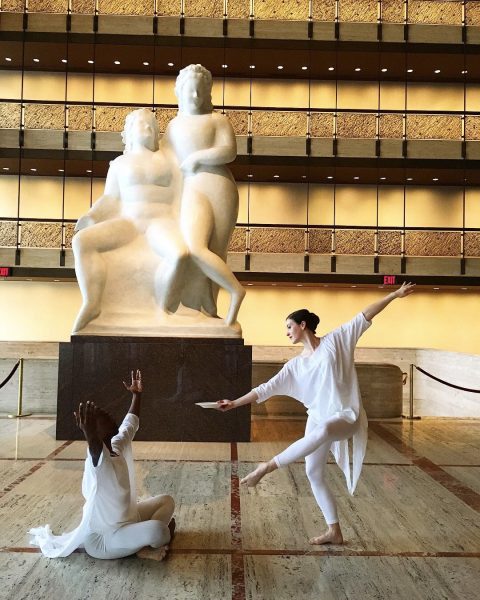 Q: What has been a highlight of your performance career so far?
Looking back, I would say working for great choreographers in New York City and in Australia and I've assisted Ginger Cox at Broadway Dance Center. I've also been on a selection panel at BDC for the new student auditions. Overall, I've just done a bunch of different things, that when I started, I didn't think I would ever be able to do or achieve. I did not think I'd be able to live in New York City for a year. But it's rare to assist, so I did assist Ginger Cox as a dancer for the auditions, as well. And that was because I worked with her a lot when I was a student there, but I also got that outstanding student award from Broadway Dance Center. 
Performing in Jacqueline Buglisi's annual dance tribute to the 9/11 terror attack last year was also a major highlight for me. I performed along with around 100 dancers in her 'Table of Silence Project' at the Lincoln Center on September 11. Buglisi, who was a Martha Graham dancer, choreographs the 30-minute performance with 100 dancers in it. The dance is with plates and it's based on an Italian sculpture that represents peace. 
Q: What's something that has surprised you about the dance and entertainment industry that you didn't really expect or understand when you were younger?
So many things! I think every successful performer that I have met knows their real worth, and understand what they value. They're not just following everyone else. Something else that has surprised me is the knowledge that the whole industry is really just a business … And I am learning more and more, especially after my year in New York City, how important it is to build relationships.
Q: What snack do you always have on hand?
This is a good one… Harvest Pea Snaps!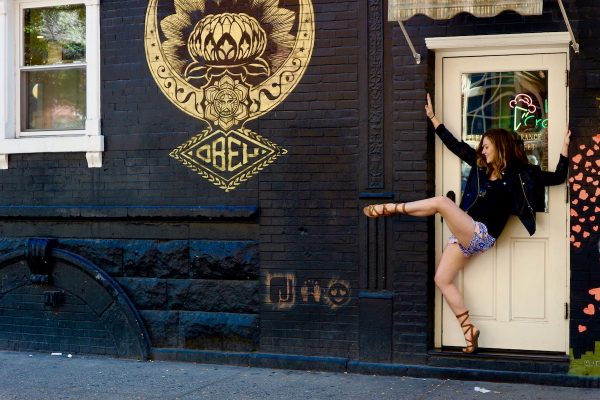 Q: What's currently on high rotation on your playlist?
Everything from Sigala.
Q: What's your favourite thing to do when you're not working?
I really like long distance running. I used to run cross country in high school. So, I love getting out and running at sunrise or sunset. I usually run like about 6kms, that's just my casual run, but I can run 14kms. And my Citi Bike membership in New York City was my favourite thing while there, so if you pop that in there, all my friends will laugh!
Q: What's on your bucket list?
Okay, I do want to be a Radio City Rockette dancer … I want to put that out there. Plus I'd love to take my dancing goals workshops all around the world as well.
Q: What is your advice for young Australian dancers and performers who were thinking about making this a profession?
I think stay in school and finish your education. I didn't plan on doing my business degree but from doing it at AIM I learnt marketing, finance, and business management. And really, that's what's helped me get to New York City, because I've had to do all of those things to save up and promote and market myself. Understanding the business is super important because there's so many talented dancers and they just don't know how to manage themselves efficiently. It's also important to know your worth and be assertive with what you want, so that you're not pulled in a million different directions.
Continue training and put the phone down! Don't film class all the time. I think it's really important to just get involved and take class to make mistakes. A lot of young dancers think that when they go to class these days it has to be perfect because it's getting filmed. And then, they're missing out on the opportunity to actually learn from the teachers. They just see videos on Instagram, and they think they have to film the combos for Instagram every time.
It's not all about the pirouettes. It's not all about the flexibility… especially in New York City. I think coming out of competition dance and into the professional world, it's more about what you bring as an artist, and in New York City artists thrive. They're really looking for what you have to give and have to offer, not how many tricks you can do. New ideas are really accepted in New York City, unless you're going for a specific role in a musical, and you have to be that character… it's really what you can bring to your dance as a person is what's going to make you stand out in New York City.
BIO | Hannah Russell
Recognised as a versatile singer actress and dancer Hannah has worked with the biggest names in show business as a host for Nickelodeon Live, Dreamworks and ABC Kids. Internationally she has danced with Buglisi Dance Theater under the artistic direction of Jacquline Buglisi (Principal Dancer for Martha Graham), a featured soloist for Italian Choreographer Giacomo Severini in his award winning piece 'Creating Memories' (contemporary-ballet) and as a Jazz and ballet dancer for some NYC'S Leading choreographers, Josh Assor, Zanza Steinberg, Dawn Hillen. She has also danced with ALMA NYC Dance Company and the Julia Kane Dance Collective.
In 2017 Hannah was the recipient of the prestigious 'Outstanding student award' from the world-famous Broadway Dance Center. She has since returned to Broadway Dance Center to assist choreographer and master teacher Ginger Cox with new student Auditions and orientation weeks in addition to been on the ISVP placement class panel.
Her training has included Ev and Bow Full Time classical/contemporary course, The Australian Institute of Music, and the ISVP program at Broadway Dance Center NYC. She is also a passionate teacher who also enjoys sharing her knowledge and experience with students in her Goals and Dance workshops, designed to build confidence in teen dancers.