Hot Talent Watch | David Sirianni
Talent, Hard Work and Being in the Right Place at the Right Time Thrust this Young Dancer into a Hot Career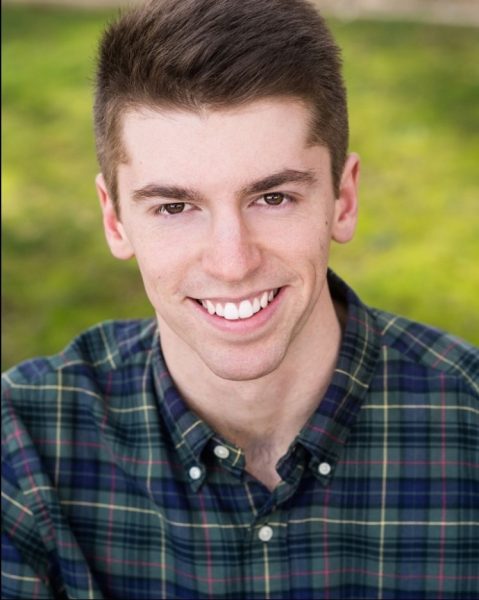 Interview and article by Heather Clements
He was a late starter to dance at age 10, but at 24 David Sirianni is young and going places fast. David is Dance Captain for the Opera Australia production of epic musical EVITA. After a successful opening run in Sydney, EVITA is now moving to Melbourne where it will feature as the city's Summer Musical at the Arts Centre, opening on December 5.
From his dance beginnings in suburban Victoria, David was inspired to aim high and has seen his goal to be on stage in musical theatre both realised and surpassed at such a young age. We invite you to get to know more about David Sirianni and step inside his world as a professional dancer!
***
Q: Congratulations on the gig with EVITA The Musical… how is it going?
Thank you very much. The eight weeks went really well in Sydney … it sold fantastically and the audiences seemed to really enjoy it. So, all good.
Q: Is this the first time you've been a dance captain on a production like this?
No, previously I worked with Opera Australia on My Fair Lady. I actually started in the ensemble on that show, and our dance captain left so I was fortunate enough to take over. So, My Fair Lady was my first experience learning the ropes as a dance captain. And then, before I started EVITA earlier this year, I was also dance captain on Bring It On, the musical, which was in Melbourne.
Q: So, for someone quite new in the professional world you've done very well?
Yes, I am fresh! I only graduated from training in 2015. My Fair Lady was my first professional show. And as I said, I was really lucky in that instance that the dance captain left, and they needed someone to take over. And I put my hand up, and was like, "I'm interested, if you think I can do it." And thankfully, they took a chance on me. And I was lucky to learn under Erin James… she taught me everything! Being Dance Captain is a job that I really enjoy doing and it's something I always wanted to do, I just didn't think I'd get the chance to do it so soon. And getting Dance Captain on EVITA was a surprise, but a really nice compliment for the work I did on My Fair Lady, as it's the same producers.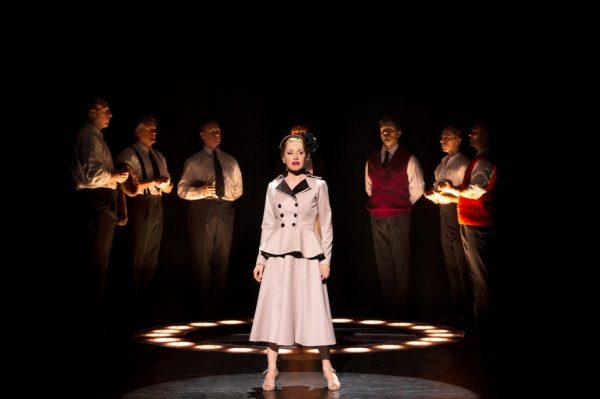 Q: What is your dance background and when did you decide to make it your career?
I started dancing when I was 10 at Bev Palmer Performing Arts in Victoria … which I was told was too late (ha ha) … and then around 15 or so I was inspired by fellow student Nathan Pinnell (who has gone on to do much musical theatre work). He was always like a mentor to me and always someone I idolised 'cause he is such a fantastic dancer… and I remember seeing him in Chicago and I just thought… maybe this is something I could do too!
After high school I realised that singing and acting were my weak points, so I decided that a musical theatre course instead of a full time dance course was probably better for me. I went to Federation University in Ballarat doing Bachelor of Music Theatre. It was always something that I wanted to do but I never thought I would have the skill to get there. (Laughs) But I've been very lucky so far and managed to get the work.
Q: So you decided that musical theatre, instead of dance alone, was the area that you wanted to pursue?
Look, in another life, I'd love to be a ballet dancer, but unfortunately, I wasn't blessed with the feet and the turn out. But I was always drawn to more charismatic performances and I loved musicals… It was always what I loved ahead of ballet or contemporary or commercial dance.
Q: What would you say your natural style or preferred genre of dance is?
It's jazz … Broadway jazz. Even though I tend to get cast in more balletic shows. But definitely Broadway jazz is where I'm most comfortable.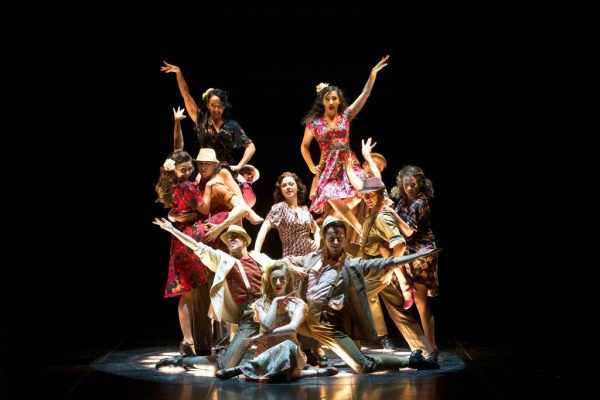 Q: EVITA is set in Argentina, so it has lots of Argentinian-style dancing. Had you done that before? How did you go about learning it? Was it a challenge? And tell me a little bit about the process and the choreography involved.
Well, prior to booking EVITA I had really no concept of what the choreography in the show was like. So, way back when I started dancing, I had done a little bit of flamenco dancing when I was younger … and funnily enough, there is some flamenco footwork that a couple of the men do in the show, and when I started learning it, I was like, "I remember this!" But apart from that, a lot of the choreography in the show is very technical and strongly based in ballet. So, it's kind of got a 'Spanish ballet' feel … But with the attack and the energy that you would expect for Latin style dancing. It also includes an Argentine Tango number as well. I haven't had much ballroom experience prior to this, so that was a bit of challenge.
Our choreographer, Kim Jordan, has been involved with the show for over 30 years. She started out as a Tango dancer in the show, and then became dance captain, and then became resident choreographer and now, she's kind of the worldwide associate choreographer. She works directly below Larry Fuller, who is the original choreographer of EVITA, who's now in his late 80s.
Q: So has much of the original choreography changed? Or is it still relatively true to the original?
It's very true to the original. There have been some minor adjustments mainly due to the score being altered… But apart from that, what the audience sees is what they would have seen in 1979 … which is pretty cool!
Q: Many of the cast aren't traditional ballroom or Latin dancers … have they been able to take on that challenge as well?
Yes, absolutely. It's really interesting, actually, and I was having this conversation with Kim Jordan the other day … She tends to cast more technical and strong ballet dancers, because she finds they have more strength and can pick things up quicker … they're the most important qualities. But in saying that, let's make sure we can still inject the choreography with a lot of attack and energy. It can never be danced pretty, balletic or graceful … it still has to have a lot of fire and Latino passion.
Q: As dance captain, your role then is to keep it fresh and keep the dancers enthused and tight every day. And you're also a swing as well. So, you're balancing between different roles, as well as being the morale booster every day?
Yes, so the job kind of goes hand in hand. 'Cause as a dance captain you have to obviously be across all the choreography in the show and blocking and make sure you know what everyone's doing at any given time. In the show I cover the male ensemble of 13 men. People often say "Wow!", but as I said, as part of my job as dance captain, I just have to know that stuff. I have swung before, but I've never covered this many roles. And I was a little bit nervous, but I'm constantly surprised by how much your brain retains. (Laughter) And I think it comes from dance training, growing up I did so many dance classes, and was constantly learning new choreography and I had 10 different troupes to remember and then, five solos or whatever … so your brain just absorbs it all and somehow retains it. So, growing up I didn't think I really understood or appreciated but that training really set me up to be a fantastic swing and dance captain.
Q: Had you known about the story of EVITA before this role and the auditions came along?
Yes, I was somewhat familiar with the show. I wasn't so familiar with the story and the politics of it all so I did my research. But I'm a big fan of the Andrew Lloyd Webber score. I had always listened to the soundtrack and was blown away by a couple of songs – "Don't Cry For Me Argentina" and "Rainbow High" that our Eva has to sing. So, I'm thrilled to be a part of the show and especially the new Tina Arena and Jemma Rix team playing Eva Peron … they're incredible!
Q: What are the highlights of the show in terms of some of the numbers?
It's a big cliché to say, but my favourite part of the show is the number "Don't Cry For Me Argentina" because that's the top of Act Two. And as a dance captain, I will watch the show out front often, and there is such anticipation and you can hear the audience gasp and you can see them kind of clutching their pearls when Tina Arena steps out onto the balcony to sing that song. It's such an iconic moment that everyone is so looking forward to and she delivers everything you could possibly want and more.
But choreographically speaking, "Buenos Aires", which is kind of in the first 10 minutes of the show, when Eva Peron moves to the big city is one of my favourites. It's this really exciting time for her and for our dancers that's our biggest number, that's a six-minute straight go, go, go! It's top of the show and kind of sets the pace. The "Buenos Aires" number is really just Eva Peron and our crazy hot dancers going full out. It's a really upbeat kind of cha-cha, salsa-y feel.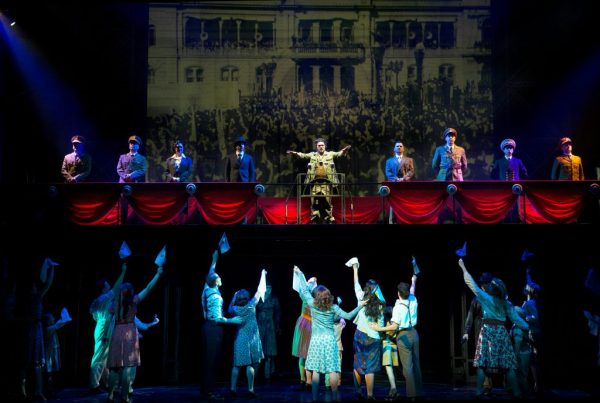 Q: What are some of your new goals and what's on your bucket list?
Well, it's a cliché, but we all dream of performing in London in the West End or on Broadway in New York. I'm a big fan of Bob Fosse, so shows like 'Sweet Charity' and 'Pippin' are shows that I would really love to do. But then, I also like 'An American in Paris' and 'On The Town' too … old school, more balletic shows. I suppose that's quite contrasting, but those four shows in particular are shows that I would really love to do.
Q: What's it been like working with the Australian icon Tina Arena?
It's been great! I really can't say anything but fantastic stuff about her. I remember back in the second week of rehearsals I had a private session with just Tina Arena and myself to teach some choreography and I was quite nervous. But she is so open-minded, and she wanted to learn. There's no ego, there's no diva. She's just here to do the work and do it to the best of her ability. She's a real team player, I really get a sense that she really enjoys being a part of an ensemble. In that first session, she's said, "People know I can sing, but I want to show them that I can dance, too!" And she doesn't have to do a lot in the show, but what she does do we've worked on it, and I think she pulls off. And she just has this fantastic presence on stage. It's not surprising that she's adored by so many.
Q: What would be your advice to dancers coming through, who are looking at a career in musical theatre and dance in this country?
Go to class! That's an obvious one, but go to as many different classes as you can and learn from many different teachers. Because what I've found so far is that what you think you can do well is not always what others perceive you as doing well. I think a lot of younger dancers get 'trapped'… they kind of get stuck being the big fish in a small pond at their local dance school, high school or community theatre group … but you need to expose yourself to as many different choreographers and styles as you can. I have found myself cast in certain shows that I don't think I am right for. But what's your option? You've just got to keep learning, keep trying and not put limits on yourself. And if you expose yourself to different teachers and different styles, you'll probably be surprised at where it can take you.
If you're like myself, for example, even if you're trying to do hip hop and failing miserably, it shows people that you have a can-do attitude, and a willingness to learn, and I think that's really important in our industry.
And take singing and acting lessons! I think dancers often overlook that, because they might feel uncomfortable, it's secondary to them. But the reality in musical theatre here in Australia is that a lot of people in the ensemble have to understudy or cover multiple roles … So, you can't just rely on one skillset to get you through. If you're proficient in singing and acting it will open more doors to you.  And I just think the same with learning more styles and learning from other teachers. The more doors you can open, the more you say yes, then you'll have more chance of getting employed.
***
EVITA – MELBOURNE
#EVITAinAUS
BIO | David Sirianni
David began his training at The Bev Palmer Dancers and graduated from the University of Ballarat's Arts Academy in 2015 with a Bachelor of Arts (Music Theatre). In his graduating year David made his professional debut in West Side Story for The Production Company. He most recently toured as Dance Captain/Swing on the 60th Anniversary production of My Fair Lady (Gordon Frost/ Opera Australia) directed by Dame Julie Andrews. Earlier this year David choreographed Urinetown for Lasalle College Of The Arts in Singapore. He has since gone on to to be cast in Bring It On and now EVITA. In year 11 David achieved a perfect study score for VCE VET Dance of 50.50. He was then selected to perform in Top Class (Dance) and Top Acts as part of the VCE Season of Excellence.