Seeking a Successful Contemporary Life in Europe
Interview with Alex Borg
Interview by Chris Duncan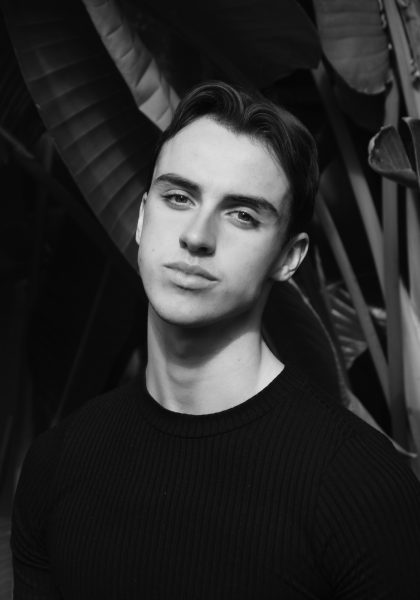 Meet Alexander Borg. Alex, 22, is a rising talent on the contemporary dance scene and about to embark on the next chapter of his life ⏤ and career ⏤ by moving to London. After this year's protracted lockdown, Alex is busy preparing for his move abroad, where he hopes to eventually join one of Europe's leading contemporary dance companies.
Growing up in Sydney, Alex attended the famed Newtown High School of Performing Arts and worked his way through various dance competition circuits in his teens. Deciding to hone his skills as a contemporary dancer, Alex went on to complete two years of full time training via Sydney Dance Company's Pre-professional Program and was then contracted to the celebrated Company as an apprentice member. Before Covid derailed his plans, Alex was also chosen to perform in Sydney Choreographic Centre's debut work GRIMM.
Now that the world is re-opening, Alex is excited to establish himself in London and further develop his dance experience in the vibrant European contemporary scene.
Chris Duncan spoke to Alex as he was preparing his departure.
***
Q: What have you been doing this year?
Well, I've been teaching a lot, especially more project-based work, which has been really great.
In April, I also performed in Grimm the first production of the newly developed Sydney Choreographic Centre established by Francesco Ventriglia. It just recently opened in Zetland, and it's really exciting because he's creating that space for young, upcoming choreographers, but also he's got an ensemble that goes along with it as well. There were six in the GRIMM ensemble with there five of us being ex-Sydney Dance Company dancers. It was definitely contemporary, but he's from a classical background, so it was different, and it was project-based, and we spent about six or seven weeks earlier in the year working on it, just before the lockdown. It was great to perform that at Parramatta Riverside. Read about GRIMM here.
Otherwise, I'm currently focusing on the teaching side of things and project-based choreography. But I am now ready to go on my own personal journey and start to find what I want to do for myself.
Q: That sounds very exciting. I believe you're off to the UK?
Yes, I've had my eye on the youth mobility visa for a little while, but I knew that just having graduated Newtown high school and then full time pre-professional year at Sydney Dance Company I was too young to leave home yet. I'm still living with my family … I'm a big family guy… so I just wanted to stay at home. And after I graduated my second year of full time in 2018, I was offered a contract with Sydney Dance Company. So I took that on board here in Sydney.
Now, especially after this past lockdown, I've been thinking about 2022 and asking myself 'what do I really want to do?' I thought quite hard about it and decided to apply for my visa to see if it would get approved. And luckily, it was. I'm going to take the risk and just rip the Band-Aid off and go for it in the UK!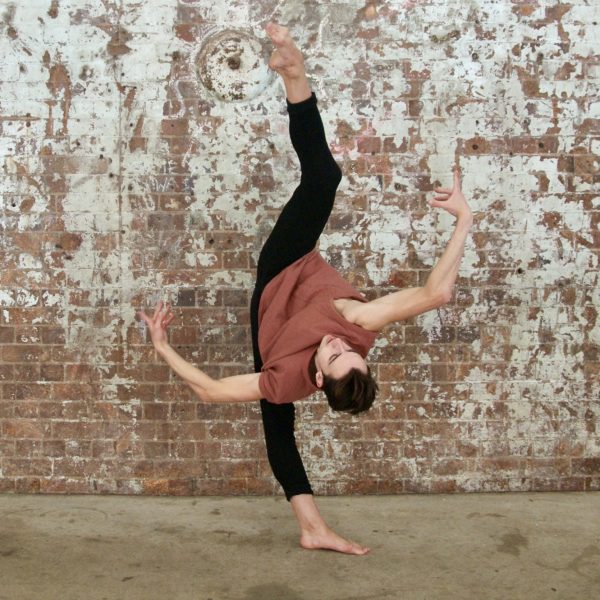 Q: Is there anything that you've got lined up yet in the UK or are you going over there to explore your opportunities?
Well all the auditions are currently being announced, and I've applied for some here and there, and I am just waiting to hear back. But really I'm just going over there to create a base in London. I've already got some teaching work lined up, which is really great to have as my income, but also just to establish myself and create a name. I'm established here, but will be a small fish in a very big pond over there. Teaching will be a way to establish myself and get my name out there as well. With London as my base, I'm close to the UK and the EU, which is really beneficial if I want to take company classes in other cities for a few days. So I've found a little place to stay but not much is lined up yet except all the organisational stuff. But I've definitely got my eye on a few companies. It's about taking that risk and seeing what happens.
Q: So what would be your dream company to get into?
My dream company would probably be Netherlands Dans Theater, because their repertoire, style, and the way they work and create is definitely the avenue that I'd love to go down. There are also some beautiful companies in Switzerland as well that I too am looking at. Obviously I'm more contemporary/classical, so that's definitely the genre of company I'm looking for. There are obviously those companies in the UK, but I'm focusing on the EU more. Like, I think I want to dive in and see what France maybe has to offer.
Unfortunately here in Australia, the performing arts industry is so small, especially for contemporary dancers. The atmosphere, environment, and opportunities are over there and if you really, really want it, you are going to have to take the risk in travelling to Europe and establishing yourself there. I was fortunate enough to go over just before COVID happened in January 2020 and did an audition circuit for a month. That was awesome just to get a taste of everything. I was really grateful to have had that experience to help me now when I move over.
So yes, there are quite a few companies I'm interested in, but definitely in the contemporary/classical stream would be where I'd want to go. It's just unfortunate that the contemporary scene is so small in Australia, and I think too it has kind of become quite commercialised, especially in the musical theatre and jazz genres. I've done Sydney Dance Company and that was at the top of my list for quite some time, but where do I go from here? There's just something that's attracting me over in Europe. I'm really excited and optimistic and very much looking forward to it.
Q: Well, there are definitely a lot more opportunities for contemporary dancers in Europe, and it's fantastic that you're taking that leap of faith. What has been your dance journey to get to this point?
I began dancing at the age of seven at Joanne Williamson Dance Academy in the Shire (Sydney), starting with jazz. I decided I wanted to do more and was introduced to classical ballet at probably maybe eight/nine years of age. And wow! It opened a can of worms because I just absolutely fell in love with classical. Then I was introduced to contemporary and lyrical, especially with Holly Doyle, there was just a whole new style that we hadn't really experienced much, it was quite a lot of jazz. The foundation of ballet really helped with the contemporary and lyrical, and I thought, well, this is a really cool style. I've always loved musical theatre too, so I was kind of bouncing around with those styles in particular. Then I attended Newtown High School of the Performing Arts from 2011 to 2016, graduated with my HSC, and then went on to do 2017 and 2018 with Sydney Dance Company's pre-professional year training program. After graduating high school I knew I wanted to go down the contemporary avenue and I really wanted to choose a course that was authentic, organic, in the strict contemporary/classical stream. I really just wanted to stick with my craft of contemporary and really absolutely adore improvisation, and so Sydney Dance Company had all that for me.
So I did two years at SDC earning my Advanced Diploma in Elite Performance, and then was luckily enough to be offered an apprenticeship contract with the Company in 2019. I spent a year with the Company under the direction of Rafael Bonachela, performing in Sydney and touring the country. It was amazing, and such an incredible stepping-stone for me with incredible dancers. I finished my year with them in 2019, and then went on to do my little tour in Europe for a month with auditions and so forth. Of course, then COVID-19 happened.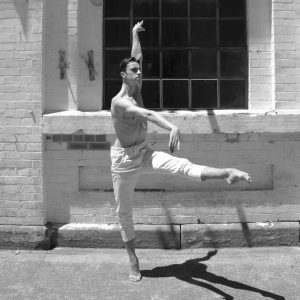 Q: How did you cope with COVID putting your plans on hold?
I tried not to be negative about it, and took that time to really focus on the body. Fitness is always paramount as a dancer. I was really into Pilates, keeping up my gym work, even if it was out in the yard, just to maintain that stamina and so forth.
Then as work then came back, I did a lot of teaching and choreographing for studios and full-time courses across Sydney, which was lovely, and even created new works for my old school Newtown Performing Arts. They've been really exciting to choreograph as they're my first kind of proper works in a full theatre. It's been great to teach at several full-time courses as well, not just dance studios, but to teach at my level, which has been really exciting in helping young artists go through their own journey.
Training-wise, for me, I'm always doing a classical ballet or contemporary class weekly, going to the gym three times a week and Pilates to keep up the stamina, strength and health. You don't want to ever go into a company or an audition when your body has been at the low-level range for quite some time, because that's when injuries occur.
Then, as mentioned earlier, this year I was a part of Sydney Choreographic Centre's Grimm production, which was awesome. Now, I'm gearing up to go again in 2022!
Q: What advice would you give to someone going through full-time training now, with all the COVID issues to contend with, If they're wanting to go into the professional contemporary world like yourself?
I would say to remain positive and optimistic, and never be narrow-minded. I've definitely learned that. I've had experiences with only focussing on a specific company or project, and was closed to other options. With my training, one day it just clicked, like a light bulb moment, and I realised there is so much more out there. So, remain open-minded. I know that going into an audition can be a very daunting process, but I always go in with an open mind and open heart and just accept everything that's coming my way. Observe everyone around you in the audition space, and try and not become too internal. Really embrace everyone around you and take in the energy. I love to observe auditions and see how different people move, and also looking at what the panel are giving you is so important.
I would say as well, if you are going to take the risk of trying to make it overseas, just do it. Honestly, I know it seems far away, but you will never know if you don't try. It's okay if things don't go the way you planned, and if you need to, come back, re-evaluate and then get up and try again. For me, I'm very motivated, but if I don't achieve my goals in Europe this time around I will try again. Even if I have to wait 12 months, I'll go and try again.
Finally, I'd say my advice is to be authentic. Don't try and be something you are not, it's so important to deliver authenticity. They want to see that authentic person, and that is vital.
***
Alexander was born in Sydney. Alexander trained at Joanne Williamson Dance Academy in Sydney from 2007-2016 in the genres of contemporary, classical ballet, jazz and musical theatre. Alex completed R.A.D examinations Pre-Primary to Advanced Foundation. From 2011-2016, Alex attended and graduated Newtown High School of the Performing Arts receiving the Higher School Certificate. Furthering his training and knowledge in contemporary dance, Alex began fulltime training with Sydney Dance Company's Pre-Professional Year in 2017, receiving a Diploma in Dance Elite Performance. In 2018, Alex completed a second year with Sydney Dance Company's Pre-Professional Year, receiving an Advanced Diploma in Dance Elite Performance. Within the two years, Alex worked with many artists including Rafael Bonachela, Lucas Jervies, Rani Luther, Yeji Kim, Theo Clinkard, Triśtan Carter, Tamas Moricz, Kristina Chan, Dean Walsh, Iratxe Ansa and Igor Bacovich. In 2019, Alex was contracted as an apprentice with Sydney Dance Company, performing in Sydney and touring nationally across Australia performing works including; WOOF by Melanie Lane, Neon Aether by Gabrielle Nankivell, 6 Breaths by Rafael Bonachela, Us 50 by Gideon Obarzanek, Arise by Ariella Casu and Zero by Josh Mu. In 2021, Alex performed in the Sydney Choreographic Centre's work GRIMM directed by Artistic Director, Franceso Ventriglia.