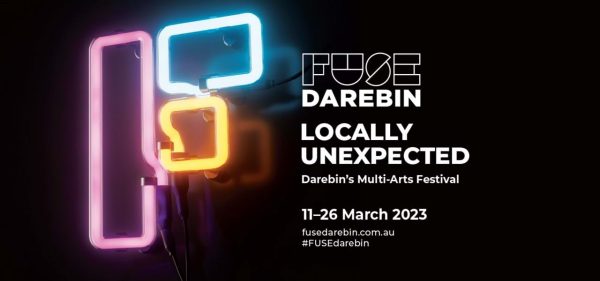 FUSE Autumn 2023
11-26 March, 2023
FUSE Autumn 2023 is kicking off this week with a celebration of local Darebin artists and performers. The festival is an exciting multi-arts program jam-packed with music, dance, performance and more. Festival-goers will be spoilt for choice while exploring Darebin's streets, parks and venues with a bold and unexpected program.
On Sunday 12 March, the festival opens with Out of the Park Picnic, delivering a culture hit of live music and performance curated locally with programming partner (MAV) Multicultural Arts Victoria. Featured dance, music and storytelling performers include Emma Donovan and the Putbacks, Dorsal Fins, DJ Jumps, Quarter Street, and African Star Dance & Drumming. Emceeing the event is the reputable Queen Acknowledgements, guiding visitors through the menagerie of entertainment, food and culture.
Don't miss the Molly Hadfield Social Justice Oration on Wednesday 15 March with this year's guest speaker, Namila Benson. Namila will provide a thought-provoking dialogue on racism and anti-racism, while celebrating International Women's Day. The event is a tribute to Molly Hadfield OAM, an inspiring local who worked tirelessly for social justice. The event will celebrate shared resilience, renewing a commitment to justice for all, which Molly Hadfield fought tirelessly for.
Mat Watson is the first ever Artist Keynote speaker for FUSE.  The event, Regional Echoes: From yabbies to freeform synthesis, will be a discussion on his journey from growing up in rural Victoria to discovering a life in music, modular synthesisers and experimental sound. The keynote is followed by a Q&A to wrap up the evening. Thursday 16 March at Darebin Arts Centre
Other works commissioned by FUSE include Exquisite Bias, a free two-week exhibition presented by Delia Poon, Pia Johnson and Melinda Hetzel & Co. The exhibition shows a collaborative work of audio-visual portraits exploring unconscious racial bias and cultural identity in contemporary Australia. The project invites Darebin locals to have their photograph taken and record their answer to the question, 'Where do you come from?' 11-26 March at Preston Library.
THINGAMABOBS is an unusual collection of unexpected inventions and their most delightful applications in practical life. It's an installation that collects the imagination of children and seniors into an entertaining space, inviting curious people to look, listen and understand. Spectacular, silly, romantic – all 'thingamabobs' have a story to tell. 18-19 March at Northern Community Church
Catch The Future Leader's Podcast, a family friendly, three-episode series that takes listeners on a captivating journey. In the series, children between five and twelve years old share their ideas about present-day leadership, their hope for change in the world ahead, and their thoughts on the leaders of the future. 
As part of the festival, audiences can also enjoy the FUSE@Large program, which is FUSE's open-access component. New music launches and live performances from local talents are a feature of FUSE@Large. On Friday 17 March, celebrate the release of Shannen James's new hit single 'This Mess' at Northcote Social Club. From that date on, be immersed in the magic of Melbourne's Ukulele Festival, one of Australia's longest running Ukulele festivals. 
FUSE is a contemporary, multi-arts festival that turns the City of Darebin into a platform for local artists and performers to highlight their rich, artistic talent. FUSE encourages the community to discover the surprising and unexpected in their local neighbourhood. Witness Darebin's streets, parks, venues and public spaces transform into zones of art, culture and creativity.
View the full FUSE Autumn 2023 program at https://www.fusedarebin.com.au/