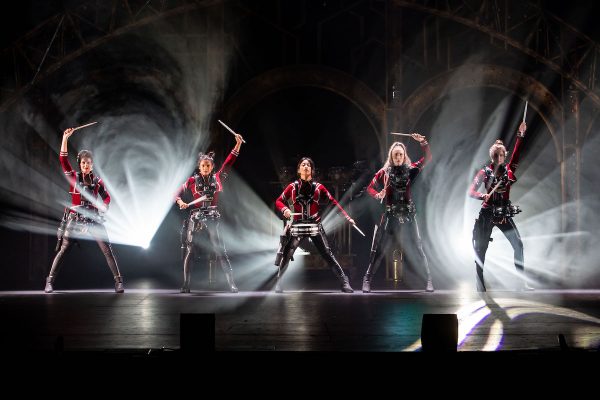 Loud, Live Ladies are Coming to a City Near You!
9 City National Tour Announced for Knock Out Drummer Queens
Following the success of their opening Sydney season this month, the DRUMMER QUEENS have announced they are taking their uniquely rhythmic all-female stage production on tour across Australia.
Sydney audiences were wowed by the stunning staging and world-class percussionists as DRUMMER QUEENS delivered a live musical experience like they'd never seen before. The next season opens in Melbourne on April 28 at the Comedy Theatre.
Audiences were amazed by the powerfully irresistible rhythms of this remarkable all-female cast, in awe of their skill and inspired by the joy and energy of this game-changing theatrical production.
Read DanceLife's review of Drummer Queens in Sydney here.
"The cast offered a beautiful balance of empowerment, sensitivity and authenticity. Each were able to shine their own lights in featured solos, which were all amazing. But the power felt when they came together as a group to share a genuine sense of joy, passion and support for each other and their crafts just beamed from the stage in their energy offered together!" – DanceLife
In addition to Melbourne and Brisbane, the Queens are bringing this must-see original Australian theatrical experience to Wollongong, Perth, Albany, Mandurah, Bunbury, Canberra and Adelaide.
"A live music experience of such vein-throbbing, entertainment-packing stagecraft … DRUMMER QUEENS is a sure-fire crowd-pleaser, and suitable for families too. Loud and large-scale, certainly showy." – Limelight

"A non-conventional, loud, high energy, and stimulating night out at the theatre." – City Hub

"Their craft as drummers was exemplary and sometimes breathtaking" – Sydney Morning Herald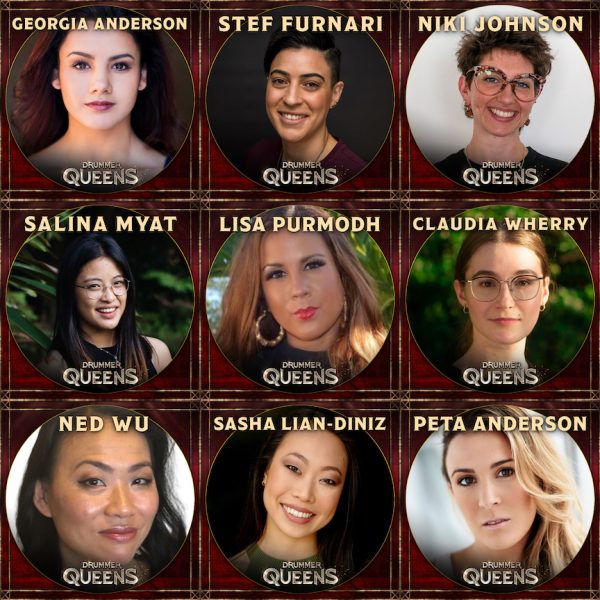 DRUMMER QUEENS delivers a brilliant blend of movement and rhythm, with a huge variety of rhythmic styles that are irresistible and powerfully inspirational.
Created and composed by Joe Accaria, with creative direction by Nigel Turner-Carroll and choreography by Peta Anderson, the extraordinary Australian cast includes Georgia Anderson, Peta Anderson, Stef Furnari, Niki Johnson, Salina Myat, Lisa Purmodh, Claudia Wherry and Ned Wu, with Sasha Lian Diaz and Astrid Holz as swing performers.
Read DanceLife's interview with choreographer Peta Anderson here. 
Now is your chance to get up close and powerful with the DRUMMER QUEENS before they conquer the world.
This not-to-be-missed experience, is girl-power like you've never seen it before!
#DrummerQueens
DRUMMER QUEENS
MELBOURNE – Comedy Theatre
28 April – 8 May
Bookings: 
 

ticketmaster.com.au

 

or 136 100
BRISBANE – QPAC Lyric Theatre
11 – 16 May
Bookings: qpac.com.au or phone 136 246
WOLLONGONG – Illawarra Performing Arts Centre
8 – 11 June
Bookings: www.ipac.org.au or 02 4224 5999
PERTH – Crown Theatre
15 – 17 June
Join Waitlist: www.drummerqueens.com
ALBANY – Albany Entertainment Centre
19 June
Join Waitlist: www.drummerqueens.com
MANDURAH – Mandurah Performing Arts Centre
23 June
Bookings: manpac.com.au or 08 9550 3900
BUNBURY – Bunbury Regional Entertainment Centre
24 June
On Sale Feb 25 – Join Waitlist: www.drummerqueens.com
CANBERRA – Canberra Theatre Centre
30 June – 3 July
On Sale Mar 1 – Join Waitlist: www.drummerqueens.com
ADELAIDE – Dunstan Playhouse
8 – 19 September
Join Waitlist: www.drummerqueens.com