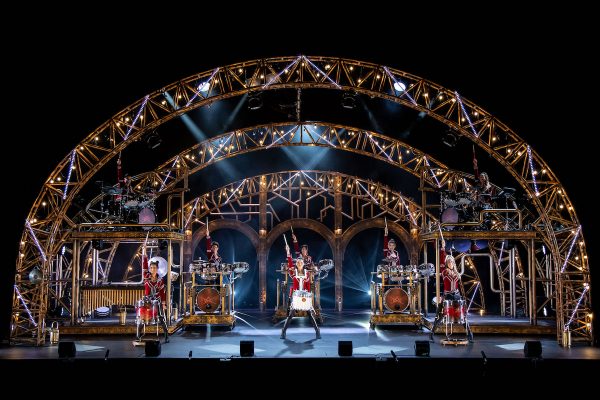 Kick-Arse Royalty on Stage at Drummer Queens
Lyric Theatre, Sydney, Wednesday February 10
Reviewed by Karina Lawrence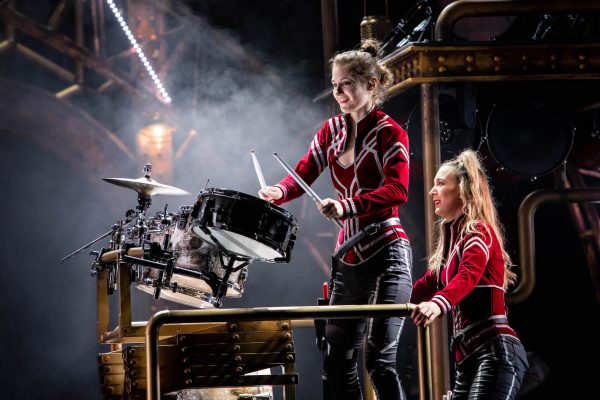 Attending the premiere opening of Drummer Queens was exciting from the moment of entering the Lyric Theatre. The set and staging promised the spectacular show that was to come and, boy, did this show deliver!
The anticipation and excitement for the never-seen-before world premiere of Drummer Queens was buzzing throughout the theatre. I stopped to appreciate the privilege and wonderful sense of magic I was experiencing, just being able to see live theatre again in these Covid19 times; and the Sydney Lyric Theatre created a safe and welcoming environment for all patrons.
Drummer Queens will also play in Melbourne and Brisbane, after Sydney, this year.
Created and composed by the legendary Joe Accaria, the creative mind also behind Tap Dogs and Velvet, we are captivated and taken on an awe-gazing and embodied experience through visual and soul-immersing sounds of clearly world-class percussionists.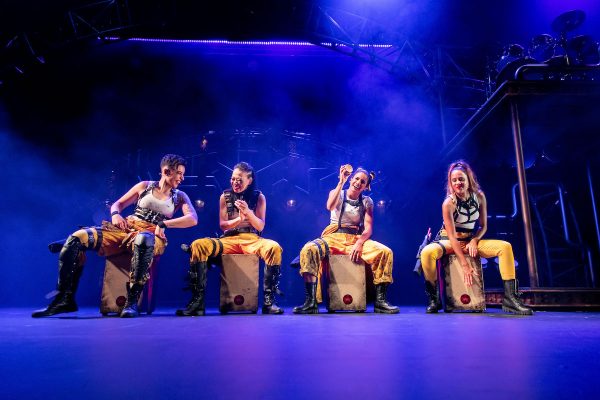 The audience was truly encapsulated in the intensity of the performance and overall journey offered by this all-female, powerful cast of super-skilled artists. The cast offered a beautiful balance of empowerment, sensitivity and authenticity. Each were able to shine their own lights in featured solos, which were all amazing. But the power felt when they came together as a group to share a genuine sense of joy, passion and support for each other and their crafts just beamed from the stage in their energy offered together!
The all-Australian cast includes: Georgia Anderson, Stef Furnari, Niki Johnson, Salina Myat, Lisa Purmodh, Claudia Wherry, Peta Anderson and Ned Wu, with Sasha Lian Diaz as swing performer.
The concepts, beats and rhythms executed in this all Aussie-derived show demonstrates the skilful musical talents of the extraordinary cast that is a great reminder of the incredible performing arts talent produced in this country. 
Peta Anderson is the featured tapper and choreographer of Drummer Queens.  Peta, who has performed worldwide with Riverdance and Eireborne, is also a trained percussionist and has created a wonderful sense of hypnotic flow in the subtle, yet engaging, movement in Drummer Queens mixed in with strong energetic dynamics.
Read our interview article with Peta Anderson here.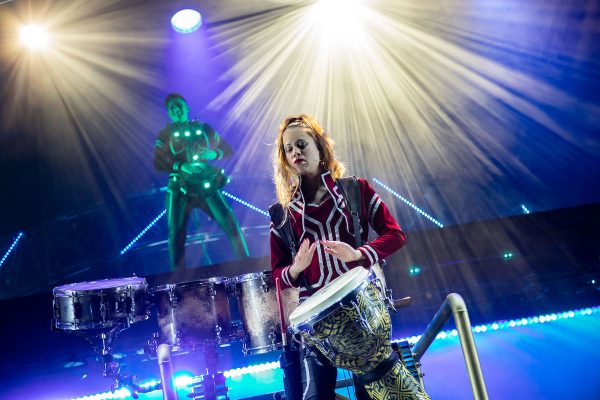 Through the clever transitions and layers of choreography the audience is witness to discreet set and scene changes, showcasing an assortment of drums right before our eyes, with a sense of fascination and intrigue. The simple yet effective layers of set design continues to impress throughout the dramatic build-up during the show, as you sit on the edge of your seat during this 70 minute delight.
Together with Creative Director Nigel Turner-Carroll, Peta Anderson has created a visual masterpiece which has been executed beautifully, as a blend of great music and rhythms interacting with innovative lighting design. This show keeps you half way between a grounded traditionalist of percussion and music, and a soulful connection to our own beating hearts. The imaginative wonder is transcended with a futuristic element in production. The show flows beautifully, with an impeccable sense of timing and story-telling from beginning to end.
Drummer Queens can be described as an amalgamation of STOMP, SIX The Musical and Tap Dogs with a whole lot of 'Queen Bees' involved and all polished off by nailing the 'Beyonce' vibe.
Drummer Queens is both a joyful and inspiring experience, that showcases the empowered energy incapsulated in sounds and rhythms, connecting us to our roots and extending into futurist, electronic sounds.
This connection extends right into the audience with interaction and quirky humour integrated throughout the show.
 Just when you feel the show has peaked, you're left with a sense of wonderment, leaving you to say … "is there more?!"
Without a doubt, Drummer Queens is something different and special. These gals are true 'royalty', supporting the magic that theatre offers with diversity and inclusion, and full of inspiration that certainly gets your heart beating, hands clapping, feet tapping and your soul in tune with it's own groove.
Drummer Queens is a must see.
Get up close and powerful with the DRUMMER QUEENS in Sydney, Melbourne and Brisbane before they conquer the world.
DRUMMER QUEENS
SYDNEY – Sydney Lyric Theatre
6 – 14 February 2021
Bookings: ticketmaster.com.au or 136 100
MELBOURNE – Comedy Theatre
27 April – 8 May 2021
Bookings: 
 

ticketmaster.com.au

 

or 136 100
BRISBANE – QPAC Lyric Theatre
11 – 16 May 2021
Bookings: qpac.com.au or phone 136 246
#DrummerQueens