Fifth Annual Dance Massive – Choreography at its Best
World Premieres from Chunky Move, Lucy Guerin, Martin Hansen, Mariaa Randall, Prue Lang, James Batchelor & Nick Power
Dance Massive will take audiences onto the streets, out of the black box and into the unknown
The 2017 Dance Massive program features the full spectrum of choreographic forms with 20 productions – 12 of which are world premieres – from many of Australia's most talked about dancers and choreographers in a program that will urge audiences to engage, connect, and question everything.
Dance Massive V is choreography at its best: as theatre, as action, as communal gathering and as form that is creating its future.
Curated by the Dance Massive consortium: Arts House, Dancehouse and Malthouse Theatre in association with Ausdance Victoria, over ten days next March, they present a lavish line-up of works that will capture the imagination of any dance lover.
From dancers learning to skateboard, to a work grown out of a residency on Australia's marine research vessel Investigator, to an unexpected dance off between ballerinas and b-boys, this year's program has both artists and audiences alike questioning what is dance, and just how far can it go.
The 2017 Dance Massive program features:
BATTLE MASSIVE: BETWEEN TINY CITIES by Nick Power – 32 of Australia's best contemporary dancers will battle it out for supremacy as b-boys go head to head with the ballerinas in Battle Massive, a free outdoor event that will take place at Federation Square in a dance off like no other; and the result of a three-year dance exchange between Darwin's D*City Rockers and Cambodia's Tiny Toones youth program, internationally renowned Sydney hip-hop artist Nick Power demonstrates their shared hip-hop culture and reveals the dramatically different worlds that surround them and choreographic links that unite them.


ANTI-GRAVITY by CHUNKY MOVE – An ambitious new project from Chunky Move sees Artistic Director Anouk van Dijk join forces with internationally renowned multimedia artist Ho Tzu Nyen to explore the role of clouds as ethereal influences that disturb or heighten human existence in Anti-Gravity.
SPLIT by Lucy Guerin Inc. – One of Australia's most original dance companies Lucy Guerin Inc presents the world premiere of Split, a delicate and complex new production that explores the ever-diminishing dimensions of space and time to reveal a mesmerising physical drama.
DEEPSPACE by James Batchelor – A work grown out of a two-month residency aboard Australia's state-of-the-art marine research vessel 'Investigator', award winning choreographer and performer James Batchelor presents Deepspace, a performance that plays at the intersection of the arts and sciences; and in a world whose future remains uncertain.



DEEP SEA DANCES by Rebecca Jensen –  Choreographer and dancer Rebecca Jensen along with a large ensemble, asks audiences to (re)consider the conditions required for care and change, in a porous, fluid and volatile reality. A production that will draw us away from the mainland, past the beach and into the abyss in a bid to prioritise change in our ecology.
DIVERCITY by Mariaa Randall – Rising choreographic star and Bundjalong woman Mariaa Randall presents the world premiere of Divercity, a playful and multilayered exploration of place, people, landscapes and language. Two female dancers – Henrietta Baird and Waiata Telfer – each living in separate Australian cities and belonging to two different Aboriginal countries, contemplate the complexities of a transplanted life.
TANGI WAI … THE CRY OF THE WATER by Victoria Hunt –  Organic, electrifying and utterly immersive, Australian/Maori artist Victoria Hunt presents a richly detailed and viscerally realised large-scale work exploring mythology, cosmology and traditional wisdom that reinstates the power of indigenous creativity through Pacific, Asian and Western dance practice.
JINX 103 & CREATURE by The József Trefeli Company – Connected by their common Hungarian heritage, dynamic duo József Trefeli and Gábor Varga perform two site specific works in this year's Dance Massive program that delve into shared cultural traditions – The József Trefeli Company present Jinx 103, taking dance performance to a public space with a blend of contemporary dance and body percussion; and Creature tackles the dance traditions that the performers have held on to since their childhoods to create a surprising piece crazy with energy, and a self deprecating sense of humour.
PIECE FOR PERSON & GHETTO BLASTER by Nicola Gunn – Gunn teams up with choreographer Jo Lloyd to explore the rawness of confrontation and the ethical dilemma of intervention with the world premiere of Piece For Person & Ghetto Blaster. Through the lens of a surreal but everyday event, Nicola Gunn plays out a tangle of imagined responses and repercussions through a web of performance and dance.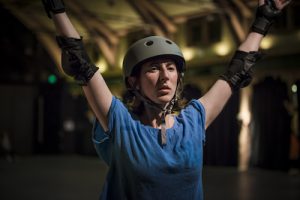 TINY SLOPES by Nat Curio Co – Accomplished dancers try to negotiate the new skill of skateboarding in the world premiere of Tiny Slopes. From Australia's tour de force of dance, Nat Cursio, comes a choreographic tale of vulnerability and resilience; Tiny Slopes is about learning to skateboard … about risk, failure, humility and little wins.
AEON by Lz Dunn – Group human behaviour is put under a microscope in Aeon; a unique outside experiment that invites audiences to observe living life forms, social dynamics and urban space in a bid to uncover what we find natural. Expanding on her ongoing interest in vulnerability and resilience; and taking audiences out of the theatre, the latest work from Lz Dunn is a participatory experiment for audiences in group behaviour. Aeon's a playful push through public space and private discomfort.
NOISE QUARTET MEDITATION by Lilian Steiner – Investigating the power of tranquility and its relationship to chaos, 2015 Green Room Award winner, Lilian Steiner performs her stirring work, Noise Quartet Meditation which examines the resonant harmony in the perpetual exchange between these two states.
IF IT'S ALL IN MY VEINS by Martin Hensen – Emerging from an initial work as part of the Keir Choreographic Award Finals this year, Martin Hensen presents If It's All In My Veins, using animated GIFs to explore the history of dance and the re-imagining of its future.



COCKFIGHT by The Farm – A cross between 'The Office' and a cage fight, Gold Coast/Berlin company The Farm and Performing Lines present Cockfight, a game of comical one-upmanship that explores the power play between men, the frailty of the ageing body and questions our culture's desperate desire for achievement.
STELLAR PROJECT by Prue Lang – Internationally acclaimed Australian choreographer and dancer Prue Lang presents the world premiere of Stellar Project. Working with five exceptional dancers, Lang continues the exploration of space and time via the experience of the human body, in a bid to transform our understandings of the universe.
VANISHING POINT by Shian Law – Trans media artist and compulsive experimentalist Shian Law documents his experience of performance in three choreographic works by dance luminaries Phillip Adams, Deanne Butterworth and Jo Lloyd. A team of documentary makers and a portrait painter record the elapsing time as he locates, excavates and performs the dance works.
BODIED ASSEMBLIES by Rhiannon Newton – Come together to share an experience of transformation in Bodied Assemblies where the process is ignited and intensified by the condition of being together as a group in a space and time unraveling the infinite choreographies of our assembled bodies.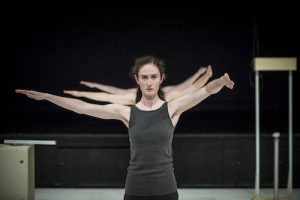 SMALL DETAILS by Sandra Parker – Long time experimenter Sandra Parker presents an intricate work exploring the potentials of the body in an automated and technologically advanced world. Small Details extends the focus on minimal movement and gestural action. The work uses a series of automated kinetic sculptures set against dense and intricate choreography. Selected gestures are performed in extreme detail and in repetitious cycles, challenging the performers' and audience's capacity to meet the demands of the choreographic system.
A unique 360° showcase of Australia's dance landscape combining three artistic visions, Dance Massive is the only contemporary dance festival in the country specifically dedicated to Australian makers with both a national and international reach.
Dance Massive is Australia's largest platform for dance in all of its adventurous, deeply mythical, exuberantly fun, confidently abstract and at times, hilariously ambiguous forms.
Dance Massive runs through from 14-26 March 2017 – visit

dancemassive.com.au

for more details.