DANCE GURU Online Masterclasses
SCHOOL HOLIDAYS ⏤ OCT LONG WEEKEND
Oct 3rd, 4th & 5th
+ WIN A FREE PASS!

⭐️  BRIAR NOLET     ⭐️  RENEE RITCHIE  ⭐️  JASON WINTERS   ⭐️  LOCKHART BROWNLIE
⭐️  LAUREN SEYMOUR     ⭐️  TASH MARCONI     ⭐️  THE BARTLEY BROS
⭐️  ALYSHA PERCY   ⭐️  JORDAN CLARK   ⭐️  BLAKE JOHN WOOD   ⭐️  STEPHEN TANNOS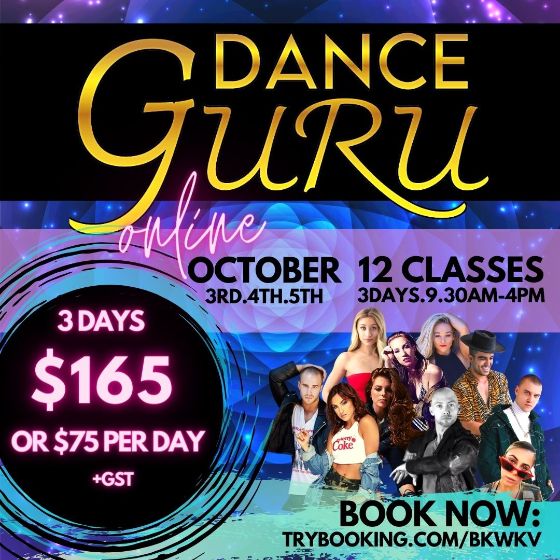 ---
With so many events being postponed or cancelled this season …
we want to keep you DANCING!
JOIN US Sat 3rd, Sun 4th & Mon 5th October 2020, with leading Australian & International
'DANCE GURU' Teachers & Choreographers!
Once you have registered, we will send you a ZOOM LINK for your classes the week of the event.
DANCE GURU  ⏤  3 Day Pass SENIOR & JUNIOR
12x MASTERCLASSES across Sat 3rd, Sun 4th & Mon 5th OCT (4 classes per day)
CLASS TIMES EACH DAY (AEST):
(1) 9.30-10.45am  (2) 11am-12.15pm  (3) 1pm-2.15pm  (4) 2.30-3.45pm
5 HOURS OF CLASSES PER DAY, 15 HOURS OVER THE 3 DAYS (EACH AGE GROUP)
---
WIN A FREE PASS!
We are giving away a pass to this Guru Online MasterClass to ONE lucky winner! Valued at $165+gst!
To enter, simply tell us what you admire most about one of these incredible dancers and what you get out of taking their online classes.
Send in your response along with your name and phone number to win@dancelife.com.au by Monday 28 September.
---