CONNECT 2019 | Boys Only Dance Event
Sydney June 23
Now in its fourth year, CONNECT will hold its next Sydney 'Boys Only' dance event on Sunday 23rd June. This follows the success of CONNECT's first Melbourne event in March.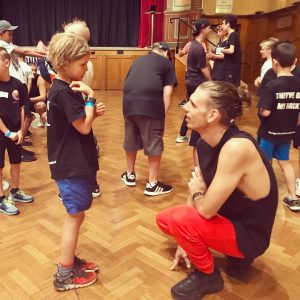 CONNECT is a unique event designed to bring together male dance students, families, male dancers, dance teachers, dance studio owners and potential male students – all in a safe space where dance and performance is celebrated and encouraged at all levels.
The CONNECT vision is to grow larger communities to support boys, to create an environment of support, mentoring, inspiration and fun, to bring together dance educators and dance professionals to discuss boys dance, to celebrate the male dance community, and to normalise boys dance.
CONNECT began in 2016 –  created by Tanya Carne –  and has evolved into the format of a welcome, socialising activities, workshops, discussions, demonstrations and a CELEBRATE showcase.
The CONNECT event day consists of a welcome and socializing activities, junior and senior workshops with our male guests, demonstrations, Q&A and photos with guests, a parent/carer chat session, and our CELEBRATE showcase of all male dance performances. Our male attendees/participants will feel welcome and supported with our extended team of male mentors and ambassadors.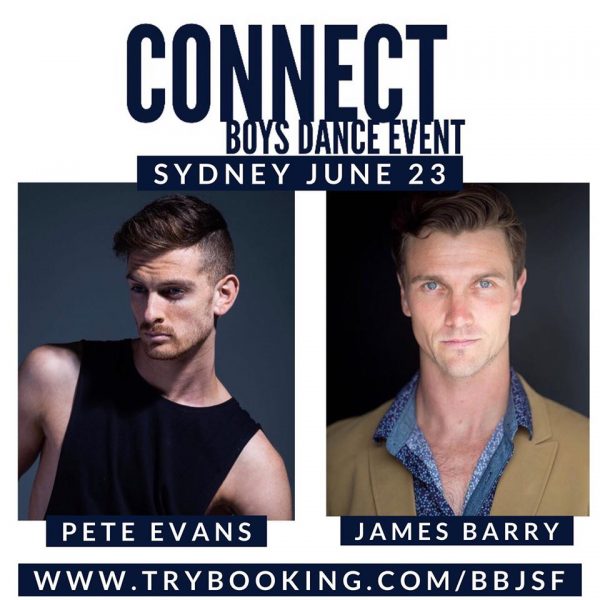 This year's guest teachers are James Barry and Pete Evans and also feature a performance by Kynan & Thomas from Theatrix Performing Arts .
Past guest artists have included Stephen Tannos, BJ Rorke, Dayton Tavares and Jordan Grant. The recent Melbourne workshops had guest artists Jack May (Hip Hop) & Jason Teasdale (Contemporary Fusion).
CONNECT Sydney will be held on Sunday June 23rd beginning at 11am for the first session of welcome and socializing activities and workshop. Boys from 5yrs and at any skill level can attend these sessions with workshops being divided onto junior and senior age groupings. Parents/carers wishing to supervise their child can purchase an observer ticket to watch, supervise, and join the parent/carer chat session. Observer package tickets are available at a cheaper rate for the day session and the CELEBRATE showcase. The CELEBRATE showcase is 4:30 – 6:30pm (approximately) and all audience members will need a ticket for this session. Performers will not need to purchase a ticket.
T
he CELEBRATE showcase is for everyone and a celebration of male dancers. The show will include male dance performances from all genres, soloists to group performances, and all age and ability levels. The application to perform will be published, posted and emailed over the next week and is open to all boys – all ability levels and genres. Please get in touch with us if you would like to perform. Performers do not need a ticket for the CELEBRATE showcase but anyone attending to watch them will.
CONNECT is not a competition, convention or promotional event, but a chance to connect with each other through dancing, talking, listening, supporting, and inspiring. It is also not genre specific, meaning that we welcome male dancers and students from across all genres including Ballet, Jazz, Hip Hop, Breakdancing, Tap, Contemporary, and Ballroom & Latin.
Event creator Tanya Carne has extensive experience teaching boys, both at her studio Dance Action and primary schools, teaching over 150 boys per week in her programs. Tanya is a passionate advocate for boys and dance, actively aiming to normalise boys dance, creating strong supportive cultures both in the studio and wider community, and creating opportunities for connection, support and inspiration. CONNECT 2016 was personally funded by Tanya Carne. In 2017 the event received support from Trish Denzel and Little Ballerinas and in 2018 support from Dancesurance. CONNECT relies on funding to continue the event and to reach more boys. The Go Fund Me page is here http://gofundme.com/connect-a-dance-event-for-boys
For more info contact Tanya via email tanya@danceaction.com.au


CONNECT Boys Dance Event
SYDNEY

– Sunday 23rd June 2019
Norths Club Auditorium, 12 Abbott Street, Cammeray
11am – Welcome, socialise, warm up.
4:30-6:30pm: Showcase
Parking is on site and there are cafes and restaurants.
Bookings: www.trybooking.com/BBJSF