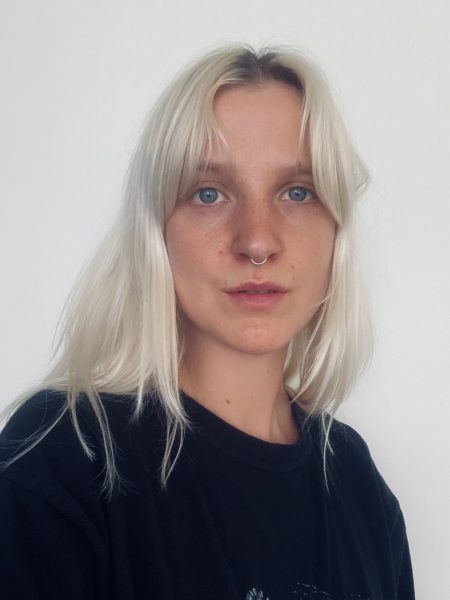 Interview with Amber McCartney
Mona Foma
Interview by Chris Duncan
Amber McCartney is a Melbourne-based dancer and choreographer who will soon be presenting a unique choreographic piece at the Nolan Gallery, MONA in Hobart entitled BABY GIRL. This work is commissioned by Tasdance and features sound by Makeda Zucco and costume by Geoffrey Watson. Chris Duncan had a chance to interview Amber recently about this production.
Chris: How did the concept for BABY GIRL come about?
Amber: Over the past few years I've been experimenting with prosthetics in an attempt to transform my body by augmenting its boundary. For this work I made a mold of my face and cast it in a fleshy silicone. Often in my practice I am trying to find something or someone 'other', I want to move in a way that is unfamiliar to a human body. I practice draining myself of memories, energy and awareness to refill my 'skin suit' with foreign textures.
Chris: The production sounds like it has an ethereal element, how did you create that 'otherworldly' experience for the audience?
Amber: This work is an exploration of physicality, I try to push my body into ruptured rhythms and often uncomfortable situations. I like to use extremities of tension and endurance to create pathways that look and feel foreign.
Chris: Tell us about the audition process for the dancers (or if it was by invitation, how did you choose the dancers for this piece?)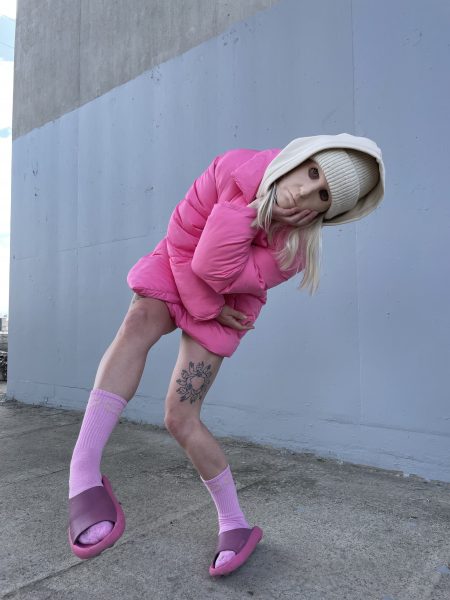 Amber: Just me in this one! I choreographed and perform Baby. She is an alter ego, performing a version of Amber, disguised as Amber. Baby is attempting to pass as human, wearing the face of her body's true owner.
Chris: What elements have been used in the choreography to portray the narrative?
Amber: Baby moves through a series of transformative states, initially we see her in ultimate collision of human and alien. Wearing Geoffrey Watson's huge grotesque head and giant fists, time moves in all directions under the surface of her skin. Puberty, ageing, birth and death happen simultaneously and spill out her extremities. As time moves linearly, Baby finds form and experiences fluctuations of consciousness. She is skewed but familiar, almost passing as human.
Chris: Are you planning further productions/a tour of this performance? What comes next?
Amber: Baby is based out of a tent, which means she can camp almost anywhere. She emerges in places but brings a sense of existing before you arrived. Baby is very self-sufficient and her behaviour is specific to her environment. The potential to interact with a variety of spaces excites me, I hope Baby can tour the world.
Baby Girl premieres on Feb 24 – 26 at the Nolan Gallery, MONA, Hobart for MONA FOMA. This work is commissioned by Tasdance and features sound by Makeda Zucco and costume by Geoffrey Watson.
BIO
Her practice incorporates prosthetics, mask-making, film and practical special effects to create new augmented bodies, foreign to both the performer and viewer. Amber has worked extensively with Chunky Move, Lucy Guerin Inc and is a creative associate of Tasdance. In 2022 she was honoured to receive a Chloe Munro Fellowship from Lucy Guerin Inc. She won a 2022 Green Room Award for Best Performer in Prue Lang's Project F and was a finalist for The Australian Ballet/Telstra Emerging Choreographer. In 2020 Amber was a recipient of Solitude 1, Chunky Move's home-based residency program funded by the Tanja Liedtke Foundation and created her film 'Softtrap' for the 2021 Activators program. She has presented solo work for Tasdance, Lucy Guerin Inc's 'Pieces' and 'Now Pieces', Dancehouse. Amber has enjoyed performing for Dancenorth and Antony Hamilton Projects as well as independent choreographers and multidisciplinary artists; Jenni Large, Prue Lang, Jo Lloyd, James Batchelor, Su Huiyu, Kyall Shanks, Jonathan Homsey and Niharika Senapati.