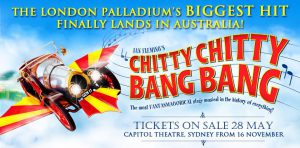 Music and Lyrics by
RICHARD M. SHERMAN and ROBERT B. SHERMAN
Adapted for the stage by
JEREMY SAMS and RAY BRODERICK
Based on the MGM Motion Picture
CHITTY LANDS IN SYDNEY AT THE CAPITOL THEATRE
from 16 November 2012
Tickets On Sale Monday 28 May
"Sheer theatrical magic" – Evening Standard
CHITTY CHITTY BANG BANG, the most fantasmagorical stage musical in the history of
everything, flies into Sydney's Capitol Theatre from 16 November.
You'll believe a car can fly in this stage adaptation of CHITTY CHITTY BANG BANG that features sensational sets, stunning special effects, an irresistible story and memorable classics such as "Truly Scrumptious," "Toot Sweets," "Hushabye Mountain" and, of course, its Oscar-nominated title song "Chitty Chitty Bang Bang". All these ingredients add up to a West End and Broadway blockbuster the whole family will love.
Based on the timeless novel by Ian Fleming, author/creator of the James Bond franchise, the production features music and lyrics by the legendary Sherman brothers, composers of Mary Poppins with original script and fresh adaptation directed by Ray Roderick.

"Chitty Chitty Bang Bang remains an amazing spectacle, with sets to take the breath away and hitech wizardry that makes Harry Potter look pedestrian" – The Sun
Originally written by Ian Fleming for his son, the much loved 1968 film CHITTY CHITTY BANG BANG staring Dick Van Dyke and Sally Ann Howes was part of everyone's childhood.
"BREATHTAKING. It's a big joyful, enchanting show" – Sunday Times
The movie began life as a personal dream of James Bond producer, Albert R. "Cubby" Broccoli. As with all his film projects, "Cubby" Broccoli surrounded himself with the very best British talent available to ensure the success of Chitty, which at the time was publicised as the largest and most expensive musical ever filmed in England. The director, Ken Hughes, who had also adapted the screenplay with prolific children's author Roald Dahl, led the British film crew.
The Sherman brothers, fresh from major success with the Disney Studios, provided the score and songs, earning an Oscar nomination in the process.
CHITTY CHITTY BANG BANG opened at the London Palladium to rave reviews on Tuesday 16 April 2002. The London production was nominated for 3 Laurence Olivier Awards in 2003, including Best New Musical, and won Best Musical at the Variety Club Awards in 2003.
CHITTY CHITTY BANG BANG broke every box office record and continues as the longest running musical ever to play at the London Palladium, beating Oliver! and Joseph and the Amazing Technicolor Dreamcoat. During its three and a half year run, the family musical exceeded £70 million in box office revenue.
"A lavish wind-up music box of a show " – New York Times
The Broadway production of CHITTY CHITTY BANG BANG received 5 Tony Award nominations,
10 Outer Critics Circle Award nominations and 4 Drama Desk nominations during its Broadway run at the Hilton Theatre. The Chitty stage car holds the Guinness World Record for being the most expensive prop in the history of British Theatre.
"The best family entertainment on Broadway since The Lion King!" – WNBC-TV
The fantastic adventures of this out-of-the-ordinary car that flies through the air and sails the seas, are reaching a new generation through an enthralling and enchanting stage musical. CHITTY CHITTY BANG BANG will be directed in Australia by Roger Hodgman and features sets and costumes by renowned English designer Anthony Ward.

"Gasps of astonished delight! EXHILARATING FANTASTIC REMARKABLE… I couldn't help joining in the oohs and ahs" – The Times

Tickets On Sale Monday 28 May
Venue: Capitol Theatre, 13 Campbell Street, Haymarket
Season: from 16 November 2012
Performances: Tue at 7pm, Wed to Sat at 8pm,
Matinees Wed at 1pm, Sat at 2pm & Sun at 3pm
Tickets: from $69.60 to $129.90 (transaction and booking fees may apply)
Bookings: Ticketmaster 1300 723 038 or ticketmaster.com.au
Groups 12+ Save! Call Group Bookings on 02 8512 9020
CHITTY CHITTY BANG BANG AUDITION WORKSHOPS BY STAGE DOOR PROMOTIONS
Tim Lawson (TML Enterprises), has just announced that his production of "Chitty Chitty Bang Bang" will open at the Capitol Theatre in Sydney on November 16th later this year. Damien Chambers recently assisted Gabi Overton, Tim and the creative team on the principal auditions for the show and will also be assisting later in the year for the final auditions.
Tim has given permission for his company, Stage Door Promotions, to conduct children's audition workshops in Sydney during the June/July school holidays. These are the only officially APPROVED workshops for the show. For all information and to download registrations forms for these amazing workshops,
CLICK HERE