2017 Australian Dance Awards
Full Line Up of Guest Acts and Hosts
PLUS! … Win a Double Pass to attend the Awards in Melbourne. To enter send in your name and mobile number to win@dancelife.com.au with title 'Ausdance Awards' with the reason you want to attend. Closes Sept 15.
The line up of performances, presenters and hosts has been confirmed for Australian dance's night-of-nights – 2017 Australian Dance Awards – taking place at the Arts Centre Melbourne on Sunday 24 September. 

Read our previous article to see who all the nominees are in 12 categories.
Hosting this year's awards are cabaret star Yana Alana and dance sensation and 2017 ADA-nominee Benjamin Hancock.
The gala awards presentation is a public, ticketed event, giving anyone with a passion for dance the opportunity to enjoy a night of incredible dance entertainment. Tickets still available for this Gala evening >> click here.
Performances at the Awards will include:
excerpts from Sleeping Beauty by The Australian Ballet
Pile of Bones by the Stephanie Lake Company
Days Like These by integrated performance company Murmuration
Hopak-Kalyna by Lehenda Ukrainian Dance Company
a performance by Melbourne's inner west hip hop crew Raw and Rugged Dance Crew, ranked number 14 in the 2017 World Hip Hop Dance Championships
the all-female Wurundjeri dance group, Djirri Djirri Dance Group.
Celebrating twenty years in 2017, the Awards are the pre-eminent event on the dance industry calendar. They recognise and honour dance artists, educators and administrators in 12 categories of achievement. 
Ausdance Director
Michelle Silby
said,
"Ausdance Victoria is a passionate advocate for dance and believes that 'dance is for everyone'. This awards ceremony is an important celebration of the dance industry and the performances reflect the wide diversity of dance in this country. From the urban stylings of Raw and Rugged, to the Ukrainian artistry of Lehenda, the sublime ballet of The Australian Ballet, to the unique contemporary dance works from multiple companies. With performers aged 15 years to 75 years old, the audience will see an array of dancers that will leave you moved and entertained."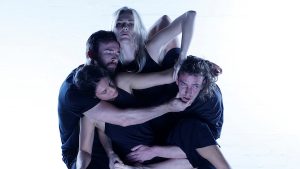 The star array of presenters includes
David McAllister
AM,
Jonathan Holloway
,
Wesley Enoch
,
Jason Coleman
,
Lucy Guerin
,
Stephanie Lake
,
Jasmine Moseley
,
Sue Healy
,
Helen Simondson
,
Jerry Remkes
,
Jane Crawley
,
Tony Grybowski
,
Jenny Kinder
,
Emma Cochran
,
Paul Selwyn Norton
,
Angharad Wynne Jones
,
Angela Conquet
,
Merindah Donnelly
,
Carla McGrath
,
Robina Beard
OAM and
Julie Dyson
AM.
2017 Australian Dance Awards


Sunday 24 September, 7pm
The Playhouse, Arts Centre Melbourne
Bookings: artscentremelbourne.com.au or 1300 182 183