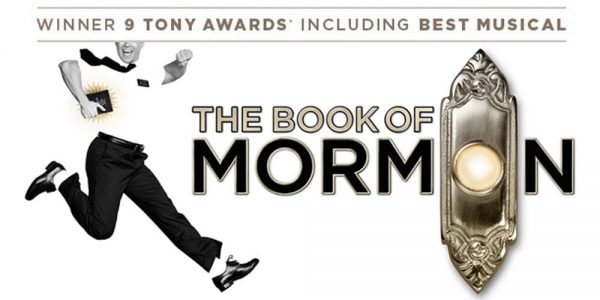 Audition Brief for The Book of Mormon
Applications Close Friday January 17
by Chris Duncan
The Frost Organisation have announced they will be holding audition rounds for the smash hit musical The Book of Mormon, which will be held in Brisbane, Melbourne, Sydney and Auckland.
PLEASE CONTACT YOUR AGENT TO APPLY. Please send applications through to bomcasting@gordonfrost.com.au by Midnight on Friday 17 January 2020.
KEY DATES
Applications Close: Friday 17 January 2020 at midnight
Audition Dates:
BRISBANE: Tuesday 28 January 2020
MELBOURNE: Wednesday 29 January  – Thursday 30 January 2020
SYDNEY: Wednesday 5 February – Thursday 6 February 2020
AUCKLAND: Friday 13 March 2020
Final Audition Round Dates: Monday 16 March – Sunday 22 March 2020
Production Dates: Australia and International Touring 2020 – 2021
HOW TO SUBMIT
Please fill out the attached Auditions Submissions Form. Please return the completed form as an email attachment by Friday 17 January 2020. If you are an agent submitting on behalf of multiple artists, you can include all artist applications on the same form.
Along with the Auditions Submissions Form, please also send:

Up to date CV for each artist – PDF file labelled with artist full name
Up to date headshot – JPG or PDF file labelled with artist full name
Please Note the Following: 
These auditions are for ongoing future casting requirements for 2020 and beyond.
Please ensure you read the audition brief carefully.
Not every applicant will receive an audition time. This show has very specific casting requirements and as such we will just be seeing those that are appropriate for the show.
Auditions are scheduled to take place in Brisbane, Sydney, Melbourne & Auckland. Please be sure to specify where your clients would like to audition.
AUDITION PROCESS FOR REGISTERED AUDITION APPLICANTS
All artists will be informed by Tuesday 21 January 2020 if they have been successful in gaining an audition.
For initial auditions, artists will need to prepare 32 bars of a musical theatre or pop song that shows their voice and personality, as well as show material which will be distributed with audition times.
Appropriate artists will then move to a dance room. Artists are to have suitable dance attire as well as tap and jazz shoes available.
Some artists will then be asked to continue in the audition process with material from the show.
OTHER INFORMATION
These auditions are for general ongoing casting requirements and future touring.
The casting break downs are very specific. Please read carefully.
Mormon male ensemble needs strong dance ability, including tap. Elder Price and Elder Cunningham will not need to dance as part of their audition.
There are no roles in this production for Caucasian females.
Applicants must be over 16 years of age at time of auditioning.
All auditionees will be provided with a safe environment and professional space to audition but note that auditions are at the risk and financial responsibility of the auditionee.
You should NOT dress in the "Mormon uniform" (dress shirt, tie, dress pants). You should wear something youthful and clean cut. Jeans, converse and a nice colored polo or t-shirt works best (not a suit). Beards or other facial hair is not encouraged.
If you are successful in gaining an audition, more information on material will be provided at that time.
However, for vocal auditions, we request a contemporary musical theatre or pop song that shows off voice and personality. We recommend staying away from songs that are written to be intentionally offensive, slapstick, or over the top in the humour department. Sheet music only, no backing tracks.
THE BOOK OF MORMON – CAST BREAKDOWN
KEVIN PRICE (to play late teens to early 20's): All-American, high school senior preparing for his mission. Head of the class, always optimistic. Heroic Mormon. Must be a great comedic actor and a fantastic pop-rock tenor to a high B. Must be at least 5'10 or taller.
ARNOLD CUNNINGHAM (to play late teens to early 20's): Could be dweeby, dorky, nerdy, possibly overweight, or all four combined. Arnold is a pathological liar, but his heart is in the right place. He is a total screw-up but not for lack of trying, he always wants to do the right thing. Seeking a fantastic comedic actor who sings well. Tenor.
NABULUNGI (to play late teens to early 20's): Black African. Takes the hardships of her village very seriously and wants to help her people find a better life. Must have great comic timing. Strong Alto. Belt to an E.
ELDER MCKINLEY (to play Early 20's-Late 20's): District leader of the Mormon missionaries in Uganda. All-American, wide-eyed and hopeful. Must be a fantastic comedic actor and great singer with at least intermediate tap skills. High Baritone who can pop out high Bb's.
MAFALA HATIMBI (to play 40's): Black African. Father of Nabulungi. Has come to accept the hardships in the village where they live but is a discerning community leader and tries to bring joy to their lives. Must be a great comedic actor and singer. Also interested in actors who sing well. Baritone.
PRICE'S DAD / MISSION PRESIDENT / VARIOUS ROLES (to play 40's): Caucasian. All-American good looks and physique. Plays several parts from the perfect picture of a head of a Mormon household, to the stern missionary president, to Joseph Smith, so must have the ability to be transformative. Must be at least 5'10 or taller. High Baritone to an Ab.
GENERAL (to play Late 20's to Late 30's): Black African. The General is a warlord in Uganda who is terrorising the local villagers. A physically threatening and intimidating figure. Baritone to an F.
MORMON MALE ENSEMBLE (to play Early 20's – Late 20's) Male Caucasian. All American, always optimistic. Must be a great singer and comedic actor with intermediate to advance tap skills. High baritone to high tenor.
FEMALE AFRICAN VILLAGER (to play Early 20's – Late 40's): Black African. Seeking great comedic actresses with excellent singing voices. Seeking Altos, Sopranos and Belters of all physical types.
MALE AFRICAN VILLAGERS (to play Early 20's – Late 40's) Black African. Seeking great comedic actors with excellent singing voices. Baritone to high tenors.
CONTACT
In the first instance please refer questions to Casting Coordinator, Natasha Cohen – bomcasting@gordonfrost.com.au or 02 9212 4135