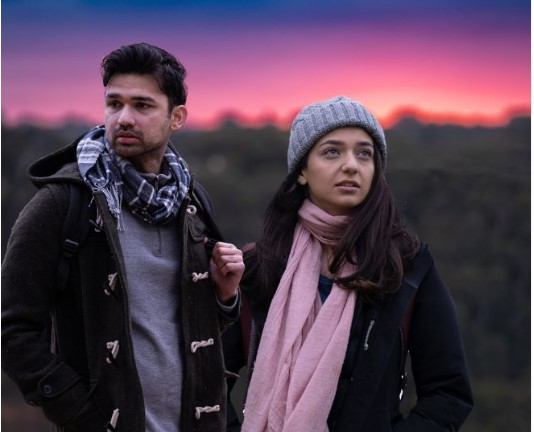 ARDNA
Darebin Arts Speakeasy
ARDNA is an innovative new collaboration between Aseel Tayah and respected Yorta Yorta theatre maker Jason Tamiru for children five and older, that uses Aboriginal and Middle Eastern dance, songs and storytelling to explore our connection to physical land. It can be seen at Darebin Arts Centre from 21 – 23 October.
ARDNA is a beautiful, tactile experience for children that takes place in an open indoor/outdoor space that is transformed into an island of bushland.
Drawing on both lead artists' relationships to Country, ARDNA (Arabic for our land) invites the audience to interrogate and reflect on our connection to land and place through a series of dances, songs and other stories from both middle eastern and Indigenous Australia.
ARDNA invites children to think about the part they play in caring for the place where they live, their role in the space they are connected to, and what we can do better to help the land, the people and the intercultural connection between us survive.
Although Aseel Tayah and Jason Tamiru come from very different places, both have a uniquely intimate relationship with land and environment, being from cultures displaced from their homelands.
Jason Tamiru is a proud Yorta Yorta man passionate about his people and culture. He has worked with many of Melbourne's most iconic performing arts companies, museums and festivals. As a producer, he supports his people's creativity by building frameworks that complement cultural expressions.
Aseel Tayah is a Melbourne-based Palestinian producer, creative director and cultural leader who uses her practice to advocate for artists of colour, mothers, children and young people, "changing the world, one project at a time."
As a creative director and installation artist, Aseel has a wide range of experience. International highlights include We Too Want To Play, the establishment of Palestine's first network of toy libraries and Fingerprint of an Arab Girl, a yearlong program showcasing the talents and achievements of girls living under occupation. In Australia, collaborations include unique intercultural experiences such as Tahlila -Lullabies Under the Stars, an Arabic/First Nations work for children, and the participatory installation Bukjeh, exploring stories of home and being forced to leave it.
Ardna
Preston

– Darebin Arts Centre
21 Oct 22 – 23 Oct 22