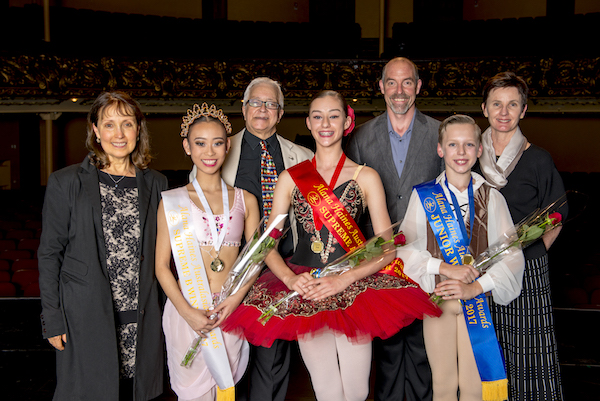 Winners of the 2017 Alana Haines Australasian Awards

The prestigious Alan Haines Australasian Awards were held in New Zealand over the Easter weekend from Thursday 13th – Monday 17th April at St James Theatre, Wellington.
The biennial event was attended by a record number of dance enthusiasts from throughout Australasia to watch and support more than 500 contestants between the ages of 11-18 years compete for $400,000 of prizes in cash & scholarships, including recipient airfares paid by AHA Awards.
The Grand Finals on Monday evening was hosted by Sir Jon Trimmer (RNZB leading Artist) and presented 22 outstanding finalists to a full house with stunning Guest Performers including former AHA winners from Melbourne City Ballet (Arian Hond & Tynan Wood) – Sydney Dance Company pre-professionals (Aaron Matheson & Chloe Paige Young), Royal Ballet School London (Harrison Lee) and Royal New Zealand Ballet (Laura Saxon Jones).


The Supreme Winner in Group B was Nae Kojima (16yrs) from Amanda Bollinger Dance Academy, whom also picked up the Audience Choice Award.
The Junior Section Winner was Alfie Shacklock (12yrs) from The Dance Centre, with Juliette Gray (12yrs) from Southern Ballet and Dance Theatre getting the Audience Choice Award.
This event commemorates a promising 11yr old Wellington dancer Alana, tragically killed Xmas eve 1989 and was founded in 1991 by Alana's mother & former RNZB dancer Katie Haines. The AHA Awards has become the largest and most prestigious dance awards event in Australasia and supported by the dance community around the world. Scholarships are meticulously handpicked and are sponsored from the most sought after international dance schools from UK, USA, Canada, Europe and Australasia – judged by an elite international jury from UK, Canada, Germany & Australia.


AHA Awards provides young dancers a career platform and as a result many of our past finalists are international stars throughout the world.
For a full list of finalists and scholarships recipients across all sections please visit ahaawards.co.nz
Results and photos from the competition can also be found on the AHA Awards Facebook page.