Musical Theatre Choreographic Debut for Zoee
Spring Awakening | Melbourne

Interviewed by Heather Clements
Hot young choreographer Zoee Marsh recently returned from a very successful stint in the UK where she made a name for herself as an emerging creative talent not only as a performer but as a teacher, artistic director and emerging choreographer. Now back in Australia, Zoee is delighted to be making her musical theatre choreographic debut on StageArt's Spring Awakening. She is involved in many aspects of the arts world – from charity and child safety – to directing music videos and contemporary dance. This unique and intriguing creative individual is ecstatic to be able to share her love of dance and performance art with the world. 
Please read our interview with the remarkable Zoee Marsh as she prepares for the opening of Spring Awakening on May 18 at Chapel Off Chapel in Melbourne.
***
Q: Congratulations on getting to work on this exciting and edgy production! What is your background and experience in dance?
Thank you so much, I am very excited to be working on StageArt's production of Spring Awakening!
My dance background began with a love for jazz funk and tap. I trained at a suburban school in my teenage years and developed a deep passion for tap! After a couple of years dancing in Geelong and at my secondary school, I decided to look further into what 'full time dance training' actually entailed.  Soon after I trained at Dance World Studios for a year and completed two more years at Ministry of Dance. I went into full-time with the mindset of training my skills to further myself into a Musical Theatre career, but by the end of my training, my passion and drive had a strong shift into contemporary movement and choreography.


Since graduating, I've worked as a performer, teacher and choreographer around Australia and then I decided to pack my bags and I moved to London for two and a half years. I can confidently say my time in London was when my career really took a solid focus toward choreography! London also opened the door to Movement Coaching, which is now a passion!
I worked with London-based recording artists The Naked Eye and Laura Jae on enhancing their movement, comfortability when performing and choreographed for their music videos and live performances. While in London I also got involved with a charity called, Move The World and worked with them on many art-based events and choreographed a full-length work for the charity's launch.
Q: This is your first Musical Theatre work, how did you get to be involved in this production?
Indeed it is! Besides being a huge Musical Theatre fan, spending all my time seeing Musicals on West End and being the first to sign up for the local Musical as a teenager, this is my first proper Musical Theatre job and I am over the moon to have this show as my first. My incredible friend and mentor, Yvette Lee, referred me to StageArt. I soon after met with the director, Robbie (Carmelotti), we had a natural gel and understanding of what we could do with this show and it all fell into place!
Q: Did you have any prior knowledge of the story of Spring Awakening? And what drew you to this project?

Yes, this is one of my top three favourite musicals of all time and when I got the email saying that I was being considered and scheduled to meet with the director I did my happy dance for about 10 minutes! My favourite aspect about this entire process is that I initially found out about Spring Awakening because of Yvette Lee! She taught a lyrical combination to 'Touch Me' when I was studying at Ministry Of Dance (2009) and the first thing I did that evening was go out and purchase the soundtrack – and that's when my obsession with the show really started. So the fact that Yvette was the one who referred me just completes this really beautiful and serendipitous circle.
The biggest factor that draws me to this musical is the soundtrack, the music is heart wrenching and heart warming and as a creative that gets moved by music, I knew this was one for me! I love that the movement is a representation of what they don't understand and/or can't speak about, a hidden language!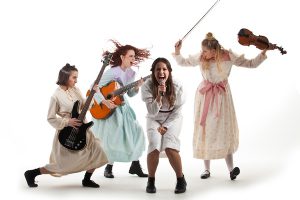 Q: Spring Awakening is a very 'dangerous' production in terms of its themes and commentary. How has this been a challenge/strength in terms of choreography?
I honestly think the 'dangerous' element has enhanced the movement quality, even though it has been challenging in a highly inspiring way. It took me a little longer than normal to get into the groove of creating how I would put movement and ideas together, but it's all coming together fantastically! Sometimes aspects that seem like restrictions turn out to be the best guidelines – it just takes a moment to adjust.
StageArt are known for taking on risky shows – which really attracted me to the company – and I am really enjoying it. They are very organised, fun, honest and passionate – what more could I ask for?! If we as a community don't take risks how will we all grow? I am very proud to be working alongside such a diverse team!
But there are some very cool things happening in this production, so all I can say is, the present moment in each rehearsal rocks!
Q: How do you usually approach doing choreography? What are your methods?
To be honest, my methods and approaches change like the wind – it all depends on what the job is, how I am feeling and what the goal is. When working with an actor or singer that doesn't have a strong dance ability, my first approach is to make them feel as comfortable as possible and focus on getting that inner free-spirited child that will just jump, shake and dance to anything that comes on the radio out of its shell!
Once that spirit is unleashed and moving around, I move into tasks and patterns to prep them for choreography if need be. When setting work on experienced dancers, I try my hardest to not attach to any idea or step, everything is always evolving, aiming to try all the avenues to find the destination is my tactic. I sometimes tend to create to no specific music so my sole focus can be on the movement and task; I then marry the song and movement together organically. This process of choreographing for a Musical has been an incredible and challenging experience – I love bringing stories to life, but factoring in props, microphones etc. can be hard.
Q: What do you like about musical theatre? And do you want to continue in this field?
Oh my, a lot!! Musical Theatre is like a pop-up book. I love seeing all the tiny details that go into making the big picture. I love how everything has a purpose and is thought out… yet so seamless when you watch it from the audience. I also really love how it is such a great bridge for my family/ friends who aren't in the arts. In London, I would go to theatre all the time with my closest friends and they would enjoy it even more than I would! I am sometimes jealous of their fresh eyes. Right now the thought of working on another musical excites me… so yes… I would love to continue working in this field in the future.

Q: What can audiences expect from seeing Spring Awakening? Why should they come and see it?
They can expect to see a rendition that I believe hasn't been done before. The music, movement and scene work is all being brought to life in a very fun, interesting and exciting way! For those who haven't seen the show before, it is a touching story that simultaneously highlights many current issues that are ongoing today.
Q: What is next for you? And what is your long-term professional goal?
I am working on a couple of projects with some fantastic humans such as Sean Higgins, but I can't really say too much, so stay tuned! I am ambassador for Keep Kids Safe In Dance which is an organisation ran by the incomparable Jackie Sherren Scott (my all time biggest mentor), so I am excited to be kicking off come fantastic campaigns and projects to enforce Child Safe Standards into our dance studio system. I am heading back overseas for my soul and dance relate events.
A long term professional goal is to continue creating and choreographing, to spread my wings by using craft in others fields such as advertising, educational programs, team building organisations and to continue movement coaching with musicians and actors. But most of all, my goal is to always love what I do.
>> Read more about the production of Spring Awakening and its season details here

BIO
Zoee is an Australian born and bred creative artist that relocated to London in 2014. Before making the move over to the UK she was the Artistic Director of 'A Brighter Blaze' Red Cross Appeal Fundraiser, Resident Choreographer of 'Project Y Dance Company', performed in Collaboration The Project's 'Relations', performed with Erica Sobol's collidEdance company and travelled around the country conducting workshops.
Some of Zoee's credits as a performer, movement coach and choreographer include; The Naked Eye, Florence Welch, Laura Jae, Will Young, SYTYCD, Jason Heerah, Australia's Got Talent, KPMG, Edinburgh Fringe Festival, NBL, The Australian Open and Big Day Out Music Festival. 
She is also the recipient of the 'Cultural Arts' Impetus Youth Awards, finalist for 'Emerging Choreographer' Dance London 2015, Nominated for 'Most Inspiring Teacher' Dance London 2015, and most recently received 'Most Outstanding Choreography' at Melbourne's 'Grounded' Showcase.
Zoee would often been seen dancing at major dance studios in the UK such as Studio 68, Pineapple Studios, Creation Box and numerous studios around Europe. Zoee recently choreographed a full-length work for the launch of the charity 'Move The World', choreographed Laura Jae's new music video and has been working hard with The Naked Eye on their upcoming video series!
In conjunction with JRProductions, Zoee presented a sold out new work called 11:22 at Creation Box London after debuting a pilot at 'UnVeil London'. On her return to Australia Zoee dropped into the Australian Dance Festival to teach a contemporary workshop in Sydney, created a new work for Grounded Battle of the Arts Showcase and has been on set with Weave Productions for 'In Motion' Music Video. Zoee is also an Ausdance Ambassador and prides herself in bringing the community together through the beautiful art form that is dance.