Boys Only Dance Event is on Again!
Sunday June 18th
First held in 2016, CONNECT is a unique event designed to bring males dancers together. It welcomes dancers, their families, dance teachers, studio owners and all males interested in dance in a safe, creative and supportive environment.
CONNECT is not a competition, convention or promotional event, but a chance to connect with each other through talking, listening, supporting, inspiring and dancing.
The event examines dance for boys in 3 distinct elements: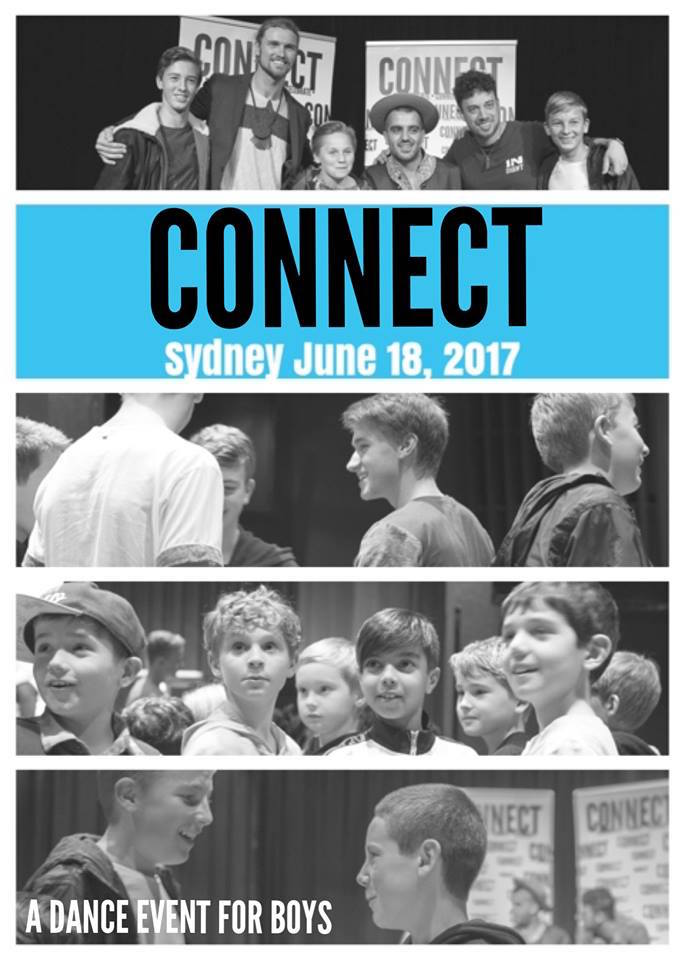 COMMUNICATE – the first event, is for dance teachers, educators and studio owners to discuss issues relevant to boys dance. A great professional development event for educators wishing to build boys programs or expand them.
CONNECT – the second event, is for male students, their families, dance educators and professionals as participants or observers. Guest artists Stephen Tannos, James Barry and BJ Rorke will conduct a short collaborative workshop and share stories, answer questions and discuss any topics the audience wishes to discuss. This part of the event is intended to connect, support and inspire the attendees.
CELEBRATE – the third event, is a concert for everyone and will include male dance performances from all genres, soloists to group performances, to celebrate male dancers, ending in a fun freestyle finale.
The CONNECT vision is to grow larger communities to support boys, to create an environment of support, mentoring, inspiration and fun, to bring together dance educators and dance professionals to discuss the future of boys dance, to celebrate the male dance community, and to normalise boys dance.
Creator and Organiser of the event, Tanya Carne says there is huge interest in CONNECT in Melbourne as well and she hopes to take the event to Melbourne as soon as possible. Tanya Carne has extensive experience teaching boys, both at her studio Dance Action and at local primary schools, teaching over 120 boys per week in her programs. Tanya is a passionate advocate for boys and dance, actively aiming to normalise boys and dance, creating strong supportive cultures both in the studio and wider community, and creating opportunities for connection, support and inspiration. Tanya says that "often boys can feel isolated at their studios so I created CONNECT to build a wider community to support them".
Tanya also personally funded the first CONNECT event, and this year the event has been partially funded by Trish Denzel and Little Ballerinas and has a Go Fund Me page currently raising the remaining funds and future funds for Melbourne.




You can donate here http://gofundme.com/connect-a-dance-event-for-boys
CONNECT will be held at  Ryde Eastwood Leagues Club in Sydney with free onsite parking, a Coffee Club, restaurants and bars, and walking distance to West Ryde train station and Victoria Road buses.
For more information visit www.connectboysdance.com.au or email tanya@danceaction.com.au



Follow CONNECT on Facebook
CONNECT | Sunday June 18th
Ryde Eastwood Leagues Club, 117 Ryedale Road, West Ryde
10am – COMMUNICATE dance educators workshop
1pm – CONNECT workshop and Q&A
5:30pm – CELEBRATE