How Much Fun Can You Handle?
Hilarious and Sexy Parody of Fifty Shades of Grey is Coming to Melbourne
"FILTHY & FUNNY" – New York Post
With over one million tickets sold since its world premiere in 2014, David Venn presents the Australian professional premiere of the hilarious, wildly entertaining spectacle 50 Shades! The Musical Parody.
 
Following sold out shows across the world including New York and Las Vegas, this laugh out loud send up of the global book-phenomenon Fifty Shades of Grey is playing for a strictly limited season at Alex Theatre, Melbourne, from 22 March – 7 April.
50 Shades! The Musical Parody explores the steamy relationship between the well-known characters from one of the best-selling books of all time, Fifty Shades of Grey, as seen through the eyes of three women in a book club. As they devour the novel, the love affair between Anastasia Steele, the naive hardware store employee, and Christian Grey, the handsome businessman with unconventional sexual practices, comes to life around them. The ladies' imagination and curiosity become the show's distinct flavour, which makes for an enticing mix of laugh-out-loud moments entwined in 12 original songs such as "I Don't Make Love" and "There's a Hole Inside of Me", that draw inspiration from the likes of Gilbert and Sullivan, Les Miserables and R&B music.
Following the critical and sell-out success of Bring It On! The Musical, producer and director David Venn says it doesn't matter whether or not you've read the book or watched the films. "The show is fresh, fun, and entertaining. With a cast of world-class local talent selected from over 150 hopefuls, this new production will have its Australian professional premiere right here in Melbourne," says David.
For Fifty Shades virgins, lovers and even the haters, this witty parody is the perfect night out for the girls (and guys). Rather than showing Fifty Shades Of Grey in its entirety, the exuberant take-off gives way for a great night out with a script that is equal parts sassy as it is smart, written by a collective of comedy writers including Albert Samuels, Amanda B. Davis, Emily Dorezas, Joseph Shelton and Ashley Ward Dan Wessels. 50 Shades! The Musical Parody features uninhibited dance numbers and songs equipped with cleverly orchestrated double-entendres and spicy ambiguities, with musical direction from Daniele Buatti (A Fine Romance, Godspell, Bring It On! The Musical).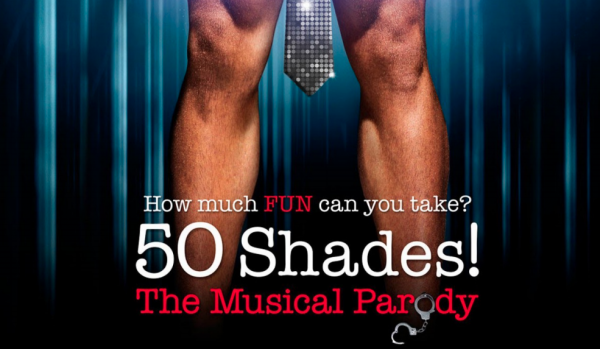 This guilty pleasure is showing for a strictly limited season and runs for 90 minutes including interval. 50 Shades! The Musical Parody is an original send up created for entertainment purposes and is not associated with, endorsed or authorized by E.L. James or Vintage Books.
If one is expecting to see Fifty Shades Of Grey in its entirety, they are mistaken. But the dark erotic plot gives way for a hilarious night out featuring spicy ambiguities, emotional ballads, sweeping rock'n'roll, and a cast taking on every topic without shame but never forgetting to wink.
Don't miss your chance to indulge in this guilty pleasure, with uninhibited performances, hot dirty dancing and loads of BDSM (Best Damn Songs and Music).
Strictly for 18+ only.
50 Shades! The Musical Parody
22 March – 7 April
Alex Theatre, St Kilda, Vic
Bookings: premier.ticketek.com.au