On Monday 27th July, at Sydney Capitol Theatre, Todd McKenny hosted the prestigious annual Helpmann Awards.
Established in 2001 by Live Performance Australia, in honour of Australian dancer Sir Robert Helpmann, the awards aim to recognise, celebrate and promote Australia's live performance industry.
Cameron Mackintosh's Les Misérables, which received the most nominations in the 2015 Helpmann Awards, took home an impressive 5 Helpmann Awards, including the award for Best Musical.
Other big winners on the night included Brisbane Baroque in association with QPAC's Faramondo, and The Rabbits (Opera Australia and Barking Gecko Theatre Company co-production in association with West Australian Opera) which took home all 4 awards it was nominated for, and the Opera Australia/John Frost musical Anything Goes. Singer-songwriter Paul Kelly was also recognised for his contribution to Australian music by receiving the JC Williamson Award.
Congratulations to all the winners!
For more information visit The Helpmann Awards.
2015 HELPMANN AWARDS WINNERS
BEST CABARET PERFORMER – Camille O'Sullivan


BEST COMEDY PERFORMER – Judith Lucy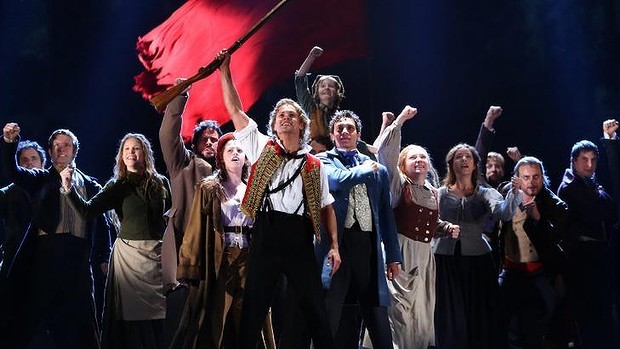 BEST CONTEMPORARY MUSIC FESTIVAL – Vivid Live 2015
BEST INTERNATIONAL CONTEMPORARY CONCERT – Ed Sheeran |  X World Tour 2015




BEST BALLET OR DANCE WORK – Frame of Mind |  Sydney Dance Company
BEST CHOREOGRAPHY IN A DANCE OR PHYSICAL THEATRE PRODUCTION – Rafael Bonachela |  Frame of Mind, Sydney Dance Company
BEST FEMALE DANCER IN A PRODUCTION – Chloe Leong |  William Forsythe's Quintett, Sydney Dance Company
BEST MALE DANCER IN A PRODUCTION – Cass Mortimer Eipper |  William Forsythe's Quintett, Sydney Dance Company
BEST VISUAL AND/OR PHYSICAL THEATRE PRODUCTION – The Paper Architect |  Davy and Kristin McGuire and Perth International Arts Festival
BEST CHOREOGRAPHY IN A MUSICAL – Andrew Hallsworth |  Anything Goes
BEST DIRECTION OF A MUSICAL – John Tiffany |  ONCE
BEST FEMALE ACTOR IN A SUPPORTING ROLE IN A MUSICAL – Kerrie Anne Greenland |  Les Misérables
BEST FEMALE ACTOR IN A MUSICAL – Caroline O'Connor |  Anything Goes
BEST MALE ACTOR IN A SUPPORTING ROLE IN A MUSICAL – Alex Rathgeber |  Anything Goes
BEST MALE ACTOR IN A MUSICAL – Simon Gleeson |  Les Misérables
BEST MUSICAL – Les Misérables  | Cameron Mackintosh

BEST DIRECTION OF AN OPERA – Paul Curran |  Faramondo, Brisbane Baroque in association with QPAC
BEST FEMALE PERFORMER IN A SUPPORTING ROLE IN AN OPERA – Anna Devin |  Faramondo
BEST FEMALE PERFORMER IN AN OPERA – Jennifer Rivera |  Faramondo
BEST MALE PERFORMER IN A SUPPORTING ROLE IN AN OPERA – Christopher Lowrey |  Faramondo
BEST MALE PERFORMER IN AN OPERA – Michael Fabiano |  Faust, Opera Australia
BEST OPERA – Faramondo |  Brisbane Baroque in association with QPAC
BEST CHAMBER AND/OR INSTRUMENTAL ENSEMBLE CONCERT – Les Arts Florissants and Le Jardin des Voix in Un Jardin à l'italienne |  Melbourne Recital Centre, Sydney Opera House & Perth International Arts Festival
BEST SYMPHONY ORCHESTRA CONCERT – Reflections on Gallipoli |  Australian Chamber Orchestra
BEST INDIVIDUAL CLASSICAL MUSIC PERFORMANCE – William Christie | Melbourne Recital Centre, Sydney Opera House & Perth International Arts Festival
BEST REGIONAL TOURING PRODUCTION – Festival of Circa |  Circa
BEST PRESENTATION FOR CHILDREN – The Rabbits |  Opera Australia and Barking Gecko Theatre Company
BEST DIRECTION OF A PLAY – Kip Williams |  Suddenly Last Summer, Sydney Theatre Company
BEST FEMALE ACTOR IN A SUPPORTING ROLE IN A PLAY – Helen Thomson |  After Dinner, Sydney Theatre Company
BEST FEMALE ACTOR IN A PLAY – Pamela Rabe |  The Glass Menagerie, Belvoir
BEST MALE ACTOR IN A SUPPORTING ROLE IN A PLAY – John Bell |  As You Like It, Bell Shakespeare
BEST MALE ACTOR IN A PLAY – Hugo Weaving |   Endgame, Sydney Theatre Company


BEST PLAY – The Glass Menagerie |  Belvoir
BEST COSTUME DESIGN – Gabriela Tylesova |  The Rabbits
BEST LIGHTING DESIGN – Paule Constable |  Les Misérables
BEST ORIGINAL SCORE – Kate Miller-Heidke with Iain Grandage |  The Rabbits
BEST MUSIC DIRECTION – Martin Lowe |  ONCE
BEST SCENIC DESIGN – Geoff Cobham |  Little Bird, State Theatre Company of South Australia & Adelaide Festival Centre
BEST SOUND DESIGN – Mick Potter |   Les Misérables




BEST NEW AUSTRALIAN WORK – The Rabbits | Kate Miller-Heidke (composer), Lally Katz (librettist) and Iain Grandage (musical arrangements)
BEST SPECIAL EVENT – ROYAL DE LUXE and PERTH INTERNATIONAL ARTS FESTIVAL |  The Incredible and Phenomenal Journey of the Giants to the Streets of Perth
SUE NATTRASS AWARD – Eric Robinson
JC WILLIAMSON AWARD – Paul Kelly